How to Create a Dramatic Makeup Look for a Night Out? Expert Tips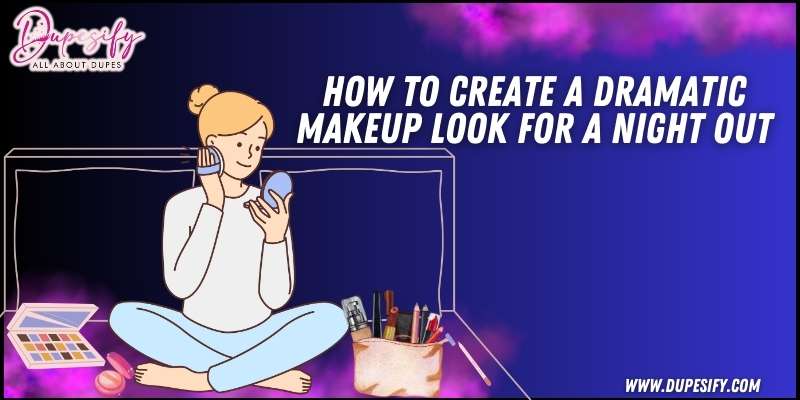 When it comes to a night out on the town, you want to look and feel your best. One way to achieve this is by creating a dramatic makeup look that will turn heads and make you feel confident and beautiful. The question arises in your mind," How to Create a Dramatic Makeup Look for a Night Out?". there are plenty of tips and tricks you can use to create a stunning and long-lasting makeup look. In this guide, we'll walk you through each step of the process, from prepping your skin to choosing the right products and creating a bold eye and lip look. So, let's move forward.
Unveiling the Secrets – Guide to Crafting a Striking Night Out Makeup Look
Here we collected some authentic information to the question, How to Create a Dramatic Makeup Look for a Night Out? I think You will find it helpful
Prep Your Skin for a Flawless Base
To create a flawless base for your dramatic makeup look, it's important to prep your skin properly. Follow these steps to get your skin ready
Cleanse & Moisturize Your Skin
Use a gentle cleanser to remove any dirt and oil from your skin, then apply a moisturizer to hydrate and nourish your skin. This will create a smooth canvas for your makeup application.
Use a Primer
Apply a primer to your face to even out your skin texture and help your makeup last longer. A primer will also help fill in any fine lines, pores, or imperfections for a flawless finish.
Apply Foundation 
Choose a full-coverage foundation that matches your skin tone and apply it evenly all over your face. Then, use a concealer to cover any blemishes, dark circles, or imperfections. Blend everything out with a beauty sponge or brush for a seamless finish.
Check it out our another guide; you will get amazed How to Achieve a Natural-Looking Makeup Look With Minimal Products
Choose the Right Products for a Dramatic Look
To achieve a dramatic makeup look for a night out, it's important to choose the right products that will enhance your features and create a bold, statement look. Follow these tips to select the right products
Use a Full Coverage Foundation
A full coverage foundation will help even out your skin tone and cover any blemishes or imperfections. Choose a foundation that matches your skin tone and has a long-lasting formula to keep your skin looking flawless all night long.
Set Your Makeup With Powder
Apply a setting powder over your foundation and concealer to prevent your makeup from creasing or smudging. This will also help your makeup stay in place for longer, even if you're dancing the night away.
Choose a Bold Eyeshadow Palette
Opt for an eyeshadow palette with bold, pigmented shades that will make your eyes pop. You can go for a smoky eye look with black and grey shades or experiment with bright colors like red, purple, or blue for a more daring look.
Use a Black Eyeliner and Mascara
Define your eyes with a black eyeliner and mascara. This will add intensity to your look and make your eyes appear larger and more awake.
Add Some Contour And Highlight
Use a contour powder or cream to add some dimension to your face and create a more sculpted look. Apply it to your cheekbones, jawline, and temples. Then, use a highlighter on the high points of your face, such as your cheekbones, brow bone, and Cupid's bow, to add some shimmer and glow.
Creating a Bold Eye Look
To create a bold eye look that will make a statement, follow these steps
Start With a Neutral Base Shade
Apply a neutral eyeshadow shade all over your eyelids as a base. This will help create a smooth canvas for the rest of your eyeshadow application.
Apply a Darker Shade 
Use a darker eyeshadow shade on the outer corner of your eyelid and blend it inwards toward the center of your lid. This will add depth and dimension to your eyes.
Use a Shimmer Shade 
Apply a shimmery eyeshadow shade on the inner corner of your eyelid and the center of your lid. This will make your eyes appear brighter and more open.
Create a Winged Liner Look
Use black liquid eyeliner to create a winged liner look. Start at the inner corner of your eye and draw a thin line along your lash line. Then, gradually thicken the line as you reach the outer corner of your eye and create a winged flick.
Apply False Lashes
Finish off your bold eye look by applying false lashes. This will add extra drama and make your eyes appear bigger and more defined.
Add Some Drama to Your Lips
To add some drama to your lips and complete your overall dramatic makeup look, follow these tips
Choose a Bold Lip Color
Opt for a bold lip color that complements your skin tone and the rest of your makeup look. You can go for a classic red lip or experiment with darker shades like plum, burgundy, or even black.
Use a Lip Liner
Use a lip liner that matches your chosen lip color to define the shape of your lips and prevent the lipstick from bleeding or feathering. Start at the Cupid's bow and draw a line along your natural lip line, then fill in your lips.
Apply Lipstick 
Apply your chosen lip color over the lip liner and use a tissue to blot your lips. This will help remove any excess product and prevent the color from transferring onto your teeth or fading too quickly.
Add Some Gloss For Extra Shine
If you want to add some extra shine and dimension to your lips, apply a clear or tinted lip gloss over your lipstick. This will give your lips a plump and glossy finish.
Frequently Asked Questions (FAQs)
How Can I Make My Makeup Last All Night?
To make your makeup last all night, start by prepping your skin with a primer and using long-wearing, waterproof products. Set your makeup with powder and use a setting spray to lock it in place.
What is the Best Way to Apply False Lashes?
To apply false lashes, start by measuring them against your natural lash line and trimming them if needed. Apply a thin layer of lash glue along the lash band and wait a few seconds for it to become tacky. Then, use tweezers to place the lashes as close to your natural lash line as possible, starting from the outer corner and working your way inwards.
Can I Wear a Bold Eye and Lip Look Together?
Yes, you can wear a bold eye and lip look together, as long as you balance them out and ensure they complement each other. For example, if you're going for a bold red lip, you can pair it with a neutral or subtle eye look, or vice versa.
Conclusion
Creating a dramatic makeup look for a night out is all about having fun and expressing yourself. By following above mentioned tips and tricks, you'll be able to create a look that makes you feel confident and beautiful. Don't be afraid to experiment with different shades and techniques to find the look that's perfect for you.