How to Open Makeup Box Lock? Step-by-step Guide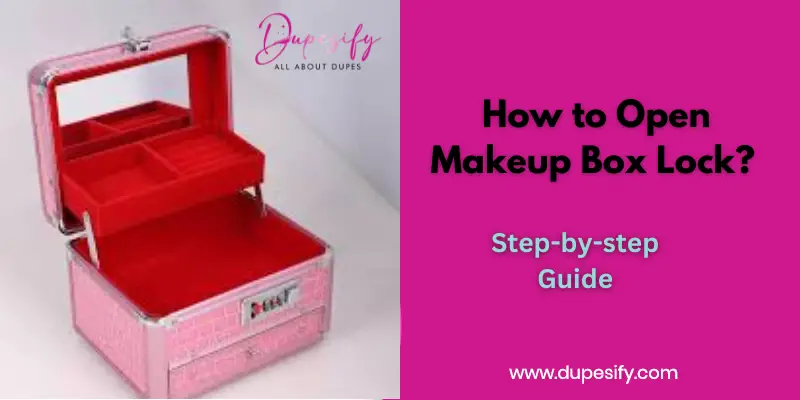 Makeup is my prized possession. I am very particular about safely keeping my makeup products in my makeup box. Last weekend, there was a friend's get-together at my home, and I learned that my friend had lost her makeup vanity keys. I helped my friend open her makeup box because I knew How to open Makeup Box Lock.
I tried all of the hacks, and to my surprise, I succeeded. There are many ways by which you can open makeup box locks. All you need is a little effort and some of your time. This article is all about hacks to open locks without keys.
How to Open a Makeup Box Without a Key?
The makeup box is the home of different types of makeup products. What's more dreadful than losing a key to your locked makeup box? Nothing. Sometimes, It happens that you lost your keys, and now you are worried about opening them anyhow. A makeup box lock is not complicated, and you can unlock it easily. In my opinion, you can open locked boxes very quickly using simple household stuff.
How do you Unlock a Lock with a Paperclip?
Don't worry if you have lost the key to your locked makeup box with something as basic as a paperclip. It requires you to have a piece of good knowledge so that you can do the job. I will mention some practical steps for you to follow and remove stubborn locks.
Unwind the paperclip into a straight wire.
Take a set of pliers and bend one end of the paperclip ¼ inch inward. You have now made a makeshift key. 
Insert your key (paperclip) in the lock's hole and wiggle it around.
Continue to slowly move around the paperclip, tapping it against the insides of the lock.
It will take your time, so be patient.
Release the key when you hear an audible sound of a lock opening.
You have unlocked the lock.
Read also: How to clean makeup case?
How do you Pick a Lock Box with a Bobby Pin?
Bobby pin has multiple uses; it secures your hair and is a great tool to open the lock.
You have seen criminals opening the lock with a bobby pin many times in movies or have read in novels. It's not a movie gimmick, and it works wonders. A makeup box lock is a simple and delicate lock that you can easily pick using a bobby pin. 
Taking the bobby pin in hand, open it wide until it is in a V shape or the two ends are 90 degrees to each other.
Slightly bend the tip of one end of the bobby pin.
Now, take a second bobby pin and bend its closed end until it is at a right angle to its other end. It will act as a lever.
Put the bent end of the lever into the lock and apply some pressure by turning it around.
Take a bobby pin having a bent tip and insert it into the lock above the lever.
Continue to put pressure using the lever.
Continue to turn around the bent tip in, out, up, and down in the lock.
After several tries, the lock will open. 
How to Open a Locked Box using Safety Pin? 
A safety pin comes in handy and is easily accessible. It serves multiple purposes and can be an excellent tool for opening a locked makeup box. 
Cut the connecting end of the safety pin using a cutting plier. You have now got an angular-shaped two-sided pin.
Smooth out the tip of the other end.
Insert the pin in the hole of the lock.
Using a scissor, open it wide, put one end in the end and apply pressure.
Jiggle the safety pin in and out of the lock. 
The lock will eventually open. 
What Household Items can you Pick a Lock With?
Household items are the least costly and can serve you in several ways. These items are magical in opening a locked makeup box. It is my tried and tested experience for you all. Some of the household items which can release the tension of opening your locked makeup box are:-
Toothpick
Screwdriver
Credit card 
Bobby pin
Paperclip 
Safety pin
How do you Open a 3-digit Combination Lock Box?
Combination lock boxes have varying digits passwords having dials on them. These boxes safeguard your precious items when you lock and secure them with a password. Forget your 3-digit combination lock and want to open your makeup box? I have a solution to this.
Look for grooves on the metal insert on which number dials are based.
Line all the notches up, facing straight out on each dial. 
Then turn each dial one position and try to unlock it.  
Keep applying enough pressure on the opening slide.
If it doesn't unlock, keep moving all dials to one position until it unlocks. 
Can you reset a combination lock if you forgot the code?
Makeup comes with a lock having combination lock passwords. These locks are the cheapest and easiest way to save your beloved makeup items. By setting up a particular code, you can only open this lock.
Sometimes, you forget the code and want to reset it again. But fortunately, you can't reset a code to a locked makeup box. You can only reset the code when the box is unlocked.
Summing up the discussion
Losing the key and forgetting the code in your locked makeup box can be unpleasant. There are several ways in which you can open a locked makeup box. In this article, I have mentioned all my tried and tested ways in a step-by-step process. You can follow these simple steps to remove the locked makeup box in a few minutes.