Types of Makeup Products | List of Makeup Items & Their Uses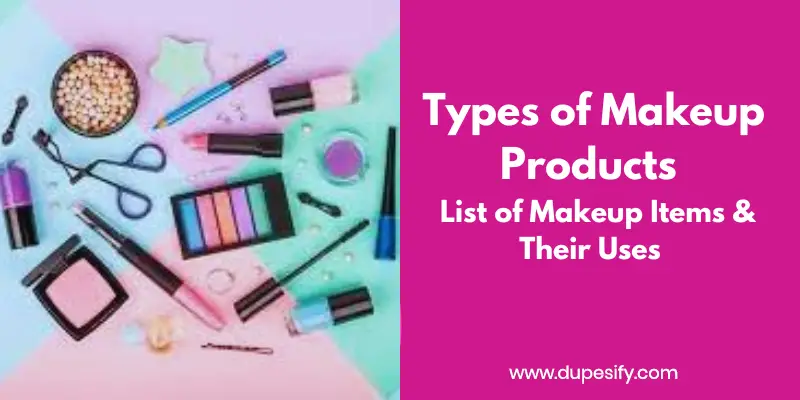 Makeup is an art, therapy, and a way to be ourselves. To look good and to groom is a need of the time. Makeup has set new beauty standards everywhere, so to cope with these standards, there are different types of makeup products that you can use and make yourself presentable and attractive.
We are all born beautiful, but a little bit of self-grooming harms nobody. If you know nothing about makeup and makeup products, then you are at the right place because, in this article, I will give a detailed description of different makeup products that are a must for you to own and use, along with their application. 
How many Types of Makeup Products are there?
Earlier, people used a limited number of makeup products for makeup application. The makeup industry has flourished in the past few years, and makeup brands have developed a vast range of makeup products to meet the changing trends and the desire to achieve a specific makeup look. 
These makeup products are categorized according to their formulation and their use in the areas of the face like:-
Face makeup products
Eye makeup products 
Lip makeup products
Makeup tools
3 Basic Kinds of Makeup Products 
What do you think about makeup? In my opinion, makeup enhances my features and hides my imperfections, so in my opinion, it is a way to express myself. Makeup products together give us a makeup look that we want to achieve. There are 3 kinds of makeup products.
Cream makeup products
Liquid makeup products
Powder makeup products
Types of Makeup Products and their Uses
I welcome you to the makeup and makeup products. Makeup makes you look younger by masking the flaws on your face and giving you a smooth finish to your skin. Makeup has become a staple in life. 
There are different types of makeup products that you can use on your face according to your needs and demands. Here is your ultimate guide to all makeup products. 
Face Makeup Products
Here is a list of full-face makeup products and how to apply them.
Primer
As the name suggests, it preps my face and prepares me to put on makeup. The primary purpose of primers is to blur pores, and smooth fine lines, and wrinkles on my face. It acts as a barrier between my skin and the layer of foundation. Different Types of Primers ensure that makeup lasts longer, as they provide a clean canvas to work on. 
Depending on the skin type, primers are of various kinds: Eyelid primer, Face primer, Lip primer, or Mascara primer. Primers come in different types according to their formulation and suitability to different skin types. There are gel-based, cream-based, and water-based primers. You can use POREfessional Pro Balm Face Primer by Benefit Cosmetics.
Application
Primer is applied after moisturizer and before applying foundation. I apply primer using my fingertips; you can also apply it with a brush.
Foundation
An important component of my makeup routine is the foundation, as it stands for the base for my makeup application. Foundation evens my skin tone, corrects flaws, and helps me achieve a more youthful complexion.  
Foundations are various types_ of less popular powder foundations. These cream-based foundations come in stick form and are used primarily for dry skin conditions; lastly, liquid-based foundations are very much used among makeup artists and are suitable for all skin types. 
Don't become a clown by using a foundation shade that doesn't match your skin tone. Always make a wise choice in choosing the correct shade of foundation. It can be hard sometimes to choose the best match for the foundation, but once it is found, it can be a game changer in your makeup. I prefer a yellow and warm-toned foundation for my face. I prefer to use Nars Natural Radiant Longwear Foundation.
Sometimes I go for BB or CC cream to create a natural makeup look. Recently I have started using tinted moisturizer against the foundation. Tinted sunscreen can also do the job. Using foundation daily can be harmful to our skin. 
Application
I apply foundation with a kabuki brush and then give a final touch to it by tapping my face with a damp beauty blender. Several other brushes in the market are used for applying foundation, like flat brushes and kabuki brushes. 
Note: you can choose a light, medium, or full coverage foundation according to your need. 
Concealer\Color correctors
You are dealing with your face's dark spots, redness, and discoloration. I recommend you use concealers and color correctors, hide my pigmentation and acne scars, and make my skin even toned.
Concealers come in a few varieties, like_cream-based concealers and liquid concealers, which help mainly in the FTM looks; these concealers work perfectly. You can go for the NYX Professional Color Correcting Concealer Palette.
Application
I use a concealer shade of my skin tone to hide my dark circles and any scars on my face and a lighter shade of concealer to highlight the particular areas of my face. Liquid concealers are my go-to favorite. I apply concealer on the different areas of my face like:-
On the bridge of the nose 
On the eyelids
Below the eyes 
On the sides of the nose 
On the chin 
Just below the lower lip 
Setting Powder/Compact/Pressed Powder
Creamy products are well settled using setting powder, compact or pressed powder. These powders set the foundation and concealer in place, preventing it from creasing and smudging. All the shine created by the foundation and concealer gets mattified using powder.
Blush 
Rosy cheeks are a dream of every girl. Blushes are used to add a flash of color to your cheeks. There are cream and powder blushes, which vary in pigmentation, texture, and staying ability. There are so many shades of blushes made for different skin types. You can opt for Lunar Beauty Moon Prism Blush Palette.
Application 
I enjoy applying blush to my face. Peaches and coral suit my skin tone. Mainly I apply blush on the apples of my cheeks and sometimes right under my cheekbone to achieve a lifted look on my face. Blush can be applied using a fluffy brush and a damped beauty blender. 
Bronzers/Contours
Do you want that chiseled face to have sharp jawlines and curvy cheeks? You should bronze and contour your face. Bronzers and contours create an illusion of hollows in the cheeks, sliming a round face or highlighting the jawline. 
Contours are cool-toned, and bronzers are warm-toned. Bronzers give warmth to the foundation-clad face, and contour gives dimension to your face. It comes in powder, cream, or liquid formulations. Dior Backstage Contour Palette is my go-to palette.
Application
I apply contour and bronzer with a contouring brush in the shape of 3, starting from the middle of the forehead, gliding it towards my cheeks, and then taking it to the jawline. On the other cheek, I work in an inverted 3. Contours can be used to slim the nose shape. 
Highlighters
Highlighters have taken the makeup application to another level. It gives that glowy, sun-kissed look by attracting light toward it. They are glittery and shimmery in their texture.
I use Amrezy Highlighter by Anastasia Beverly Hills.
Application
I prefer to use powder highlighters, and if I use a cream highlighter, I use it before applying my foundation to get that natural glow. I apply highlighter on high points of my face like:-
On the cheekbones
On the brow bone
On the chin
On the bridge of my nose 
Setting Sprays
Now you are done with your makeup, you must get it fixed so it doesn't smudge all day long. The use of setting spray is the final step in my makeup routine. It keeps my makeup fixed in its place all day long.
It prevents my makeup from creasing or being cakey or patchy. Also, it provides hydration to my face and keeps my makeup flawless. I use All Nighter Long Lasting Makeup Setting Spray from Urban Decay.
Application
Grabbing the setting spray in my hand, keeping it at some distance from my face, I spray it evenly all over my face. It dries out on its own, and there is no need to rub it off. 
Eye makeup products
Face makeup is incomplete without eye makeup. Eye makeup needs great expertise and skill. It is makeup that allows many makeup artists to experiment with their skills. Here is a list of eye makeup products. 
Eyebrows Filling
Don't forget to do your brows if you want to give structure to your eyes. Eyebrows reflect your personality, so do it carefully and nicely. There are eyebrow pencils, eyebrow gel, and eyebrow pomade to fill the eyebrows. Usually, I use the NYX professional Micro Brow Pencil.
Application
I fill my brows with a shade that matches my brow hair, usually mixing black and brown shades. I don't fill in my brows heavily and keep it simple and minimal. Start by lining my eyebrows and then filling in the gaps, and I complete my brows by applying small strokes throughout the brows. Once my brows are filled in, I brush them neatly with a Spoolie brush. 
Eye Primer
Dealing with eyelids creasing? Eyeshadow primer is your savior. These primers are specially formulated to prime the eye area for makeup application and prevent the eyelid from creasing and eye makeup from falling off. It usually comes in clear or white shades. Eye shadow Primer Potion by Urban Decay is the best.
Application
I apply eye primer using my fingertips and blend it well to absorb it into the skin.  
Eyeshadows
The eyes are the most attractive part; you can enhance them by applying eyeshadows.
Eyeshadows are pigments applied to the eyelids to give a pop of color to your eyes. You can experiment with your eye looks by cut-creasing or using bolder eyeshadows or neutral shades depending on your mood. 
Eye shadows come in various forms_cream-based, liquid-based, powdery, shimmery, and glittery. All these eyeshadows make your makeup look impressive, and there are a variety of brushes to apply eye makeup. 
Eyeliner
Eyeliner is a key to your overall eye makeup, which lifts your entire makeup. There are many eyeliners available in different shades, from liquid eyeliners to eyeliner pencils and cake eyeliners. These can be waterproof or non-waterproof. You can use Stila All Day Waterproof Liquid Eyeliner.  
Application
It's up to you what type of eyeliner you want, a sleek eyeliner or a winged one. I apply eyeliner using an eyeliner pen. Daily, I don't apply eyeliner, but for a heavy look, I experiment with my eyeliner by applying a simple eyeliner to a winged liner.
Mascara/Fake lashes
Mascaras are lash enhancers; they are used to get thick, lengthy, and dense eyelashes. Moreover, eyelashes look fuller than before when coated with mascara. Mascaras come in liquid consistency. Mascara primers are used before applying mascara, and you can also use fake lashes. Tarte Maneater Magnetic Voluptuous Mascara is the most excited about. 
Application
I start by brushing my eyelashes with a clean brush to remove any powder and then curl my lashes with an eyelash curler. Swiping the brush from the roots of the lashes takes it to their tips. After applying the first coat, I wait for the mascara to get dry. Afterward, I apply the second coat in the same way. This way, I apply mascara to achieve a fuller look on my eyelashes. 
Eye Pencils/ Kajals
Eye makeup is incomplete without using eye pencils and kajal. These products define your eye shape and balance your makeup. By filling in your lash line, your eye becomes broad and well-defined. Eye pencils are available in different shade ranges. You can experiment with your eye looks by using Essence Eye Pencils.
Lip makeup products
Here is a list of lip makeup products
Lip liner
Lip liners line your lips and give them a definition. A well-lined lip can stand out your entire makeup look. They are primarily in pencil form, which has a creamy, buttery texture. 
Lipsticks
The most obvious tool of makeup is lipstick. Those who don't know anything about makeup are well acquainted with lipsticks. These come in matte, glossy, and creamy formulas. There are a variety of lipstick shades that you can try. You can try MAC lipsticks.
Lip Gloss
Lip gloss gives an extra boost of moisture to your lipstick. It makes your lips plump and gives a lustrous shine to them. 
Makeup Tools
Makeup tools are necessary for makeup application. They pick the pigment and blend it well into your face and eyes. You can achieve your makeup look by using makeup tools like 
Makeup brushes 
Beauty blenders
Makeup brushes are an essential investment in your makeup vanities. They ensure the smooth application of the makeup and blend into the skin. There are different types of makeup brushes depending on the look you want to achieve. 
You need to educate yourself on what types of makeup brushes are available in the market and which ones you need. Using makeup brushes requires specific techniques you should be aware of to make the best use of them.
Beauty Blenders are the new ones in makeup. They have replaced older makeup sponges. Beauty blenders have proven to be very effective for a flawless, airbrush makeup look with no brush strokes. 
They are available in different shapes and sizes, reach every corner of the face, and give you a smooth finish to makeup application. I suggest you purchase beauty blenders, which will benefit you in creating different makeup looks. 
Best Makeup Brands
The makeup industry is growing at a fast pace. More and more makeup is being produced each second. In recent years makeup brands have come up with the best makeup products. These makeup products are not harmful to the skin. Best makeup brands that I have experienced so far:-
MAC
Clinique
Estee Lauder
Loreal
Urban Decay
Conclusion
Makeup applications have changed their ways, and to cope with this, you should own good and high-quality makeup products. You must know them well, so you don't mess with yourself using these products. In this article, I have illustrated all the types of makeup products along with their application. I hope this article will be of good use to you.