How to Cover Up Warts With Makeup? Comprehensive Details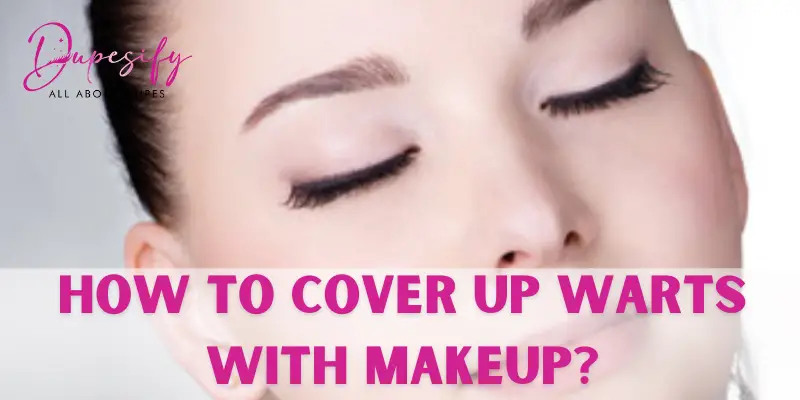 Clean skin does not mean healthy skin, and sometimes it may react when exposed to viruses of the epidermis layer. Warts are the most common bumps and resemble tiny popping seeds that appear on the skin's surface due to a contagious virus. These are painless, but at the same time, I feel to answer a common query: How to Cover Up Warts With Makeup?
Tidbits: Warts are tiny blisters of about 2 mm thickness on the skin's top layer caused by the Human papillomavirus (HPV). This virus can make them grow anywhere on the body. Common sites of facial warts are around the lips, eyelids, and forehead. Wart formation is common in people who have a weak immune system.
Warts can be covered with makeup and make them less noticeable. I will explain some easy steps to protect warts using beauty products in this section. And also mention some of the preventions to prevent their spreading while applying makeup.
You can also read: How to Cover Eczema with Makeup?
How To Cover Up Warts With Makeup? 4 Easy Steps
Having warts on the skin changes your skin texture from smooth to rough. I follow some easy steps to cover warts with makeup. I describe these steps and some powerful tips to make warts less noticeable with makeup.
Before applying makeup, I clean my face and warts area with lukewarm water using a mild cleanser so that skin becomes dirt and oil-free. Moreover, I let my face air dry and massage it with a good moisturizer before any makeup application.
Covering warts with makeup is similar to empowering inner confidence; I apply an oil-free full-coverage foundation on my warts near the eyelids or lips. Foundation readily forms a layer on warts and makes them less prominent.
I often use Smashbox Studio Skin 15-hour wear hydrating foundation. It instantly gives me a matte finish without causing any breakouts on the skin.
I also use color-correcting concealers if I have reddish warts. The method of concealing is the same as hiding pimples on the face. I have recently started using Veil Cover Cream as a concealer to camouflage my warts. It provides long-lasting, full coverage to cover skin conditions.
Pro tip: avoid layering foundation or concealers on warts, otherwise, they look more apparent, and the skin becomes cakey.
In the last step, I dust Veil Setting Powder on my face to seal the makeup and give it a matte finish. 
Read also: How to Cover the Lace Front with Makeup?
Why You Should Cover Warts With Makeup?
Makeup is a beautifying tool and is in the hands of everyone these days. The point of covering warts with makeup products is that it is both cost-effective and time practical. 
Convenient
Many people do not choose the method of cosmetic surgery to get rid of warts. Makeup seems convenient to them to cover these tiny bumps for a party or friend get-together. To cover warts with makeup takes you less than 15 minutes so why undergo long-term treatments and wait for their healing when makeup does the job effectively?
Affordable 
Beauty products are affordable to everyone; however, medical aid for removing warts costs you much. Moreover, there are risks of forming warts that can be spread even after the surgery. So I suggest sticking to the pocket-friendly method and making warts less prominent.
Easy To Remove
Covering warts with makeup offers you the privilege of enjoying your natural skin at the end of the day. Since makeup is easy to wash off, your skin breathes to its maximum, and taking care of skin with salicylic acid reduces wart formation.
What Are The Preventions For Doing Makeup With Warts?
As we all know, Warts are caused by a contagious virus and spread through contact. It can easily transmit from one part of the body to the other. In this section, I will mention some preventions to prevent warts from spreading.
Clean Hands
Doing makeup on a clean face with dirty hands doesn't make sense. It further causes breakouts or skin infections. Properly clean your hands before wearing makeup.
Prevent Dry Skin
Why provide space for viruses to enter the skin's cracks and form allergies?
You should start makeup on a moisturized face. It can make your face bump-free and gives you a smooth canvas for makeup.
Fragrance-Free Makeup Products
I recommend not adding scented products to your makeup regime if you already suffer from skin complexities. Fragranced products are the skin's worst enemy, causing itchiness and dryness. 
Sharing Makeup Tools
If you suffer from skin complications, please do not share your makeup tools, like makeup brushes or sponges, with anyone. Additionally, you have to take special care of these by properly cleaning them. 
Final thought
Wearing makeup to cover warts is safe unless beauty products do not harm them or cause any inflammation to the skin. In this article, I have given you a description of applying makeup products in easy steps. Moreover, I have also given you a list of preventions you can follow while covering warts with makeup.