How to Use Makeup Removing Balm? Beginners' Guide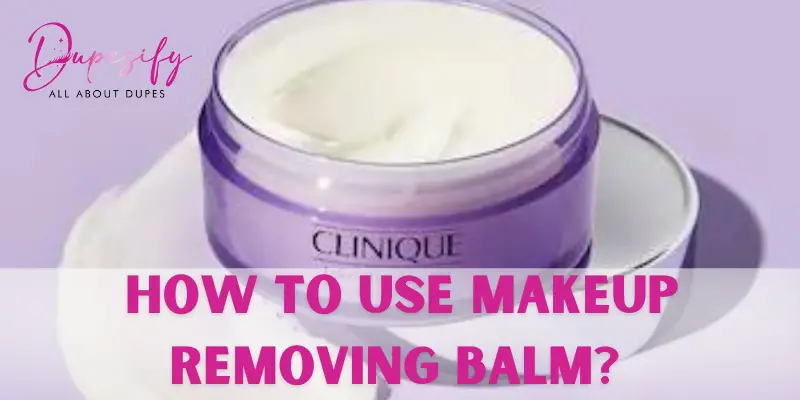 Removing makeup is as important as wearing makeup. The need of the hour is to select the correct type of product that suits the skin and helps to nourish it. An easy way to do this is to learn How to Use Makeup Removing Balm to do wonders on the skin. 
I am a working woman and have to wear makeup for several hours. In the end, the cleansing balm is the less tiring option. In this article, I will discuss how to use cleansing and removal balm step by step for a straightforward application of makeup removal. Firstly there is a need to answer what cleansing balm is.
Tidbit: It is a semi-solid oil-based cleanser that removes makeup, dirt, and excessive oil by massaging.
How do I use makeup removal balm?
Cleansing balms remove makeup, extract dirt and excessive oil from the skin, and are one of the different makeup removers. I use the cleansing balm in a few easy steps.
Take out a scoop of cleansing balm onto my fingertips. 
Rub fingers together for a few seconds to melt the semi-solid texture of the balm into the oil.
Pro tip: before applying the application, ensure that your hands and face are dry because the oily texture of the balm needs time to mix with the face oils.
When fingers sense the oily texture, gently apply the balm in a circular motion and cleanse the face.
Point to ponder: Massaging the face increases blood circulation and prevents breakouts.
At this step, I use warm water and again massage it on my face. Warm water doubles the activity of the balm on my face as it effortlessly removes all types of dirt and makeup.
I rinse my face and pat it with a wet face cloth to remove any residue so that the balm and impurities leave my face.
I pat dry my face with a fresh face towel to ensure that I may not transfer the bacteria to my face that will later cause infection.
In the end, I apply toner and moisturize my face to lock in all the nutrients. The cleansing balm also hydrates my skin and gives it a natural glow.
You can also read about the following: How to Remove Alcohol-Activated Makeup?
Is it good to use cleansing balm?
The answer to the question is easy to describe as the cleansing balms are suitable for every skin type. Moreover, it also provides extra moisture to the skin. I will describe some of the main reasons to use it.
Removes Makeup
The cleansing balm is a magical product that tenderly removes all my impurities. It removes my long wear plus waterproof makeup and leaves my skin soft and fresh. There are different ways to remove the makeup, and some people go to the extreme of rubbing alcohol to remove the makeup.
Cleanser and Moisturizer
The cleansing balm is a 2-1 product because I use it as a cleanser for removing makeup or excessive oil. It also has moisturizing properties, so I can apply it after washing my face.
Mess-free
Most cleansing balms have semi-solid consistency, so the chances of spilling minimize, so I instantly start using them.
Skin-loving
I utilize the cleansing balm and add it to my skincare routine because my skin happily accepts it. Moreover, it is so handy that I can use it everywhere.
Tidbits: cleansing balm is effective as it is;
Cruelty-free
Paraben free
Vegan friendly
Non-comedogenic
Do we need to wash face after using cleansing balm?
I have dry skin, so I don't wash my face after using a cleansing balm because it automatically restores my natural hydration after massage. Washing the face after cleansing balm is a personal choice. 
Should I use a cleansing balm if I don't wear makeup? 
I am using cleansing balm not only as a makeup-removing product but also as a daily skincare routine to remove my impurities, pollutants, and excessive oil. The cleansing balm works when doing a massage with it. Balms effectively deep clean the clogged pores and reduce irritation.
Final Verdict on How to Use Makeup Removing Balm?
Cleansing balms are a good choice for people to add to their skincare regime. I used the cleansing balm as a makeup-removing product and a gentle cleanser in my daily skincare. I have experienced excellent results. This article briefly describes how to use it and what makes cleansing balm better than other skincare products. Also, I highlight some FAQs for the people who find it difficult to buy these products.