Types of Makeup Remover – Complete Guide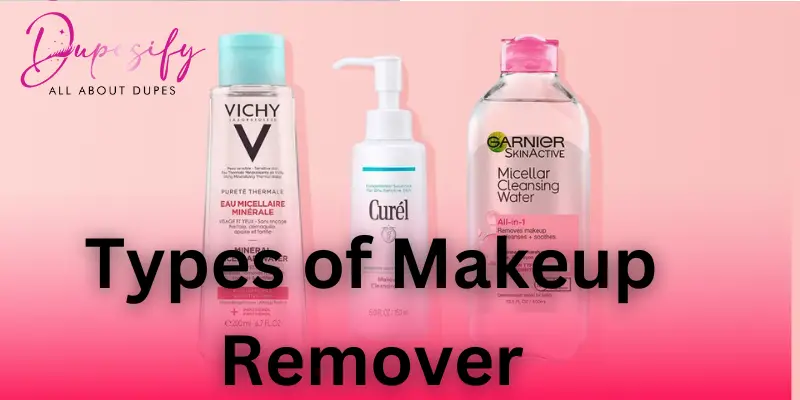 Can you imagine how bad it is for your skin to sleep with makeup on? You wouldn't want to do that to your skin. Makeup masks your face and creates a layer over it. When makeup is not removed correctly, your skin will have serious consequences. It is why different Types of Makeup Remover are available in the market.
Makeup removers are anything like oil, balm, micellar water, and wipes that you can use to remove makeup, and trust me, without makeup, your skin rejuvenates itself. You choose a makeup remover that leaves no makeup leftovers of foundation, mascara, and matte lipstick. A good makeup removal routine can change your skin in a better way.
Investing in a good makeup remover is vital because makeup remover should be according to your skin type and suit your skin. Let me discuss different types of makeup removers so that they can become easy for you. 
What is a Makeup Remover?
Before understanding different Types of Makeup Remover, you should know what a makeup remover is. A makeup remover is anything that you can use to remove your makeup. It should not leave any makeup residue, and cleanse your face thoroughly. 
Makeup removers are formulated to melt the makeup and cut through the full-coverage foundation, waterproof mascara, and matte lipstick. I want to mention that makeup removers should suit your skin type.
I have used many types of makeup removers and am still using them because they have improved my skin condition. Different makeup remover products are used side by side and simultaneously together to give you a cleansed, makeup-free face and to remove alcohol-activated makeup.
Types of Makeup Remover
Makeup is formulated with pigments, wax, oils, and liquids. You enjoy applying makeup and should not feel lazy to remove it. It is a serious matter that you take your makeup off correctly with no makeup residues on your face. Clogged pores, aging, fine lines, wrinkles, and other skin issues arise from makeup leftovers.  
You can not remove Makeup simply by washing your face with an excellent facial cleanser. I always prefer a gentle makeup remover to ensure my skin is healthy. Different makeup removers are formulated to be suitable for different skin types. There are a variety of makeup removers that you can choose for yourself.
Milky and liquid-based makeup removers (Cleansing milk)
Oil-based makeup removers (Cleansing oils and Cleansing balms)
Water-based makeup removers (Micellar water)
Gel-based makeup removers (Gel cleansers)
What Can I Use as a Makeup Remover?
You all have your makeup application routines for different types of Makeup, but what about the makeup removal routine? I consider removing makeup as part of my makeup routine and my skincare. Makeup removers are the products given the least attention, but I consider them the most essential in my vanity. 
My Tip: For making removal, I prefer to double cleanse my face to ensure that no traces of makeup are left on my face. 
Cleansing Balm
Why are cleansing balms becoming my favorite makeup remover product? I find it practical to use cleansing balm to take my makeup off. These balms have an oily texture and are in a soft solid form. The cleansing balm melts my makeup, cleanses all impurities and dust, and hydrates my skin. 
Cleansing balms are formulated with all the necessary ingredients to cut down the creamy, greasy, and liquid makeup contents. They don't leave my skin dry and tight, instead providing hydration to the skin. I use them as moisturizers for my skin. They are suitable to be use on dry skin.
Clinique Take the Day Off Cleansing balm is my ultimate favorite.
Application
Taking a scoop of cleansing balm, I heat the balm in between my fingers 
Heat melts the solid form of balm and changes it to an oily liquid. 
I massage the balm all over my dry face and spray little drops of water on my face so that balm emulsifies with makeup. 
The balm effectively melts the makeup and cleanses my face.
Then I remove it using a facial wipe, makeup cloth, or simply washing it with a facial cleanser. 
Cleansing Oils
As the name suggests, Cleansing oils are oily in their texture. They are effective in removing makeup; using them can even remove waterproof and stubborn makeup like eyeliner, mascara, and liquid lipsticks.
Cleansing oils absorb greasy makeup and leave no residues on your face. They don't dry out your face. But it triggers your skin to produce more oils if left on the skin. So, it would help if you washed your face immediately after using them. I find them challenging to use because there is a chance of spilling them, and they are not travel-friendly. Cleansing oils are best for dry and sensitive skin.
You can use Tatcha Pure One Step Camellia Cleansing Oil.
Application
Please take a few drops of cleansing oil and apply them to your face.
Gently massage your damped face.
When all the makeup is removed, clean your face.
You can either wash your face or clean your face using wipes and a makeup cloth. 
 Go with double cleansing your face. 
Makeup Remover Cloth
A makeup cloth is sometimes also called a makeup towel. As the name suggests, it is a cloth used as a makeup remover. Here the question arises of how it can be used as a makeup remover. This cloth is a microfiber cloth that has microfibers on both sides of it. 
One side with shorter fibers for removing makeup, and the other has long fibers for exfoliating the face after makeup removal. This makeup cloth has provided me ease in taking my makeup off. I don't have to go through a pile of different products to remove my makeup. These suit all skin types. 
Makeup Eraser by Sephora must be your top pick.
Application
Taking makeup cloth in my hand, I damp it in the warm water.
Damping activates its microfibers.
I use the side of the cloth with shorter fibers to remove my makeup.
Swiping the cloth gently all over my face and the makeup comes off easily.
After makeup removal, I exfoliate my face using the side that has longer fibers. 
I prefer to wash the cloth immediately after I have used it. 
Makeup Remover Wipes
The most common and easy-to-travel makeup removers are makeup remover wipes. They have worth as a makeup remover because you don't need anything else except these wipes to remove makeup. After using cleansing balms and oils, you need these wipes to clean your face. 
Makeup remover wipes are formulated by makeup removing solutions. In recent years these wipes have been the talk of every makeup expert regarding their use on the face to remove makeup. These wipes easily wipe away makeup from your face. Still, there is a chance of little traces of makeup left on your face after using them. 
Makeup-removing wipes come in various varieties to be used on different skin types. Charcoal wipes for oily skin, aloe vera-infused wipes, etc. Acne-prone skin must avoid the use of makeup-removing wipes. 
You can try Neutrogena Makeup Removing Wipes.
Application
Swipe a wet wipe on your face gently. 
In a circular motion, lightly rub the wipe all over your face. 
Your eyes and lips rub a little more.
All your makeup will come off quickly. 
You can cleanse your face afterward.
Micellar Water
The traditional makeup remover known is micellar water. It was my first pick of makeup remover when I started to use it. Micellar water – a water-based and has been the gentlest among all makeup removers. It comes from a mild makeup-removing formula.
I don't use micellar water to remove heavy foundation and full-duty makeup. After I remove my makeup with either a cleansing balm or cleansing oil, I use micellar water to remove all the makeup contents from my face. Micellar water is best for all skin types. 
The best and most affordable option can be Garnier Micellar Cleansing Water.
Application
Take a cotton pad or cotton ball and pour a few drops of micellar water.
Swipe a micellar water-filled cotton pad on your face to remove makeup.
It would be best to rub it on your eyes and lips to get makeup off.
Continue doing this until your makeup is removed. 
After that, wash your face with a facial cleanser. 
Cleansers ( Foamy, Gel)
I see cleansers are like face washes, not makeup removers. They are made for cleansing the face and not for removing makeup. They thoroughly cleanse your face pulling out all impurities and dust from your face and giving you a neat, clean face.
Cleansers come in two forms: foamy and gel cleansers for cleansing the face. Foamy cleansers are good for dry skin, and gel cleansers are suitable for oily skin. After I have removed all my makeup, I cleanse my face with a gentle cleanser and then continue with my skincare. 
You can use them for all types of skins.
You can give it a try to Neutrogena Cleansers. 
Application 
Take a pea-sized amount of cleanser on your face and apply it to your damped face.
Massage until it forms a good amount of leather.
Rub the leather gently on your face.
Wash your face with lukewarm water and pat dry.
Dual-phase Makeup Removers
These are my essential makeup removers. Dual-phase makeup removers are innovations in makeup removal. Its formulation aims to remove oil-based and water-based makeup using a single product.
Biphasic makeup remover combines makeup melting oils, makeup cleansing water, and other natural and organic ingredients. It ensures to remove the stubborn waterproof makeup effortlessly without damaging your skin. 
Dual-phase makeup removers are somewhat in between cleansing oils and micellar water. The oily layer removes oil-based and cream-based makeup, and the water layer removes water-based makeup content. The best part of using them is they are suitable for all skin types. 
You can use it on all types of skin.
My favorite is Dual-phase Makeup Remover by Bodyography Pro.
Application
Start by shaking the bottle well. It will mix the water and oily layers.
I pour a few drops of makeup remover on a clean cotton pad.
Swiping the damped cotton pad gently onto my face, eyes, and lips for a few minutes. 
I move cotton pads in circular motions to get my makeup off.
Rub the pad gently for waterproof makeup like eyeliner, mascara, and lipsticks.
In this way, all of my makeup is removed in one go.
You can rinse your face if you require.  
Warning: Try to avoid direct contact with your eyes. If contact occurs, rinse your eyes with lukewarm water.
Natural Oils
Do you know that you can use natural oils for makeup removal? I have used coconut oil and jojoba oil to remove my makeup; to your surprise, they worked great. These oils have skin-friendly properties that do not harm the skin. Instead, they improve the skin's texture.
There are different makeup removal products to suit different skin types, just like natural oils have many varieties. You can use each according to their suitability to specific skin types. Furthermore, you can use Grape seed oil for oily skin, and jojoba oil is best for dry skin. Coconut oil is best for all skin types. 
Application 
You can use all-natural oil as a cleansing oil. 
Frequently Asked Questions
What is the Safest Makeup Remover?
Makeup remover helps in removing makeup from the face in the most effective way. So, it should be non-toxic and free from chemicals, parabens, and fragrances. It is the safest makeup remover if it can be natural and organic. I advise you to invest in a makeup remover that does not irritate or cause rashes but nourishes your skin. 
What's the Best Way to Remove Makeup?
A good makeup remover does nothing to your skin if you are not adequately removing makeup. No hard and fast rules exist to remove makeup, but a step guide always helps. I have formulated some steps to remove your makeup without being messy. 
Whatever makeup remover you use, be sure you are gentle to your skin. 
Massage makeup remover in soft, circular movements of hands on your face.
Don't rub or scrub your face harshly.
Clean makeup remover from your face with a makeup cloth or wet wipes.
Cleanse your face with a gentle cleanser.
Pat dry your face.
Always apply moisturizer, even if you are going for your skincare.
What Happens if You Don't Remove Makeup?
Makeup is made of pigments, wax, oils, and liquids. These can settle on your skin, providing the best surface for bacterial growth, clogged pores, breakouts, whiteheads, and blackheads. Long hours of wearing makeup can age your skin resulting in fine lines and wrinkles. It can also change your skin's texture, and your face has to suffer from unexpected situations.
Conclusion
Finally, I would like to say that you need to remove your makeup. You should invest in a good quality makeup remover to prevent your skin from any damage. Different types of makeup removers are available in the market. In this article, I have given a detailed explanation of all these makeup removers along with their application. I hope now you will remove your makeup without any worry.