How To Make A Makeup Page On Instagram? 3 Easy Steps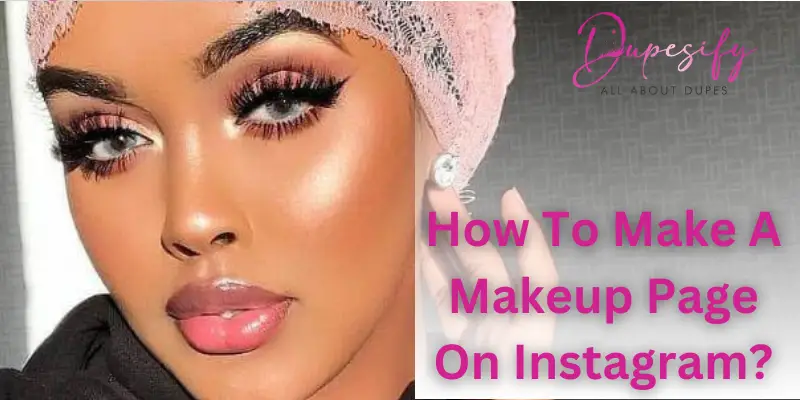 Are you planning to showcase your makeup skills on Instagram? Well, this is the time to go further on it than mere scrolling. You must know the answer to the critical question I will help you with: How To Make A Makeup Page On Instagram?
I am a makeup artist and enjoy many followers on Instagram. Makeup is my passion, so I want to recognize my work in the best possible way. To make it successful, I have made a makeup page on Instagram. In this article, I will help you in initiating a makeup page on Instagram and how you can grow it further.
3 Steps To Create A Makeup Artist Page On Instagram
Instagram is an interactive social media platform that connects many people across the globe.
If you can portray your makeup skills, you can start by making a page on it. The makeup page must include all your information and tutorials regarding different makeup applications using different makeup brands.
In this section, I will demonstrate some easy steps for making a makeup page on Instagram. After completing the account log-in basics, you can customize your page to make it appealing to your followers.
Profile
It is the introductory step in creating a makeup page. I have created my profile, but it is still desirable and worth watching. This step tells about your identification. You have to add the username and an eye-catching profile photo.
Pro tip: choose a photo that must display the makeup-related information.
Optimizing the profile name can be a tricky task. I advise you to choose a name that is pronounceable and easy to remember. I have an Instagram handle that is related to my name and skill. A username is essential in making an Instagram page as it helps you to be approachable to the followers on the site.
Body
The next step is to go further and add the description of the makeup page; this section gives much-needed services that the audience gets from your account. For example, your type of activity on the page. Whether you display tutorials, review the makeup products, or actively apply the makeup before the camera. I advise using emojis in the description to keep the fun factor on point.
Aesthetic Touch
I want my Instagram to reflect my opinions and thoughts, and I have also written some lines on my passion for makeup. I suggest you do the same if you have space in your Instagram bio. It will help the audience to get close to you and understand what you want to convey.
Lastly, adjust your Instagram visuals in a coherent form. I propose you make Insta feeds and colors that synchronize with each other. Coherency on the page lets others identify your account in no time.
How Do I Grow My Page On Instagram?
In my opinion, making a makeup page is more straightforward than maintaining it from time to time. To make it grow, You have to follow the instructions I will mention in this section.
Quality
Quality is the first factor in starting a successful makeup page. Posting blur photos or unarranged clips of videos make no sense. Moreover, it only fails to lose credibility. You should create videos or tutorials that are of high quality containing high-dimension pixels.
Add quality reels on Do's and Don'ts of Makeup and discuss trendy makeup issues on the internet.
How To Create Content On Instagram?
Content is the expression of self-thought. You create content that portrays your love for makeup. Only then will you be able to produce the appealing one. Natural light is best in creating makeup content; it does not make a difference whether you highlight your eyes, lips, or full face. Your attention must be on how you use makeup-related techniques to create a trendy look.
Do you want to make your content a significant failure on the makeup page? If not, then define a correct angle to enhance the quality of your content. Choosing the right angle will let you showcase your makeup picture best.
Engagement
Engaging the audience with your posts increases followers and lets you connect with them. In this section, I will mention some engaging tricks you can easily follow to grow your Instagram page.
Use Instagram poll or question stickers on the story
Go live with your loving audience
Make the best use of reels showing bits of makeup tutorials
Ask about followers' preferences
Comment and reply to the followers
Consistency
How often should I post on my Instagram page? Well, I used to post two times per day. It helped me in keeping my content on my follower's feeds and also helped me to maintain the uploading of videos and photos on my makeup page. Then you will start getting requests for collaborations for different makeup products.
Similarly, I also advise you to make a schedule of your post and also prepare a list of innovative content that your followers want you to show. Always be active on your makeup page; this will derive more likes and interest in your posts.
Hashtags
In my opinion, other than a username, hashtags are the most accessible options to help you identify your page. If your focus is on makeup, use hashtags relative to it. Much of the audience scrolls through hashtags and finds content.
I advise you to make a set of makeup-related hashtags and use them in the comments. Search your competitors' hashtags and create your own that is unique and belongs to you only.
Final Thoughts on How To Make A Makeup Page On Instagram?
Instagram is a social site that allows several users to connect globally. Transferring your talents to trendy sites is in fashion these days. In this article, I have mentioned some easy steps to make a makeup page on Instagram and be confident in showing your skills of interest. Moreover, I have also proposed some practical tips to boost your Instagram page and enjoy plenty of followers.
.