Why Makeup Doesn't Suit me? DO's and DON'Ts of Makeup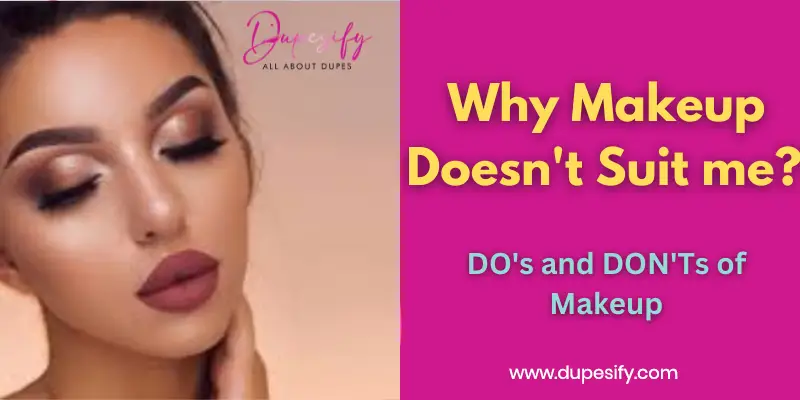 Makeup is supposed to enhance the features, so women wear it to look beautiful and powerful. Sometimes makeup applications don't go right and look flawless on every skin type. As a makeup expert, I deal with quite a lot of clients every day. Once a client asked me: Why Makeup Doesn't suit me?
Your skin tone, facial structure, and ways to apply makeup matter extensively to a flawless look. This article is all about why makeup doesn't sometimes suit, the DO's in the makeup application, and helpful makeup hacks, along with my tips. 
10 Reasons Makeup Makes You Look Worse
Why do you always end up looking worse in makeup? Getting a smooth application of makeup is what you want. Sometimes some makeup looks might not be the best for you, and you are trying tons of effort to achieve that. I have dealt with this problem but now know how to cope. I am sharing with you some reasons why makeup makes you look worse.
Bad skin
Your skin condition is not good, and you apply makeup multiple times to hide blemishes, scars, and pimples. You are not using those products that your skin needs. 
It may be a factor that makeup doesn't suit you. I advise you to be familiar with your skin type and maintain a good skin care regimen for flawless makeup.
Tip: I have added Cetaphil products to my skincare to treat my bad skin.
Not Prepping the Skin
Prepping the skin before makeup application ensures that makeup lasts long. If you are not prepping your skin well, you are at a greater risk of having a patchy and cakey makeup look. 
Tip: I always prep my skin with a primer or some moisturizer. I use ELF Hydrating Face Primer.
Not Using Color Correctors
Every skin has different skin tones, flaws, and dark spots. These spots need to be hidden, and color correctors work the best to even out the skin tone. Not using the color corrector leads the foundation to oxidize on the face resulting in graying. LA girl color correctors suit my skin.
Wrong Shade of Foundation
Foundation provides a canvas to work on. The wrong foundation shade can ruin your makeup, making you a clown. It won't be easy to find the right shade for your skin once found. It will save you from unexpected situations.
Using Makeup Formulas that don't Complement each other
Sometimes, you apply some makeup products that don't complement each other. Oil and water tend to repel each other. These products don't mix, resulting in makeup separation from your skin and giving a weird texture to your face. 
Warning: Never use products that don't have the same base ingredient.
Layering up the Product
To mask every imperfection and attain good foundation coverage, you layer up a lot of foundation on your face. Layering many products can make your face look cakey, and the makeup can fall off instantly.
Wrong Choice of makeup Products/Tools
Every skin is different in its type. Similarly, different makeup products are formulated according to their use on specific skin types. Makeup tools are also made to satisfy specific makeup needs. You can't use those products that your friend is using. The wrong choice of products and tools is a great reason that makeup doesn't suit you.  
Blending is the Key
Makeup looks flawless when every product applied is blended nicely. Blending is the key to a flawless makeup look, be it foundation, concealer, eyeshadows, bronzer, contour, or blush. Blend everything nicely and properly. Maybe you are not blending makeup properly on your face, which is why makeup doesn't suit you.
Going overboard
Are you someone who applies a lot of makeup going overboard with everything? From bold eye look to dark lips, you stack your face with makeup. I suggest you don't do that. Try to enhance one feature at one time. According to different glams, try different makeup looks. 
Warning: Never wear bold lipstick with a dark eye shade. 
Not Cleaning the Makeup Tools
After several uses, your makeup brushes and sponges catch dirt and become untidy. If they are not cleaned properly, it will result in allergic reactions and patchiness on your face. Sponges are at a greater risk of catching dirt than brushes.
What to Do if makeup doesn't suit you?
Do you want to do celebrity-like makeup and theater makeup that everyone likes? Leave that behind and do makeup in a way that reflects your personality. Makeup is not a mask to cover yourself. Instead, it should be your mirror.
Whenever you wear makeup, you feel top-notch. There are great makeup hacks that you should follow to stand out your entire look whenever you wear makeup. 
Know your Skin Tone
You have to know your skin tone. Not every pigment of makeup is for every skin tone. There are different skin tones according to which different shades and makeup pigments are formulated. Fair skin tones go for pinks, Medium skin tones go for peaches and coral, while darker skin tones go for browns. 
Pro tip: I have a warm skin tone. I apply a yellowish foundation on my face, which compliments my skin. I use the Nars Longwear foundation. 
Know your Face Structure
Your makeup entirely depends on your facial structure. Try to know your face. Applying makeup according to your face structure will enhance your features and give your face dimension. 
Tip: I apply makeup on the outer corner of my eyes to enhance my hooded eyes.  
Natural glam makeup
Are you a makeup noob? And want to know the ways to get a flawless makeup look. I advise you to go for natural glam makeup. Always opt for neutral eyeshadows and nude lipsticks. You can skip foundation and opt for a tinted moisturizer for natural daily makeup. 
Tip: Natural makeup goes with every look and makes you look fresh. 
Say No to Mattes And Hi to Dewy Looks.
Matte makeup looks are in, but what to do when it doesn't suit you? Matte makeup makes your face harsh and flat. I recommend you opt for dewy makeup looks. Apply a matte foundation and then add highlighters or shimmery blush to make your face glowy. You can also set your makeup look with a dewy finish setting spray.
Use Winged Eyeliner Only on Occasions
Winged eyeliners give some drama to your eyes. You should not wear it daily and restrict winged eyeliner to occasions. 
In this way, you can experiment with your makeup looks. Change is always positive when you try makeup looks on different occasions.
Warning: Never apply brown eyeliner; it will make you look tired. 
Fake lashes
Want to take your makeup look to the next level? I suggest you apply fake lashes. Fake lashes will complete your look for a night out party with friends and make you stand out among others. 
Never Skip your Eyebrows
Eyebrows define your personality. As per experience, I suggest you always go for a natural brow look. Heavy makeup needs some hard work on the eyebrows. Otherwise, I keep them minimal and straightforward. Gimme brow by Benefit cosmetics is my holy grail brow gel.
Set your makeup
 You give your energy and time to apply makeup. Always ensure that you lock down all the makeup in place. In this regard, don't forget to set your makeup. You can set it with a setting powder or a setting spray. 
My tip: I set my foundation and concealer with a setting powder and, in the end, fix my makeup in place using a setting spray. 
Hacks to Fix your makeup looks
Makeup hacks are very trendy nowadays. I have tried these hacks, and to my surprise, they work perfectly. These hacks have changed my makeup game. Some of the hacks to fix your makeup look.
Under Eye Concealer Creasing
Dealing with under-eye concealer creasing. I suggest you apply some setting powder to your fingers and set it down using the movement of your fingertips. 
Clumpy Mascara
Adding a few drops of lens solution can bring dry mascara to life. If your mascara clumps your eyelashes, take a Spoolie, wet it with setting spray, and swipe it to your clumpy lashes. Your lashes will get separated.
Alternate to Color Corrector
If you run out of color correctors, you can use red lipstick as an alternative to color correctors. 
Overdone blush or bronzer
In an overexcitement, you have applied a lot of blush and bronzer to your face and tone it down. Use a loose powder, and with the help of gentle strokes by a brush, you can lighten the pigment. 
My Final Words
Makeup can make or break your experience. I wear makeup to enhance my features and not to transform myself into another being. In the same way, I suggest you consider yourself first before applying makeup and don't follow any makeup look that is going viral. It may result in transforming you into a clown. In this article, I have explained why makeup looks worse sometimes, the DOs in the makeup application, and the valuable hacks, along with my tips. If you follow these techniques while applying makeup, the result will be your desired look.