Types Of Makeup Brushes -12 Amazing Makeup Tools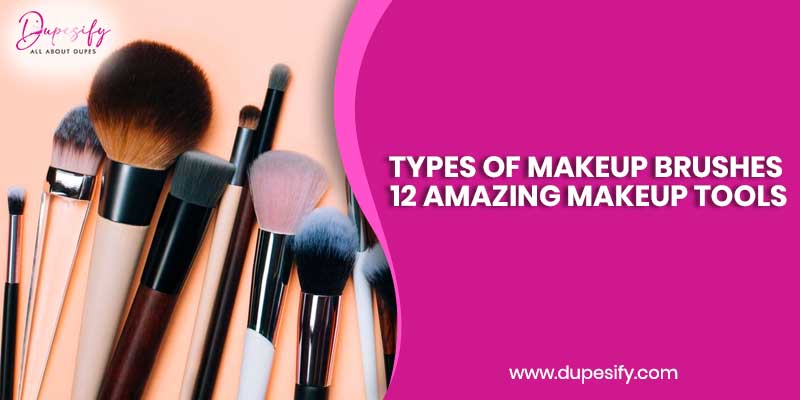 Makeup brushes have become the need of every makeup expert, aspirant, and domestic user. Everyone wants to enjoy a natural and confident look, which is only possible using these innovative tools. In this article, I will discuss the types of makeup brushes and make it easy for you to select the correct makeup brush for applying various makeup products.
Makeup brushes have replaced the older versions of doing makeup with fingertips. These 
brushes come in various sizes, shapes, and colors according to the demand of their users. But to my dismay, they cannot help you when you do not know their exact functions. In this article, I will explain several types of makeup brushes with their uses.
How Many Types Of Brushes Are There In Makeup?
There are a lot of makeup brushes available on the market, but you cannot buy all of them. Doing makeup with the wrong brushes makes your face a clown. You have to know the basic information about the commonly used brushes before you are good to go in purchasing them. 
So, Let's discuss the major types of brushes and make them essential pillars in makeup application. There are a few makeup brushes that you cannot do without them. These are kabuki, powder, fan, lipstick, or blush brush. All these are important in applying makeup to the face parts, and you cannot negate the importance of these in your makeup kit.
Similarly, to make your eyes more attractive, you must select the right makeup brushes because every makeup brush has a task to do in the makeup application. It is due to the brushes that make your eyes look dull and, at the same time, glittery for a party.
You can also read: Different Types of Primer
What Makeup Brushes Do I Need For Face?
Makeup brushes have changed the perspectives of applying makeup in today's world. The fun fact is that you can also apply many products by using a single makeup brush. Yes, you read it right, one makeup brush has many roles to play in wearing different makeup products. I will mention the face brushes that can successfully give you the desired look.
Foundation Brush
The first step in makeup application is crucial because it decides how naturally other products sink into it. It is essential to select the right tools for applying foundation. I have two foundation brushes to suggest you use.
One is the flat tapered brush that looks like a paintbrush and is thus used to spread the liquid product on the face when damp with water. It does not absorb much product in its bristle-instead, er helps to even out the foundation without creating any streaks.
I prefer a dense bristle makeup brush with a flat top to apply foundation. I call it a big fat kabuki brush. The primary function of this brush is to push the entire product into the skin resulting in a natural appearance. Moreover, the coverage that you obtain by using this brush is unmatchable.
Concealer Brush
A small flat brush is the one that you can pick and hide your imperfections with. You can use a concealer brush to perform other functions. For example, you can set eyeliner for its design and apply glitter eye shadow by dabbing the product on the eyelids.
A concealer brush has also evolved into a new type of brush known as a blemish brush. It is a brush with tightly packed bristles and does the spot treatment by applying a color corrector on scars. There are different brush makeup dupes that you can choose according to your needs.
Powder Brush
Do you want your makeup to look cakey? If not, grab your hand on a big, fluffy powder brush. This powder is essential to the extent that its presence is a must in every makeup kit. Powder brush events out the foundation creases, and you can achieve a mattifying finish. In addition, it is helpful to absorb the excess oil and make your makeup stay long.
Contour Brush
How do you contour the cheeks to highlight facial curves? Well, this is possible by using an angled brush. The point of using an angled brush for face contouring because it allows applying the product only where essential and prevents spreading on the entire face.
Handling a contour brush while wearing makeup is the most crucial step because you do not want to make your face look like a brown bear. Contouring is not everyone's cup of tea, and it needs a lot of practice to create dimension to the face.
Blush Brush
You can apply blush with any fluffy brush, using a brush containing ultra-soft fuller bristles with a slight dome. Blush brushes are the same as powder brushes, but their size is smaller for appropriate blush application. Make sure to choose a blush brush that is not dense; otherwise, it will push all the product inside and provide you with less coverage.
Pro tip: I suggest you select a blush brush that suits your cheeks size. Otherwise, you will mistake spreading the product on the entire face.
Highlighter Brush
Does sun-kissed look your desired makeup look? Well, it is necessary to use the correct type of makeup tool. In my case, I am a big fan of highlighters to uplift the high points of my face. It is the most common highlighter brush used by experts or enthusiasts to add a natural glow to your face. Hence, you can also apply the highlighter by using a fan brush to give your face a fresh and shiny look.
Lipstick Brush
I do not prefer to use lipstick brushes, but these products matter for those with small lips. Many lipstick wands do not cover the inner corners of the lips, and then these brushes make their entry on stage and handle the situation.
Lipstick brushes are designed precisely according to the lip structure and packed with tight bristles in a thin frame. Lipstick brushes give dimension and smooth out the product's imperfections around the lips.
What Are The Different Types Of Eye Makeup Brushes?
Do you get confused about the right makeup brushes for your eyes? Selecting eye brushes is a daring task due to their similar appearance. In this section, I will illustrate how eye makeup brushes look and their purpose.
Crease Brush
As I mentioned above, a concealer brush does the same job as an eye crease brush. It is a small flat brush that holds all the product and transfers it to the eyelids. It is the essential brush, covering the whole eye area with the makeup product.
Another function that makes it superior is that you can also create false crease lines on the eyelids to eliminate hooded makeup. Creating creases with a crease brush makes your eyes wide, and you will better enhance them with more eye-enhancing products.
Angled Brush
Angled brush for eyes is similar to the contouring brush. The primary function of this makeup tool is to provide dimension by contouring the eyeshadow in the outer corners. Moreover, the design is specifically used to blend all the colors in the crease for the perfect eye look. The angular bristles of the brush effectively smudge the color or add intense color to the eyes.
Blending Brush
Blending is the main element in the makeup application, whether blending the products on the face or mixing the colors to create a gradient look on the eyes. Blending brush makes it possible for you to obtain a seamless look. This brush works right after applying eye color on the socket lines and eyelids.
Eyeliner Brush
This brush is for you if you want to apply gel eyeliners. Eyeliner brushes are narrow, long, and pointed to create the perfect eyeliner pattern. Pointed eyeliner brushes are always special as they give you a sharp tint of color above the lashes and enhance your eye look.
Eyeliner brushes have many shapes and thus are designed to create a winged eyeliner look, cat eye, or numerous patterns on the outer corners.
Eyebrow Spoolie
It is the small comb-like brush to set the brows in its place. You can use Spoolie to apply mascara on lower lashes as it does not clump them. 
You can also learn about Drying the Brushes with Blow Dry.
Final Thought
Do you consider makeup and makeup brushes a deadly combination? If yes, you cannot avoid these makeup tools while applying makeup as they prove a game changer in uplifting your facial features in the best way. In this article, I have elaborated on the types of makeup brushes and their specific functions to give you an essential guide to understanding their uses before putting them into the makeup vanity.