Types Of Makeup Primer? Comprehensive Guide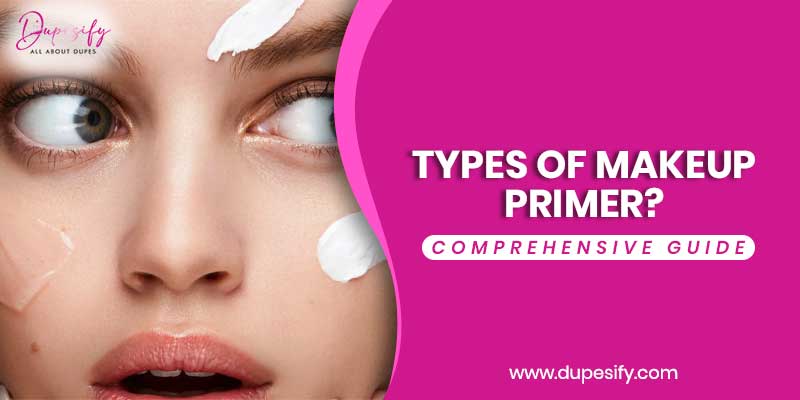 Having flawless skin is like achieving a long-lost dream. The constant struggle with skin problems and hiding imperfections has been my question for a long time. Using a primer is the only answer that seems suitable to me so that it can blur out everything. But What Are The Types Of Makeup Primers, and how can they be selected for your specific skin type?
Makeup primers come in different types due to their functions on the skin. But to my dismay, they cannot help you anyway when you do not know their exact specifications. In this article, I will explain several types of makeup primers and their uses.
What Does Primer Do? Is Face Primer Necessary?
What are you waiting for if you know the importance of makeup primers? Using a primer is as necessary as doing makeup. You cannot make your makeup smooth and flawless without it. Similarly, it is due to the primer that your makeup stays long for hours without melting.
In my opinion, primer acts as a barricade between skin and makeup. You can let the primer set on the face and enjoy the bump-free texture.
Tidbits:
Applying primer gives a smooth canvas without causing any heaviness.
Priming reduces makeup time.
Primer instantly gives a natural look.
 
Types Of Makeup Primer?
There are a lot of makeup primers available in the market, but you cannot buy all of them. Doing makeup with the wrong selection of primer may create a hindrance to your desired look. You have to know the basic information about the commonly used primers, and then you are good to go in purchasing what is suitable for your skin type.
So, Let's discuss the major types of primers and make them essential pillars in makeup application. There are a few makeup primers that you cannot do without them. These are mainly three types designed according to skin type. Silicone-based primers, moisturizing primers, and mattifying primers. In this section, I will describe the properties of these makeup primers.
What Is Silicone Primer Good For?
I must say, makeup primers with silicone in them have gained much popularity in a very short time. This primer is my favorite because it is suitable for all skin types and effectively prepares the face canvas for further makeup. 
The primary function of a silicone-based primer is to even out the skin texture by blurring the appearance of open pores and erasing all the wrinkle lines. It ensures you lock all the healthy nutrients you have applied to the skin.
Silicone primers are best in long-wearing makeup. It gently adheres to the foundation and keeps the makeup stay in place. I advise you to apply Smashbox The Original Photo Finish Smooth & Blur Oil-Free Primer on every skin type. Still, usually, silicone primers work better with oily skin to absorb the excess oil.
What is hydrate primer used for?
Do you worry about the staying power of makeup on flaky skin? Well, hydrating primers come to rescue the problem. All you need is to apply NYX Professional Makeup Plump Right Back Plumping Serum + Primer, which has moisturizing properties, and you will see it does wonders for the skin.
The additional benefit it provides to the skin is that it not only gives a smooth finish in the blending of foundation but also makes all the other makeup products glide on the skin.
Moisturizing primers are best for oily skin that lock all the hydrating ingredients like hyaluronic acid and antioxidants inside the skin. They ensure that the makeup stays smooth and crease-free. Hydrating primers are the holy grail for dry skin; you better try them.
Which Face Primer Is Best For Mature Skin?
Mature skin also demands a good quality makeup setting product. With time, skin becomes loose and appears with more lines and wrinkles. I suggest investing in hydrating makeup primers to enhance the appearance of the skin tone and smooth the skin texture before wearing makeup.
What is a mattifying primer?
Still confused about what to apply to prevent shine on the face? To tackle this difficulty, I have a magical product for you. Before makeup, you must use Maybelline Face Studio Master Prime Primer and religiously apply it to the T-zone, and you can apply other Dupes also according to your need.
Mattifying primers soak all the excessive oil and make your face oil-free and shine-free. Moreover, it helps reduce the development of sebum. The gel consistency of these primers forms a layer on the skin and prevents makeup from penetrating deep inside the skin.
Types Of Face Primers | 3 Types Based On Their Functions
Makeup primers have different tasks on the skin because every skin is different and demands products according to its need. Primer has the primary function of priming and neutralizing the face and making it ready for using makeup. In this regard, four different types of makeup primers are used.
Color-correcting Primer
I challenge that dealing with dark spots is no more a difficult task for you because color-correcting primer helps you to hide the dark spots and scars before makeup. 
These primers are available in many colors per skin concerns and reduce discoloration.
For example, if you have dark circles, you should use an orange color-correcting primer. To cover a bruise, I suggest you use a green correcting primer to even out the skin tone and give you a radiant complexion.
Pore Filling Primer
You may be worried about your large open pores that destroy the makeup look you want to create. In that case, pore-filling primers are specially designed to combat the appearance of big fat pores.
You have to take a smaller amount of it and apply it to the areas where you face the problem. It immediately leaves the skin free from pores by temporarily erasing its appearance.
Pro tip: never use Pore filling primer on the entire face; otherwise, you will also end up clogging the clear skin.
Illuminating Primer
Illuminating primers work as a highlighter to give your skin a dewy finish before makeup. This primer is best when you use a matte foundation and at the same time want to add some sheen to the face. 
Illuminating primers have the primary benefit of using that they are also used alone without makeup to glorify facial features.
FAQs
Can Coconut Oil Be A Primer?
Coconut oil has lauric acid, which transfers a soothing effect to the skin. This oil is the best primer for dry skin as it naturally enhances the glow on the face. I consider it necessary to prime my face. It hydrates my skin and prevents clogged pores. I have experienced its incredible benefits, and my skin looks more fresh and plumpy.
Can Primer Be Used As A Moisturizer?
Primers and moisturizers are different from each other. I use both products as they have different functions to perform. Moisturizer is the last step of my skincare routine that prevents me from skin dryness. Primer is the first step before applying anything to my face. Primer after the moisturizer does wonders for my face, making makeup applications last longer.
How Long After Applying Moisturizer Can I Apply Primer?
Applying primers is a healthy activity to follow for a natural appearance. Moisturizer takes time to absorb completely in the skin. I suggest you let the moisturizer set on the skin first, and then you can apply primer because it acts as a protective layer and grabs all the dirt, and you enjoy a seamless finish.
Final Thoughts On What Are Makeup Primers?
Do you wonder how influencers create an airbrush makeup look? If yes, what makes you delay starting to use makeup primer? You must add it to your makeup beginning step as it is an integral part of the makeup application. In this article, I have elaborated on the types of makeup primers and their specific functions to give you an essential guide to understanding their significance and restoring them to the makeup vanity.