What are Makeup Dupes? What does Dupe mean in Skincare?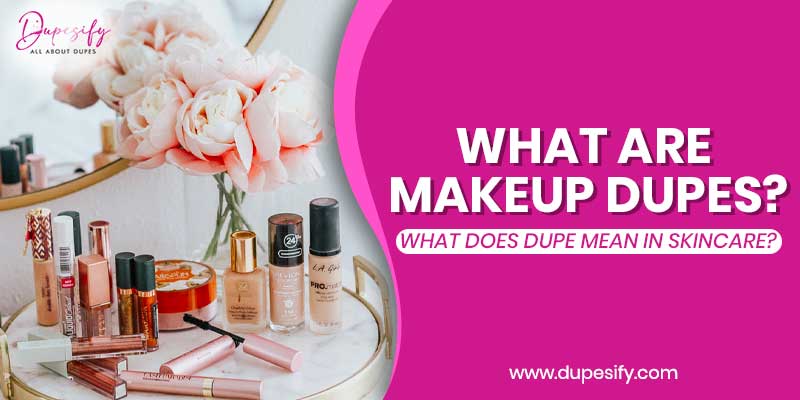 Makeup dupes are duplicates of the best high-selling makeup product. Drugstores made makeup dupes that are very similar to the best-selling, higher-end makeup products but at a more affordable and cheaper price. I use many dupes when I don't want to break the bank. The more higher-end products are introduced, the more drug stores are open. Many consumers do not know What are Makeup Dupes? So let's learn about Dupes.
Makeup dupes are made using the same formula and shade, including higher-end product ingredients. Although not exactly like the higher-end products, these dupes perform very similarly to them. Please keep reading to learn more about makeup dupes and their value in the makeup industry.
How do they originate?
As the makeup industry grows, consumers are eager to keep up with the latest innovations, styles, and trends, but they do not always want to spend a higher price on a product that might be of no use to them later. At this point, affordable quality makeup dupes come in, and there are various dupe makeup brands you can choose to get things done.
I always try new and trendy looks, but the price of higher-end products mostly stops me from grabbing them. Who wants to pay a lot of money to create a new trendy look? Looking for better but affordable makeup products, I started using excellent makeup dupes. They are very similar to the ones I grab double to dupe costs. To my surprise, makeup dupes are a fraction of the price of higher-end products.
Besides the money I can save, good reasons keep me up to use the best makeup dupes.
Luxury higher-end makeup comes in the best luxury packaging, but the less and more basic packaging is good for me.
The more makeup palettes I have, the more looks I can create that keeps me staying with the trend.
The size of the bottle is the same as high-end products.
Dupes have a better application and durability than the original ones.
Preferable Dupes
Dupes appear in various forms such as primer, eyeshadow palette, lipstick, foundation, etc. I am sharing both makeup dupes and higher-end products that are the same in quality and formulas but preferably, I use Seint makeup dupes for my makeup routine.
Primer
I have the Urban Decay Ultra glow face primer from the higher-end product, which costs about $36. It is a good face primer that adds hydration to your skin and prolongs your makeup. But the dupe, Hard Candy which costs $7, I grabbed from the drugstore, is as good as the higher-end version. Both moisturize the skin so well that foundations do not settle into creases. 
Foundation
I used Georgie Armani for the foundation, which costs $27-$3. It has a matte finish. It is suitable for my combination skin(dry-to-oily). I found a similar foundation that costs $8 and allows your skin full coverage and stays longer. It has a thin to medium coverage and a watery texture. It does not oxidize. 
Concealer
I have Tarte ultra-creamy concealer that costs $29. It allows my skin hydration and looks better under my eyes. From the dupe, I use elf hydrating, which costs $6. I like this more than the Tarte because it is more creamy and hydrating for my under eyes and provides excellent coverage. It has a seamless formula on my skin.
Lipstick
I used Mac lipsticks which cost $30 in many shades or colors. I like the formula and its smell. It does not get cakey and flaky on my lips. Recently, I discovered Revlon lipsticks cost around $12, which is more than half the price. It smoothly applies to my lips and does not get cakey as well. It has various shades too. I love its texture. It is the same as a Mac, so why do we spend more money when they both work the same?
Drawbacks
Every product has its pros and cons. There are two major drawbacks that I noted are
Most of the time, finding the same formula is a bit tricky. There might be a slight difference in ingredients, and even if you find the same ingredients, their proportion might differ. 
Finding a good dupe is difficult. Many brands claim that their dupe is a replica of the higher-end product. But, it is far away to be called a dupe.
Beware of the Scams/Frauds
Not all the dupes are original. Many companies/brands sell their products by promoting them as original and long-lasting quality, but in reality, they are not. I got scammed once when I was a newbie and did not know much about second-copy makeup products. 
When I applied the products, they irritated my skin, and I felt acne bumps right after taking off the makeup. So, I suggested to everyone willing to try and buy makeup dupes to beware of the scams and buy from the best drugstore dupes for expensive makeup. They might give you a second copy of the products that cause breakouts and burns on your skin. 
Want to know more about Dupes? Visit our homepage to know more.
Conclusion
In the above article, I give a proper and comprehensive guide on What makeup dupes are and how they are similar to higher-end products. I also discuss the preferable dupes that I am using now and their longevity and consistency, and how well they relate to luxury, higher-end makeup products. I believe this guide will help those who are newbies to learn about the best makeup dupes 2022.