Is Makeup a Hobby? Can it be a Hobby?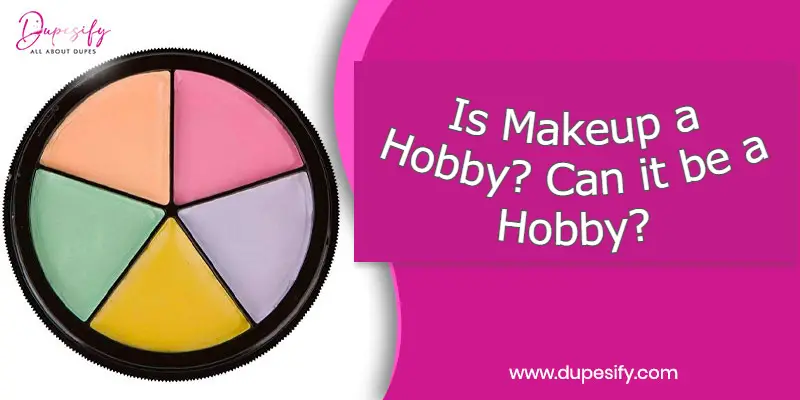 Life is a constant hustle and bustle. Having some "me time" and leisure is a dire need. To get leisure or to have fun, people adopt hobbies. The older generation advised people to have hobbies as a means of de-stressing. There are many different hobbies to choose from, so many people wonder, Is Makeup a hobby?
Any activity that gives pleasure, relief from burdens, and peace of mind is a hobby. Makeup is undoubtedly a productive hobby that is not only done for fun but has become a basic necessity. It is like playing with colors and achieving the desired look that gives you satisfaction.
The hobby has proven healthy and productive for the mind. It relaxes and refreshes your personality. You can adopt as many hobbies as you like and have an interest in them. My hobby is Makeup, and I feel it is fun doing it. In this article, I will mention some facts about how Makeup is a hobby.
7 Proven Facts on How to say Makeup is a Hobby?
A hobby is any activity that relaxes your mind from daily chores and workloads. It is a debatable topic whether Makeup is a hobby or not. Makeup is a basic need in life as you do it every day. If you enjoy doing it, it is a hobby for you, and if you wear it because of societal pressure, it is not a hobby for you. I have formulated some facts that will prove Makeup can be a hobby.
Makeup is your Personality's Expression
A hobby is always adopted as per interest and liking. If you are interested in something, you will do it and enjoy it. You express your personality through Makeup. If you are humble, you will always go for soft makeup looks. If you are experimental, you will try out new makeup looks. 
Makeup Boosts Your Confidence
Makeup enhances your features. With winged liner, soft brows, and a nude lip shade, you are good to go and slay your look. It will add confidence to your personality and prepare you to face the world. 
Makeup is Fun
Experimentation is always fun. You learn new things and come to know about new ideas and trends. It eventually gives you leisure. You surf on Makeup, buy new makeup products, keep collecting them and try out new makeup looks. 
Makeup Gives you Freedom
Do you want to have no restrictions in your life? Makeup gives you that freedom. It's all your choice how much you apply Makeup. You can put on heavy Makeup or go for a no-makeup look. Makeup as a hobby is relaxing to your mind. 
You can also read: How to look more Masculine with makeup?
Makeup is a Language
Makeup is a medium that lets you convey your viewpoint. It is the technique that professionals use. Makeup is everywhere, whether on dance floors, ramps, or theaters. You cannot deny the importance of Makeup in your reel and real life. Stage shows, TV dramas, and films are incomplete without Makeup. 
Makeup is Social Therapy
You can bond with as many people as possible because Makeup is your common interest. For me, Makeup is a social therapy. I have made many new friends because of this as my hobby. Everyone does it; differently, and it is always fun to know about their makeup routines. 
Read also: How to Lighten Permanent makeup?
Makeup is Creativity
A creative mind is always keen on bringing out something new. Makeup is creativity, and it enhances your skills and learning. You become capable of looking nice and more attractive by trying new looks. There are no hard and fast rules to applying Makeup. It is all your creative mind.
Makeup is My Hobby
My hobby is Makeup because it is constant fun for me. It is like an art; that's why I am called a "makeup artist." Makeup as Art reflects my personality and is the expression of my feelings. Art is done to seek pleasure so is Makeup for me. 
I am free to do Makeup as I like. I am allowed to wear little Makeup or full glam Makeup. I get creative while doing Makeup. For me, different occasions call for new and different makeup looks. All this gives me peace and satisfaction. I can proudly say that Makeup is my hobby because:-
It is fun looking at makeup videos.
I find it relaxing to buy and collect new makeup products.
Applying Makeup enhances my confidence.
How to Write Makeup as Hobby in Resume?
A resume is a qualification degree that helps you to build your career. It allows you to be practical and independent in your life by securing a good position. It would help if you had an impacting resume. 
You can add value to your resume by adding a hobby. These hobbies define your personality, work potential, and interests. I highly recommend you write Makeup as a hobby in your resume.  
I will tell you how to do it. 
Overlook the position
Before adding Makeup as a hobby to your resume, be sure about the position you are applying for. If you apply as an accountant, it will be of no benefit to you. But, if you are applying for a post of manager or receptionist in a salon or makeup company. It will add a bonus to your resume.
Be Passionate
Hobbies have a significant impact when added to a resume because they tell about your set goals. It will help if you remain passionate about your interest. Add Makeup as a hobby in your resume only when you have a lot of knowledge about it. 
Summarize Your Makeup Skills
You don't have to tell a tale to the interviewers, and you have to give them an idea about yourself. Write in a summarized form about your interest in Makeup, how much time you spend doing Makeup, and what your experience is. 
Beauty Related Hobbies
You always get embarrassed when you are asked about your hobbies. Because you have no hobbies, hobbies can be anything that diverts your mind and keeps you engaged while giving you pleasure. If you are interested in beauty-related stuff, you can adopt these hobbies.
Makeup  
Skincare
Nail Art
Hair Styling
Frequently Asked Questions
Is Skincare a Hobby?
Taking care of your skin is mandatory, and it can be fun. So, like Makeup, it is also a hobby. You enjoy taking care of your skin and collecting skincare products like neutralizers, foundation, and sunblock. In addition, it includes buying new products and enjoying them while applying them to your skin. All of these give you relaxation and peace of mind. 
Why is Makeup a form of Art?
Makeup is a form of Art, your face is your canvas, and your creative artist is free to create any look. Makeup looks can express your personality, and it has a significant impact on others as well. Art is for pleasure, and you love to be artistic while doing Makeup.
Why is Makeup so Fun?
You wear Makeup because you want to cover your imperfections and enhance your features. It is fun to try out new looks and experiment with different looks according to the new trends. You feel satisfied and relaxed while doing it. 
Final Thoughts | Is Makeup a Hobby?
Why not have fun and pleasure with Makeup? Makeup is a hobby because it lets you be creative and artistic. You feel relaxed and confident when you have put on Makeup. It instantly boosts your dull and tired look by covering your flaws and making your features attractive. Makeup has become a necessity in today's life. I suggest you make it fun and pleasurable in your hectic schedule.