How to look more Masculine with makeup? Tips and Tricks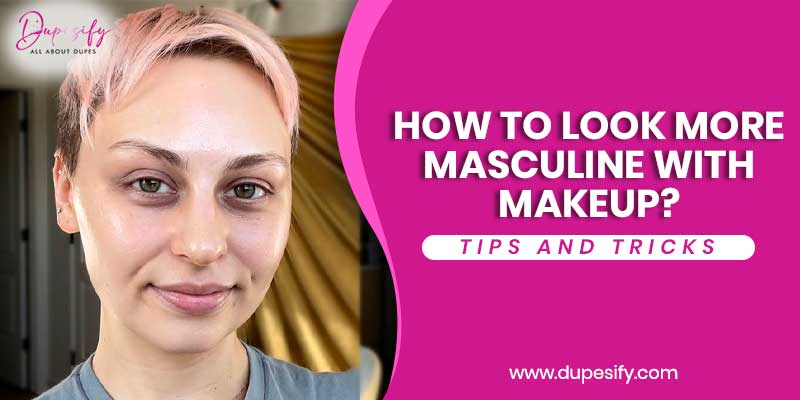 Wearing makeup daily and creating different looks is my ultimate passion. The more looks I create, the more satisfaction I gain. This year, I decided to go for a masculine look for the Fancy Dress competition at my college. I am a fan of Tom Cruise and love his manly masculine features. Therefore, I decided to create that look. I did a lot of research on how to look more Masculine with makeup and, of course, a lot of experiments before the final look. 
The more I dig into this look, the more I wonder about the products and the feature enhancement techniques, as men have very sharp jawlines and features that impact the opposite gender. So, I thought of making a guide on what products are used to create a masculine look as a female. Moreover, I will share tips on how to make your face more like a male being a female. This guide will help both males and females. 
So keep reading this.
How to look more masculine as a female?
There are many techniques and tips to consider to achieve a masculine look.
Applying Moisturizer
Moisturizer is a great way to go. It keeps my skin smooth and hydrated and prevents my makeup from looking patchy. I use moisturizer as a primer base for my makeup look. I started my makeup for a masculine look by applying moisturizer to my face. Men have rough and dry skin, so using moisturizer smoothes their skin and preps their faces for makeup.
Cover Blemishes
I apply concealer to cover my acne-prone blemishes. It used concealer on my forehead, chin, and nose area too. Also, using concealer helps me to hide my features and prepare a bare canvas for Masculine Makeup. 
Note: Men have more blemishes as compared to women. So, if you are a man who is reading this, don't worry, guys; you can cover it all.
Masculine Makeup Contouring
Contouring helps to create a more masculine look and brings a warm glow. I bronze/contour my jawline as men have more sharp jawlines than women. Afterward, I used it on my cheekbones to give it a more profound effect. Most men have short foreheads, so I used them on my forehead as I have a big one. I draw a -I- shape on both temples. Then, I contour my neck (to create an artificial adam) and my chin. It created sharper, more masculine features.
Use Powder to Reduce Shine
Men do not have and like shiny faces. Using foundation and concealer left a shiny appearance on the face. For this, I used powder and dabbed it across my face, so it absorbed all my face shine to dull the appearance of my foundation makeup.
Refining Eyes
Men tend to have small eyes as compared to women. So, I used concealer one shade lighter than my skin tone under my eyes to make it small. I apply it in an arch that follows along my lower eyelid. I blend it properly, so it makes my eyes look slightly smaller.
Make Eyebrows
Getting the proper eyebrows is an essential part of creating a masculine look. Male eyebrows tend to be bushier than female eyebrows. Additionally, they also tend to lack in shape. I used eyebrow powder that matches my natural eyebrow color and applied it to my eyebrows. Besides, I fill the gaps to make them thicker. 
Add-In Some Facial hair 
Facial hair is one of the perfect ways to look more masculine in makeup. Unlike women, men have hairy faces containing sideburns and beards. To achieve a more masculine look, I apply eyebrow powder to add artificial sideburns and beards to my face. I add fake mustaches to create a manly look.
Tip: Keep in mind whatever you choose to add artificial facial hair, ensure to use a shade color close to your natural hair color.
You may also be interested in:
How to make your face look more masculine ftm?
To make your face look more masculine, here are the following tips that you can adopt for creating a manly appearance.
Getting a Haircut/Hair cap
Having all the makeup to look masculine but still having feminine hair makes you look confused and out of fashion. I used a hair cap instead of a haircut to make a more masculine appearance because I needed this look temporarily. Some quality hairstyles such as slicked black, undercut, and buzz cut will leave you looking all masculine and handsome. 
Wear Masculine Clothes
It is unfair to create a masculine look using makeup and not wear clothes like males. Many options include baggy pants, oversized layers, canvas sneakers, and loose-fitted shirts. You can opt for anything, but I wore wider jeans with a loose-fitted shirt to create a more masculine look.
Tip: Go for neutral or male-like colors such as black, blue, and other dark colors.
Use Male Perfumes/ Deodorant
Complete your look by using male perfumes or deodorant. Men's perfumes have a strong smell as compared to women's. Applying a male perfume helps a lot to boost your confidence.
Act like a Man
The final strategy you opt for is acting like a male. It will be weird to behave like a woman after having male makeup. To look more masculine in makeup, you need to talk and walk upright and do your things like a real man.
How can I naturally look more masculine?
You can make your face look more masculine by applying natural shades of makeup to your skin. You can opt for neutral shades like brown and peachy orange to enhance and give your features a masculine look. You can also adopt masculine grooming habits by growing out a beard and chopping down your hair like a man.
Final Thoughts
Being a girl, you can create a masculine look by applying makeup on your face to make them sharp and similar to the males. In the above article, I thoroughly elaborate on how you can do more makeup to look more masculine. Moreover, I described additional tips for creating a male appearance.