How to Remove Alcohol Activated Makeup? A Complete Guide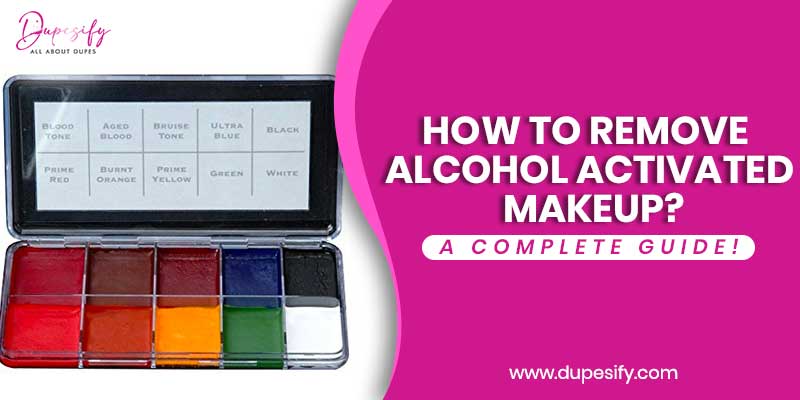 Makeup comes in two major types; Alcohol-based and Alcohol-free. Both types of makeup required different methods to remove. Alcohol-activated makeup usually comes as dry cake in a makeup palette or pan, and they contain 99% alcohol in it. This type of makeup is waterproof and can stay for a long time. That's why removing it can be challenging.
Whenever I go out for a whole day event, I prefer alcohol-based makeup because it stays longer on the face than non-alcoholic ones. I know it gives me a tough time while remove it. I thoroughly researched many methods and DIYs on How to remove alcohol-activated makeup? Here, I pen down all the methods I have found on the internet and illustrate them to you so that you avoid any difficulty removing this makeup. So, grab your coffee or snacks and stay with me.
How to take off Alcohol-activated makeup? 
Makeup is easy to apply and difficult to remove. And when it comes to alcohol-based makeup, it will become tricky. But nothing in this world is impossible. 
I went to a Halloween party last Saturday night and chose alcohol-activated makeup instead of alcohol-free. The struggle was confirmed when I returned and started to take off my makeup. I googled and found many ideas for taking off alcohol-based makeup. 
I first grab a makeup remover and pour drops on the cotton pad.
I gently rub the cotton on my face (alcohol-based makeup dries very fast, and when you rub makeup with oil or makeup remover, it will irritate).
Furthermore, I took baby oil because it has an ultra-moisturizing capacity. It removes my makeup so fastly and easily and provides my skin back its smooth and soft texture. (massaging with baby oil will remove all your alcohol-based makeup on your face).
Lastly, I used a moisturizer to hydrate my face skin well.
Of all the methods, this is the method I used to clean my alcohol-based makeup. It works for me. And I believe this method will help you too.
Which products help to remove Alcohol-activated makeup?
As mentioned above, the method of removing alcohol-activated makeup, here are some essential products that help you to remove it in this regard.
Alcohol makeup removing wipes takes off makeup so quickly. They are best and ideal for alcohol-based makeup. I gently wipe off my makeup using these wipes. Then, I used cleansing milk, so my skin did not activate any skin irritation or pain.
Baby oil is rich in moisture and influential in removing alcohol-activated makeup. I poured oil into my palm and removed my alcohol-based makeup by gently massaging oil over my face. With the combination of different ingredients in baby oil, the alcohol-activated makeup gets mixed into and removed quickly. Once I am done with the massaging, I wipe it off with a cotton pad.
Raw Coconut oil works great in removing alcohol-activated makeup. Once I applied airbrush makeup (alcohol-based) on my skin. Unfortunately, I forgot to grab the remover. I used coconut oil, and it amazingly dissolves my alcohol-activated makeup. Additionally, it provides my skin moisture and leaves no particles of this stubborn makeup.
Micellar Water is used to remove alcohol-activated makeup. I pour a generous amount of product onto a cotton pad and smoothly wipe off my makeup; that leaves no makeup residues and allows my skin to breathe.
Is alcohol in makeup bad for your skin?
We all know the pros and cons of alcohol. If you are concerned about whether alcohol in makeup is bad for your skin or not, then you have come to the right page. Alcohol in makeup allows your skin more oil and shine. Which I think is suitable for sometimes, but excessiveness of oil may lead your skin to breakouts and acne. 
The alcohol-based makeup contains 99% alcohol and just 1% water. It means using it might lead your skin to trouble and results in pimples, irritation, redness, and acne-prone skin. 
Alcohol in eye palettes will cause eye irritation or infection because it might get into your eyes. 
So take precautions while using alcohol-based makeup (do not dust the eyeshadow powder near your eyes). All you need to do is practice and learn how to use alcohol-activated makeup, and then it will be your best buddy in your makeup kit. 
You may also find these makeup tips helpful:
What alcohol-activated makeup does to your face?
Alcohol-activated makeup will not harm your skin unless you take special care of the skin. Alcohol-based makeup dehydrates your skin and makes your skin dry. Dry skin leads to wrinkles and makes your skin dull and gray. So, whenever you use alcohol-activated makeup, ensure that you moisturize or hydrate your skin. It is guaranteed you will not seek any skin damage after using it.
Good VS Bad alcohol in makeup?
As the makeup industry grows and the demand of consumers increases, makeup brand owners start adding bad alcohol to makeup. Which is not a good thing, I guess. The ingredients in makeup should be of good quality because bad or lousy alcohol can cause dryness, breakouts, and irritation. 
However, it shows a mattifying effect and quickly absorbs the skin. Bad alcohol damages the skin and takes all the oil or moisture off the skin, which results in dryness and other skin problems. On the contrary, good alcohol in cosmetics will not dry and irritate your skin and prevent it from breakouts. It locks the moisture and oil of the skin. 
Conclusion 
Since makeup activated with alcohol lasts a long time, it should be challenging to remove by nature, but when the right products are used, you can easily remove them. Alcohol-activated makeups are suitable for your skin unless you take righteous care of it. Moreover, I mentioned the most effective methods and steps for removing alcohol-activated makeup that will bring no harm to your skin. I hope this guide will help you. For more such informative guides, you can head to Dupesify.