FTM Makeup Tips | How to Apply Makeup as an FTM?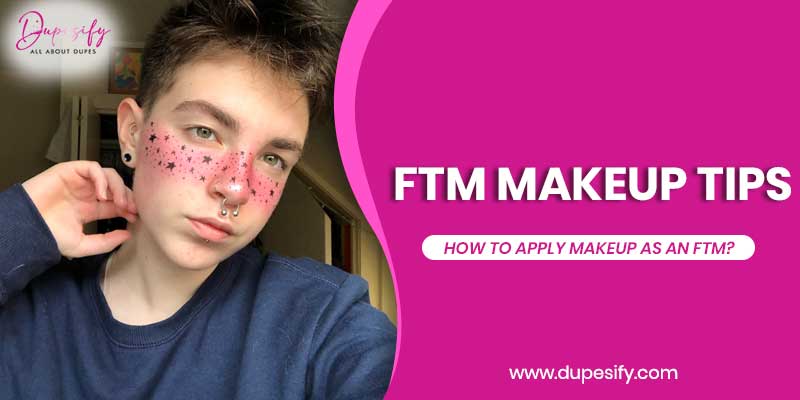 Makeup can do wonders. It can enhance your features, cover every imperfection, and transform you. Don't believe it? You can achieve a masculine look with the help of Makeup. As a makeup expert, I am acquainted with various makeup looks. Let me tell you FTM Makeup tips.
Piece of information: FTM Makeup (Female to Male Makeup) is Makeup that is done to transform into a masculine look from a feminine appearance. It is also called Androgynous Makeup. 
Makeup is everywhere, whether on dance floors, ramps, or theaters. You cannot deny the importance of Makeup in your reel and real life. You are a pretty girl, and you have to play the role of a male. You need Makeup to transform yourself. This article is all about Tips on FTM Makeup. 
How to make your face look more masculine FTM?  
Makeup belonging to females has now become a conventional fact. Nowadays, everyone is applying Makeup, whether it be female or male. You can create a male look out of your female appearance using Makeup and following proper techniques. 
Note: Makeup products remain the same, and you don't have to buy anything unique to achieve that particular look.
You want to achieve a masculine look for a stage show. You should follow these masculine makeup techniques to achieve your desired look without hassle or worry. I have formulated some easy steps for you to achieve a male-looking appearance. 
Skin prepping
It doesn't matter what type of makeup look you will achieve. You should prep your skin well before applying any makeup. A well-prepped skin will give you a natural makeup look and continue with your regular cleansing, toning, and moisturizing.  
Primer
Primer is the essential step in prepping the skin before applying Makeup. Primer ensures that the Makeup lasts longer without smudging. It hides the pores, smoothes out the skin, and provides a clean canvas to work on. You can choose from different types of primer according to your needs.
You must ensure that your face is clean and smooth; you should apply a primer. You can use POREfessional Pro Balm Face Primer by Benefit Cosmetics.
Tip: I try to apply a mattifying primer to boost the function of the primer. 
Foundation
Foundation acts as a base for makeup application. It evens the skin tone and gives you a clean surface to work on further. You must ensure that you choose a foundation that matches your skin type and looks skin-like. 
You don't have to hide your flaws you have to show them because manly skin has prominent flaws, scars, and blemishes. I prefer to use Nars Natural Radiant Longwear Foundation.
Tip: You should avoid using a full coverage foundation; try to use a medium or light coverage foundation that looks skin-like. 
Eye Makeup
Your masculine look is incomplete without eye makeup. Eye makeup needs great expertise and skill, and manly eyes are more profound and creased than females. 
You can also read: Can I wear Eye makeup to an eye Exam?
Eyebrows
Don't forget to do your brows if you want to give structure to your eyes. Eyebrows reflect your personality, so do it carefully and nicely. That's precisely the case when you are trying to look masculine. Manly eyebrows are bushy and thick and not sharp. I use the NYX professional Micro Brow Pencil.
To achieve a manly look, try to lessen the arch of your eyebrows.
 Shape them in a straight line.
Draw a line along your eyebrows to thicken them.
Fill in the gaps, so they look darker and heavier.
With the help of eyeshadow, draw ingrown hairs on your brow bone. 
Eyelid
Manly eyebrows are deeper and creased than females. To achieve that look, apply a neutral brown color to your crease area and blend it. I suggest you try to avoid glitters and sparkly eyeshadows; go with matte neutral shades. You should also apply a darker shade to your lower lash line to get the tired look. 
Lashes
Males usually have fuller, voluminous, lengthy, and curled lashes. Curl your lashes with an eyelash curler, and apply a little coat of voluminous and lengthening mascara.
Tip: Try to avoid mascara that clumps your eyelashes. 
Lips 
Manly lips are narrow and are more pigmented. You have to hide your rosy pink lips to achieve that look. Conceal your lips to make them less plump using a lighter concealer. It is better to contour below your lower lip. 
Tip: You can apply a lip balm to your lips to not make them look chapped. 
Setting your look
Now you are done with your Makeup, and you must get it fixed, so it doesn't smudge all day long. The use of setting spray is the final step in my makeup routine. It keeps my Makeup fixed at its place all day long and prevents my Makeup from creasing or being cakey or patchy. Also, it provides hydration to my face and keeps my Makeup flawless. I use All Nighter Long Lasting Makeup Setting Spray from Urban Decay.
Application
Grabbing the setting spray in my hand, keeping it at some distance from my face, I spray it evenly all over my face. It dries out on its own, and there is no need to rub it off.
Male Face Contouring Makeup
Want to achieve that chiseled manly face having sharp jawlines and curvy cheeks? Contouring is the key to achieving that look. Contours create an illusion of hollows in the cheeks, and contouring will significantly transform your face look. Anastasia Beverly Hills Contour Kit is my go-to palette.
Tip: I prefer to apply a two-shade darker contour to my skin tone. Try to use a cream contour and then set it with a powder. 
Nose Contouring
A Manly nose is more comprehensive, having flaring nose wings. You can achieve all that by contouring your nose.
Grab your contouring kit and an angled contour brush.
Start with contouring your nose.
Swipe the brush from the tip of your nose to your inner eyebrows and blend it.
Contour heavily on both sides of the bridge of your nose. 
Contour between your eyebrows to achieve a prominent look for the nose bone. 
Cheeks Contouring
Cheeks contouring is an essential part of your masculine Makeup. It will make a lot of difference if you do it properly. 
I apply contour in the shape of 3, starting from the middle of the forehead, gliding towards my cheeks, and then taking it to the jawline. 
On the other cheek, I work in an inverted 3.  
Press your finger lightly into your cheek to find out where your teeth start.
Bend your finger to the jawline. Glide contour on the cheek from the middle of the ear to the end of your finger.
Contour your jawline as sharply as you can because males have a more jawline than females. 
Face Contouring
A manly face has a loose skin texture than females showing flaws and imperfections.
With the help of contour, try to make a cleft chin.
You have to also contour below your lower lip.
Contour along your cupid bows to narrow your lips.
You should also contour your smile lines. 
You should also contour your temple bone.
Additional Tips to look more masculine
Along with the Makeup, you must follow some additional tips to look more masculine. These tips are as crucial as Makeup. 
Beard/Stubble
A beard or stubble defines a man's face. You can opt for an artificial beard or draw it on your face using Makeup. With the help of a smaller brush or eyebrow pencil, you can draw your beard. It is up to you what heavy or light beard you want to go with. 
Hair styling
Your efforts can go in vain if you don't consider your hair. A hairstyle can make or break your experience. It would help if you opted for a manly hairstyle by going to a hairstylist or putting on a fake wig. 
Clothes
Clothes are mandatory in completing your masculine look. Try to go for clothes that are manly to achieve that masculine look.
Body Language
Males and females differ entirely in their body language. By observing their body language, you can easily assume someone's identity as a male or female. I recommend you try to adapt manly body language to strengthen your masculine get-up.
Tanning
Tanning is another way to look more masculine and provides a more manly look. I suggest getting your face and neck a bit tanned, and also, you can wear your makeup with tanning.
Frequently Asked Questions
What Makeup enhances masculine features?
Makeup is magical because it can create a new you. You can't imagine, but Makeup can do that. To enhance masculine features in your feminine look, you should contour your face and blend it.
Contouring is the most critical part of completely changing your face from a female to a male appearance.  
How can a girl look more masculine?
A girl can look more masculine by changing her facial features. Makeup is the ultimate solution to change your look to achieve that. Makeup can hide your female appearance and transform your face into a male-looking face.  
Conclusion | FTM Makeup Tips
Makeup has become a necessity. You can achieve a variety of different looks using Makeup. It is possible to achieve a masculine appearance by transforming your female facial features. You have to follow the basic steps, tips, and tricks. In this article, I have defined different techniques and steps, along with my tips for FTM Makeup. I hope this article of mine helps you.