Can I Wear Makeup After Cheek Fillers? Complete Guide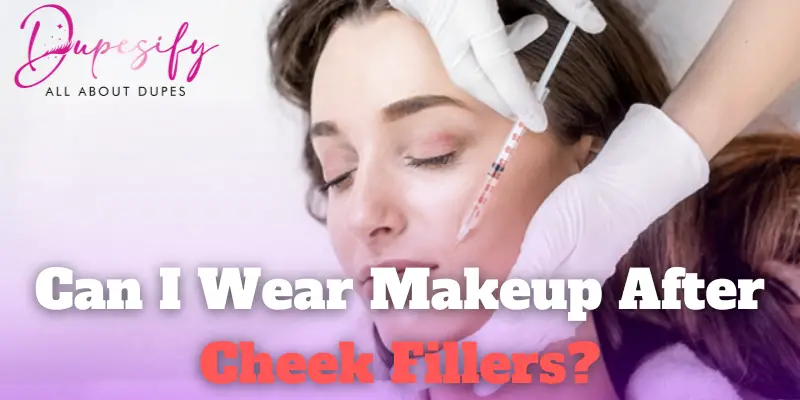 Cosmetic injections are increasingly in-demand. Most people use them to refresh their look and give their skin some needed TLC. But, while dermal fillers and Botox can quickly take years off your appearance, there are a few things you'll want to avoid in the days following your treatment. Makeup is one of the most important things to avoid after the dermal filler treatment. Let's find out, Can I Wear Makeup After Cheek Fillers?
Avoiding makeup is necessary for some reasons. It is mainly because the dermal filler injection sites need to remain sterile and clear of all bacteria for at least six to 24 hours. Even using my fingers to apply makeup instead of brushes can be problematic because I should not be touching my face so soon after my treatment.
Makeup can not only cause my fillers to spread over other areas of my face (because of the pressure and touching involved with applying makeup), but it can also come in contact with the injection sites and potentially cause infection. So I stay bare-faced for a day or two.
What is cheek filler?
Cheek fillers are injections into the cheekbone area that can restore lost volume or more sharply define facial bone structure.  
Doctors often use a hyaluronic acid based filler in this prominent area because it is reversible and "easily adjustable" if too much or too little is used. Biostimulation is another category of dermal fillers that can be used on the cheekbone to improve projection. 
Before diving into my list, it's essential to understand how Botox and dermal fillers act once injected into the body. 
You can get an insight into another method for your face: cryotherapy. Read to know: Can I Wear Makeup After Cryotherapy?
Your body reacts differently to Botox and fillers.
Botox and dermal fillers are eventually metabolized by the body and safely excreted through the liver and kidneys. For this reason, many activities, such as drinking alcohol and exercising, should be avoided after Botox and dermal filler injections. 
However, dermal fillers are injected deep into the skin, where they rest for their life. On the other, Botox is injected into a muscle, where it's slowly absorbed. There are some different activities to avoid for each.
How Soon After Fillers Can You Wear Makeup? All You Need to Know
Dermal filler injections have no major recovery requirements or time. However, you must use caution after the procedure to let the filler settle and promote the best results. After filler injections, my injector advised me not to apply or wear makeup for a specific time. 
It depends on the place of filler and the type of filler you receive. (Sometimes, you can apply makeup on the same day). 
Note: Normally, patients can apply makeup the next day, especially if they need to cover any swelling or bruises that may occur. If you do so lightly and follow your provider's instructions, makeup is usually not an issue after dermal fillers. 
Cheek Fillers Risks
You must follow extra caution if you have received filler in the cheeks. Cheek filler generally has very low risks, and it's important to note the following Risks.
You could have swelling.
In some cases, bruising can occur.
One cheek looks slightly different from the other, but this happens with asymmetrical patients like me.
While infections are rare, there is always a possibility that a needle into the skin may result in an infection happening.
It's infrequent, but my blood vessels can get blocked and interfere with the blood supply to the skin, resulting in scarring.
How to wear makeup after Cheek Fillers?
There are so many different makeup products that you can use to highlight cheekbones, like the highlighter, bronzer, blush, and contour can all help to give my face definition if I use the right shades and techniques.
Blush
Blush is a makeup product many people shy away from because it's easy to overdo and not always deemed essential. However, if you use the right shade for skin tone, the perfect blush can highlight cheekbones and warm up my complexion, giving a youthful, healthy glow. 
The first step is to identify the skin type (dry, combination, or oily) and the undertones in the skin (warm, cool, or neutral). 
If you have dry skin, it might be best to use a mineral blush to improve your skin's luminosity. A glowy, shimmery formula might also go well if you have fair skin because it'll be easier to blend out. 
A more matte powder formula might be preferable if you have oily skin.
If your skin tone is fair, softer pinks and peach blushes generally look natural, while an apricot or raspberry shade will suit medium skin tones. Olive skin tones with cool undertones can be brightened with a warm bronze or rose shade, while dark skin tones will suit brick red.
Bronzer
When used correctly, a good bronzer can also give the illusion of defined cheekbones. It can make you look more tanned and add fullness to the face. The best way to select the right bronzer shade is to identify a color two shades darker than the natural skin tone. A bronzer with a neutral undertone is a safe choice if you are unsure what hue would look best.
Applicators
Different makeup brushes can affect the skin differently when used for separate products. A dampened sponge is excellent for effortlessly blending liquid products and is often easier to wash after use. A sponge is also less likely to leave stroke marks on the skin like brushes sometimes do. A blush brush might be more suitable for applying a powder blush or bronzer.
Highlighter
Highlighter is a type of cosmetic product that reflects light. Often used for contouring, you can apply it to the face or other body parts to brighten the skin in a given area. You can apply it after taking the cheek filler treatment. But you must follow many precautions while applying highlighter on the skin after taking the treatment.
MOST FREQUENTLY ASKED QUESTIONS REGARDING MAKEUP AFTER CHEEK FILLERS
How soon after fillers can I wear makeup?
Makeup is one of the most important things to avoid after my dermal filler treatment. It is mainly because dermal filler injection sites must remain sterile and clear of all bacteria for at least six to 24 hours.
What can you not do after cheek fillers?
Avoid strenuous exercise for 24 hours.
Avoid alcohol for 24 hours. 
Do not use AHA, Retinols/Vitamin C therapy, or oil-based makeup for 24 hours. 
Avoid facials, facial waxing, Glycolic or AHA peels, IPL or energy-based treatments, and microdermabrasion for two weeks after treatment.
Can I wear makeup after fillers and Botox?
You should apply makeup to your face for at least 4 hours after the procedure to avoid getting an infection or complications. If you need to wear makeup sooner than that, you should have to wait at least 30 minutes for the small injection punctures to close up.
Can I sleep on the side after cheek filler?
Try to sleep on your back for 24-48 hours after filler injections. After that, you can safely sleep on the side without worrying that the filler will move with gravity.
Should cheek fillers feel hard?
The lumpiness is very common in your skin in the days after filler injection into the face. In addition, there could be the upper lip body, cheeks, chin area, wrinkles, and folds when injected to lift these. It will usually resolve within a couple of weeks.
How long will I be swollen after cheek filler?
Swelling typically occurs within 24 to 72 hours after dermal fillers. It will subside on its own after this period. On rare occasions, swelling can last from 1 to 4 weeks.
How long after fillers can you wear lipstick?
Wait before applying makeup. Do not apply lipstick or makeup on and around your lips for 24 to 48 hours after the treatment.
You can also read about: How Long After Lip Fillers Can I Wear Makeup?
Can cheek filler migrate to the under eye?
Where Facial Filler Migration Occurs in rare cases where there is facial filler migration, it typically occurs in two locations. They are most likely to migrate around the lips or under the eyes.
also read: Can I Wear Makeup After Under Eye Fillers?
Does 1 ml of cheek filler make a difference?
Treating with 1ml at a time is appropriate for some areas, such as volumizing lips or having smaller tweakments into other areas of the face. Sometimes, however, more than 1ml may be required – in the cheeks, for example – as 1ml may not make a discernible difference.
Can I smile after cheek filler?
Dermal filler injection does occur and usually peaks at 24-48 hours. It may affect your smile. The good news is swelling is fully resolved in one week, and your smile should be usual.
Do fillers look better after a few days?
Fortunately, dermal fillers work very quickly, and you won't have to wait twelve months to see the full benefits of your injections. These injectable treatments take some time to integrate into your tissues, and it's normal for your dermal filler to take up to two weeks to settle into your face thoroughly.
What to expect after fillers in cheeks?
Immediately after a cheek filler treatment, you may feel pain, swelling, bruising, tenderness, and itching. You will also notice red needle puncture marks and asymmetric form on your face. These are some common after-effects of a cheek filler procedure.
What to avoid after fillers?
Avoid topical products such as 
Tretinoin (Retin-A)
Retinol
Retinoids
Glycolic Acid
Any "anti-aging" products. 
Avoid waxing
Bleaching and tweezing
Avoid Using hair removal cream on the area to be treated. 
Tip: Do start taking Arnica two days before the procedure.
How long does cheek filler last?
Depending on the type that you choose, cheek fillers can last anywhere from 6 months to 2 years before results are no longer noticeable. The dermal filler material eventually dissolves and metabolizes into your skin tissue. Derma roller is little better in this aspect here and you can wear makeup with derma roller a little earlier than this.
Do cheek fillers move around?
While fillers can migrate, choosing a qualified injector is infrequent and can avoid this side effect. Though filler migration is uncommon, its likelihood increases when an inexperienced or underqualified injector performs fillers.
Are cheek fillers worth it?
Cheek filler results aren't permanent. If you're looking for a lifelong solution to sagging cheeks, this isn't the treatment for you; most cheek fillers metabolize and disappear within two years or less. It is a technique-sensitive treatment with risks (some potentially severe).
There are other ways, like Hydrafacial or cryotherapy, that you can rely on also, but still, certain risk factors exist. So, find a way that suits you better. Read about makeup with Hydrafacial here. How Long After a Hydrafacial Can I Wear Makeup?
Do cheek fillers lift your face?
Cheek fillers can help anyone to gain these striking cheekbones in a non-surgical way with minimal downtime. By adding volume to the cheek area and contouring the shape of your cheek, you can visibly lift your cheekbones while filling out fine lines and wrinkles in the process.
Do cheek fillers look natural?
No, dermal fillers will not make you look unnatural. If done by a professional, dermal fillers can accentuate your features rather than attempting to create a new look.
Do cheek fillers soften?
The filler can take several weeks to soften and settle into your skin. It means that patients won't see the ultimate results of their treatment immediately. Although individual results will vary, many people achieve the full effect within two weeks after receiving their injections.
Do cheek fillers hurt afterward?
Expect soreness in the area for around a week, sometimes a bit more, as your face adjusts to the new filler and recovers from the process. It's not sharp pain or intense aching, but it's a little sore, and god help you if you bump cheeks with someone else. 
Can I wear glasses after cheek fillers?
If you have received fillers in the upper half of the face, avoid wearing goggles or eyewear in the days immediately following your filler injections. Like massage, certain types of eyewear pressure could potentially cause your filler to migrate beneath the skin.
Can you do makeup after fillers and botox?
Wait at least 30 minutes after your Botox injections to apply makeup. Neurotoxin injections leave tiny prick marks on your skin where they are injected. These openings can be gateways for bacteria in your makeup if you apply them right after treatment.
You can wear after every treatment but you need to be cautious and take preventive measures. Read about: Can You Wear Makeup After a Chemical Peel?
Is it normal to swell after cheek filler?
Yes, it is entirely normal to experience swelling after cheek fillers. It is a temporary occurrence due to trauma to the area. The swelling is the body's natural healing response and will resolve over time. I recommend using an ice pack on the injectable treatment area for the first few hours following the injection.
How long does cheek filler swelling last?
Swelling typically occurs within 24 to 72 hours after dermal fillers. It will subside on its own after this period. On rare occasions, swelling can last from 1 to 4 weeks.
What are the cheek filler swelling stages?
– After receiving dermal fillers, the cheeks may appear red and swollen, which is normal and expected. To reduce swelling at home, you can apply ice to help reduce any mild discomfort. If you also experience bruising, using arnica products can help relieve this. 
– It is best to avoid touching the affected area during this time, as massaging it can make the filler injections less symmetrical. 
– After 48 hours, most of the swelling should have subsided, and the cheeks should look soft and smooth.
How do I care for my cheeks after dermal fillers?
1. To give your cheeks the best care after dermal fillers, I suggest you avoid wearing makeup after your cheek filler injections. You can resume wearing makeup the next day. 
2. Don't undertake heavy exercise.
3. Avoid going into a spa or sauna or attending a hot yoga class for 1 week after your cheek dermal filler treatment.
4. Avoid facial products with lactic or glycolic acid for at least 24 hours.
How do I reduce swelling after dermal fillers?
After dermal fillers, you should follow some general advice to reduce swelling, including:
1. Ensure you stay hydrated and eat plenty of fruits and vegetables.
2. Consider taking herbal supplements such as Arnica.
3. Apply ice to the treated area.
What to avoid to minimize swelling after dermal fillers?
Things to avoid immediately after getting dermal fillers include:
1. Processed foods and excess salt.
2. Spicy foods.
3. Smoking.
4. Blood thinning medications, including aspirin and ibuprofen.
What to do if the cheek filler is more swollen on one side than the other?
Uneven swelling is not very common, but if it does occur, you can use an ice pack to help reduce the swelling. 
In more severe cases, this could be a result of an allergic reaction. Some symptoms include prolonged swelling, itchiness, or prolonged redness.
If this swelling has not resolved after 72 hours, contact your practitioner, as the filler might need to be dissolved using hyaluronidase.
What is the best makeup to lift and highlight my cheeks?
Once your cheeks are beautifully enhanced with dermal filler, you'll want to highlight them. You can put makeup on again as soon as one day after the dermal filler procedure, but you should make sure your makeup brushes have been recently cleaned. You should clean your makeup brushes as regularly as possible because they can easily transfer bacteria to your face.
Final Thoughts
I hope you learn much from this article about whether can you wear makeup after cheek fillers. Wearing makeup right after the treatment is not suitable. After a few days, you can apply makeup but remember, keep following all the precautions I have discussed in this article.