How Long After a Hydrafacial Can I Wear Makeup? Guide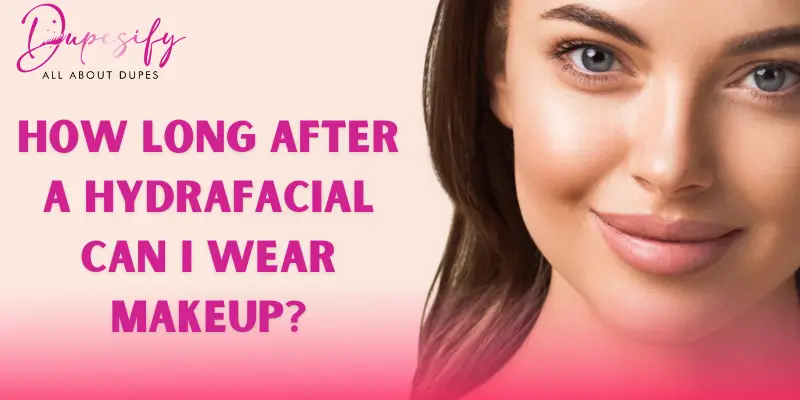 Having flawless skin is everyone's dream. To achieve this, people opt for skin treatments, which have become popular these days. Hydra facial is one of those treatments that treat almost every facial issue. I have also undergone this procedure, and then I came across the question from my fellows: How Long After a Hydrafacial Can I Wear Makeup?
Hydrafacial is an advanced machine-handled treatment to nourish and hydrate the skin. It is for acne, scars, wrinkles, fine lines, and hyperpigmentation. The procedure is done by extracting dirt and infusing serums into the skin to boost skin rejuvenation and improve the appearance of the skin. In this article, I will discuss the complete guide on how long after a hydra facial I can wear makeup, its DOs and DON'Ts, and its benefits.
How Long After a Hydrafacial Can I Wear Makeup?
Makeup application after the treatment depends on the skin type and skin condition before the treatment. The better the skin condition, the faster the skin will heal. The skin is rejuvenated to the extent that you don't need any makeup.
But, If you are not comfortable going out, bare-faced makeup can be applied right after the session, as this treatment has no side effects.
I recommend putting on makeup after 24 hours of the treatment. Give your skin rest for some time to settle down before applying makeup. The point here is to let fresh skin cells and pores breathe. Whenever you apply makeup, apply it gently. 
Tip: I apply mineral makeup made up of organic minerals free from any chemicals, dyes, and fragrances after undergoing a skin treatment so that my skin retains its actual healing. 
Read also: Can You Wear Makeup after Microneedling?
What Happens if you Put makeup on After Hydrafacial?
Hydrafacial is done to maintain healthy skin. Applying makeup readily after the treatments can lead to skin irritation, bacterial infections, and acne breakouts. Mostly, makeup is made up of synthetic ingredients, which may be harmful to your skin when applied readily after any skin treatment.
Is HydraFacial Better than Normal Facial?
Hydrafacial includes medical-grade Hydra-dermabrasion devices that thoroughly cleanse, exfoliate and infuse the skin with intensive serums. It can be done to treat various skin issues. It is more gentle on the skin. You get the instant result.
Regular facial includes manual extraction, cleansing, and exfoliation. It treats a single issue simultaneously; not every facial is for everyone. Chemicals used in regular facials may prove harsh to your skin. It may or may not give the desired results. In my opinion, Hydrafacial is better than a regular facial.
Which is better HydraFacial or Chemical Peel?
Hydrafacial is a machine-handled treatment to nourish and hydrate the skin. It is a non-invasive skin rejuvenation process. Chemical ingredients are used on the skin, leaving no side effects or damage to the skin. It gives instant hydration to the skin.
A chemical peel is an invasive skin treatment that works by stripping off specific layers of the skin depending on which type of peel you are going to do. Chemical ingredients used in this process leave side effects on the skin. I recommend you go for Hydrafacial instead of chemical peel. 
Is a HydraFacial Worth it?
Hydrafacial is becoming popular among various skin treatments because of the various benefits it provides to the skin. It is a professional procedure to improve the appearance of the skin. It is a painless procedure and takes 30-45 mins to complete.
The chemicals used in this process are all-natural and organic. It makes your typical skincare routine effective. You don't need to try out different products for your skin. I will give my verdict that Hydrafacial is worth it.
Suitable for all skin types.
It improves the texture of the skin.
Deep cleaning of blackheads and whiteheads, thus unclogging pores. 
It reduces acne and keeps new acing from coming. Treating hyperpigmentation and hypopigmentation evens out the skin tone. 
Allow for better penetration of serums.
It slows down the process of aging.
You can also read about: How Long After Lip Fillers Can I Wear Makeup?
How Long does it take to see HydraFacial Results?
Hydrafacial instantly gives you desired results. It leaves your skin smooth, clear, and hydrated. The results of Hydrafacial last for 7 days, or in some cases, it lasts much longer depending on the skin type and condition. I advise you to repeat the treatment every 4-6 weeks to maintain those results and to keep your skin healthy. 
How do I Take Care of my skin after a HydraFacial?
My skin catches redness and swells up after Hydrafacial. Taking care of the skin is the ultimate key to having clear, bright, and nourished skin. I always follow a good skincare routine after undergoing treatment to achieve the best treatment results. I have formulated a list of DOs and DON'ts after having this treatment:-
What should you Do after a HydraFacial?
The morning after treatment, I recommend you wash your face using hydro peptide Exfoliating cleanser.
For the first three or five days, apply hydro peptide sunscreen having 30SPFf.
After having the facial, you must apply PCA hyaluronic boosting serum. 
Try as much to keep your skin dry so that the moisture gets locked in. 
What should you Not Do after a HydraFacial?
Avoid direct sunlight and intense heat, and avoid tanning beds and saunas.
Avoid exfoliating treatments.
Don't wax or use depilatories on your face.
Taking acne medications must be avoided.
Avoid those activities that cause excessive sweating.
Avoiding smoking and alcohol lets the skin heal at its best.
Avoid touching your face; this may transfer the dirt to your face. 
Side Effects of HydraFacial
Hydra facial is a simple process to boost the skin texture. It involves specific steps like chemical peeling, extraction, and then infusion of serums into the layers of the skin. Dead skin is removed; it also causes the turnover of cells, and the fresh skin is in the healing process. It can have common side effects like:-
The mechanized wand puts slight pressure on your skin; you may feel uncomfortable.
It can cause an active rash, resulting in redness on the skin. 
If you have sensitive skin, It can cause breakouts and skin purging.
Your skin may peel off after the treatment, making it dry.
You may be allergic to some ingredients used in the serums during this treatment.
How Long Does Redness Last after HydraFacial?
When you get Hyrafacial done, your skin is clear and is in a period of healing. It may cause redness on the skin because of skin sensitivity to the outer environment. Don't worry; any redness caused by the treatment will be gone within a week after treatment. Usually, it takes 10 days for the skin to heal from this treatment, but you can resume your daily activities instantly.
Conclusion
How Long After a Hydrafacial Can I Wear Makeup? Hydrafacial has proven to be effective for my skin. It has boosted my skin rejuvenation through more collagen production, making it tighter and less elastic. After undergoing this treatment, I wear makeup with great caution and care to ensure that my skin feels best. I have given you a complete guide to Hydrafacial treatment in this article. It is one of the best skin treatments. You should invest in this treatment because it is fast, painless, has no side effects, and is effective for well-maintained skin.