Can You Wear Makeup after Microneedling? Tips and Tricks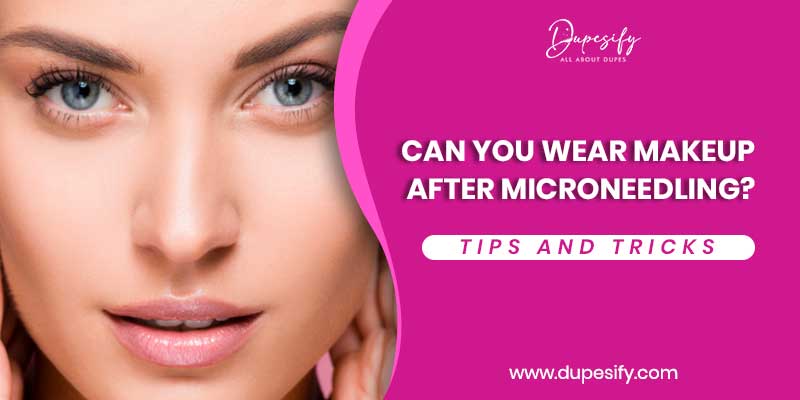 I had this micro-needling treatment two months ago, which suits me very well. In the beginning, my skin felt tight, and I could see fine lines I had never had before. But with time, all sets, my skin feels so fresh, and all the pigmentations, scars, anti-aging, and sun damage disappeared. 
I wore makeup but minimal after getting micro-needling. It helps in reducing acne scars and blemishes too. People often worry about wearing makeup after micro-needling.
Tidbit: Micro-needling is a process that is used to rejuvenate your skin. This process includes needles that puncture your skin, make holes to circulate the blood flow, and encourage collagen and elastin.
In this guide, I am going to illustrate what kind of products you can wear after micro-needling and what products you have to avoid in order not to get any skin irritation and inflammation. To know all the answers, you must keep reading this.
What are the best makeup products you can use after micro-needling?
When applying makeup after micro-needling, go for "non-comedogenic" or "oil-free" products. These products help to not get into your open pores and prevent your skin from getting any irritation. It is also important not to opt for highly fragrant products made of harsh chemicals. Fragrances-free and fewer chemical products have less chance of damaging your skin. 
I had to attend my friend's wedding, which will be next week, and my skin got super sensitive after micro-needling. I did not want to go with a bare face, so I asked my dermatologist, and she suggested some makeup and skincare products I used. These products did not irritate or create any bumps on my skin. Below, I am sharing the products that I used after getting micro-needling.
Foundation 
For foundation, I opted oil-free and sheer, so it does not clog my pores and lets my skin breathe.
Concealer 
I choose a concealer that has non-comedogenic properties. Concealers help to cover the blemishes and dark under-eye circles.
Powder 
Powder helps to control the oil that the skin produces. I opted for a lightweight face powder. It reduced my skin shine and set my makeup. 
Blush
Blush pops your cheeks and adds colors to your cheeks. I recommend using tinted blush because it is easy to blend and stay for long.
Eyeshadow
For my eyeshadows, I used less shimmery colors as there is a high risk of them getting into the eyes. Additionally, I prefer non-comedogenic eyeshadows that will not irritate my eyes and skin.
Mascara 
Water-resistant mascara is suitable after microneedle treatment. It can be easy to remove and also not irritate your eyes. 
What to add to your skincare after micro-needling?
Your skin gets sensitive and tight after micro-needling; I elaborated on what to add to your skincare after micro-needling treatment. I use these skincare products, and they are amazingly working for me.
Hyaluronic acid for super Hydration
You might all be wondering because of its acid-based ingredients, which is not a good choice after this treatment, but to your amazement, it is the only acid-based product you might be stocking up on. Yes, because this product has a natural acid that helps retain skin moisture. 
I can not keep myself saying that this product has high collagen levels. So as you all know, micro-needling, also called Collagen Induction therapy, this product must help you to regain your collagen production. I applied this to keep my skin hydrated.
Aloe vera Gel
Aloe vera is commonly used to treat dryness and uneven skin tone and helps skin heal after burn. It has been used for decades as a natural skincare product that helps your skin heal faster and reduces redness and irritation. 
I am using this after micro-needling treatment; this product is my new favorite. It is organic and does not do any harm to my skin.
Moisturizer
As we all know, using moisturizer helps to soothe and soften your skin. Applying moisturizer after getting micro-needling makes skin supple and smooth. If your daily moisturizer contains vitamin C or retinoids, you need to switch it for the recovery period because both products can harm or irritate your skin.
Coconut Oil
Coconut oil restores moisture to your skin, which is your top priority after treatment. Applying coconut oil three to four times a day helps to improve your skin and make it hydrated. It can be your preferred option if you have sensitive skin because using other skincare products is highly reactive and causes irritation to your skin. I applied coconut oil before bed, giving my skin the best moisture. 
Mild Cleansers
The ordinary cleansers you use daily contain harsh chemicals such as sulfates and acids. It is essential to switch your daily cleanser with a mild cleanser. The mild cleansers must be oil-based that will not irritate your skin. It is also to avoid exfoliating cleansers or scrubs for at least 4-5 days after micro-needling. I cleansed my face every night so that the dirt and debris on my skin faded away and did not get into my pores.
Sun Screen
After micro-needling treatment, where you can not use any makeup product for two to three days, you can use sunscreen after one day. It prevents your skin from sun exposure and damage. Additionally, it is best to wear sunscreen because who wants tan skin?
Tip: People with sensitive or acne-prone skin use non-comedogenic sunscreen.
You may also be interested in:
Here are some tips to be followed when it comes to wearing makeup after micro-needling.
After choosing the right products and knowing how to do makeup after micro-needling, here are some tips you should adopt to eliminate skin irritation.
The first and foremost is to avoid touching your face. Your skin gets delicate after the treatment, and if you repeatedly touch your hands to your face, it might cause skin inflammation or irritation. In case you want to touch your face, ensure that you must wash your hands.
Apply products smoothly and gently. Scrubbing or rubbing leads to skin irritation.
Do not forget to wear sunscreen. It protects your skin from getting any skin irritation and inflammation. Even if you are wearing makeup, use sunscreen before the moisturizer.
When can I wear makeup after Microneedle?          
The micro-needling treatment gives your skin its glow and freshness as wrinkles and sun damage are removed. After micro-needling, you must wait at least  24-48 hours to set your skin before any makeup product is applied to the skin. This duration gives your skin enough time to heal and reduces the risk of infection.
But be aware that everyone has a different skin type so the time duration can vary for everyone. Applying makeup too soon will lead your skin to irritation and skin inflammation. If you want to apply makeup, ensure your products are gentle enough not to irritate your skin.
Conclusion 
Micro-needling is a skin treatment where needles are injected into your skin to rejuvenate it. The first three-four days are critical for your skin as it gets tight and sensitive. Make sure you do good skincare with organic and natural products that allow your skin to heal soon. Moreover, you can quickly wear makeup after micro-needling but use the products I mentioned above; all are light in wear, can easily be removed, and do not itch and irritate your skin.