How to Repot Makeup? Detailed Methods and Steps.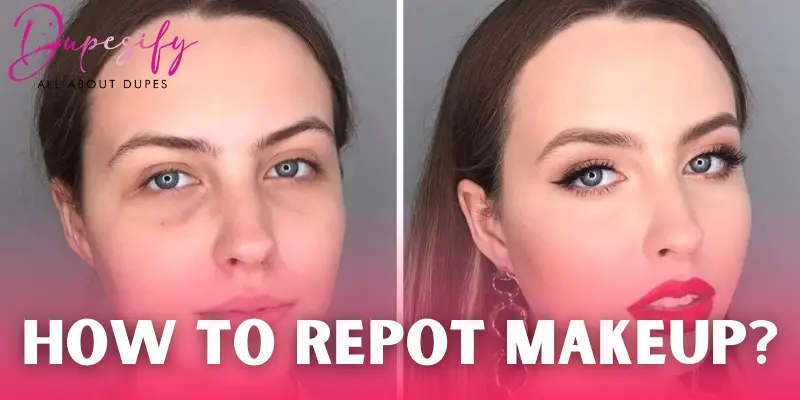 I treat my makeup products like my baby. Broken makeup is very heartbreaking for a makeup lover like me. It is a nightmare that is so dreadful when I find that my favorite product is broken and I can't use it again. But, no worries, I have the solution to this because I know how to repot makeup.
Repotting makeup is not at all problematic. We must follow some instructions and have a complete guide to fix our broken makeup. In this writing, I will explain how I repot makeup and the methods, steps, and tips I follow.
How to Repot Makeup?
Does worrying about fixing your broken makeup make you cry? No need to do that; you are at the right place. Makeup can break, but we have the option to fix them nicely. You can restore the broken makeup to its original state without causing any change in the consistency and texture of the product. There are several ways to fix broken makeup.
Make a Loose Formula
What to do when I have broken my eye shade and don't want to throw it away? I can still use it by fixing it. I will tell you how?
I break up the already damaged eyeshade.
Then, transfer it into a plastic bag and seal it tightly.
I crush the powder into fine pieces.
Afterward, I transferred the finely powdered eye shade to the new container.
In this way, I have restored my eye shade.
Press the Pigments
There are two methods in this process by which I fix my makeup.
Wet press the product
I follow some steps to fix the broken makeup using a wet press method.
Smooth the broken powder by finely grinding it with a spoon so there are no lumps in the product. 
Pour a few drops of rubbing alcohol into the powder to make a soft paste. To avoid the mess, I pour rubbing alcohol drop by drop. 
Warning: Don't go overboard while pouring the alcohol. Pour it slowly while stirring the product.
Taking the spoon, I even put the powder in the container.
Taking a coin wrapped in a paper towel. I press the coin on the product until alcohol absorbs in the powder.
In pressing, the paper towel will soak the alcohol but eventually fix the powder to its original form.
Tip: I let the product stay for 24 hours before using it.
Dry press the product
           Broken makeup can also be fixed using the dry press method.
Smooth the broken powder by finely grinding it with a spoon so there are no lumps.
Taking a coin wrapped in a paper towel. I press the coin over the product.
I put some pressure while pressing in the product so that the powder is finely blended.
I keep pressing the product until the product is fixed and merged.
Tip: These methods ( loose formula, wet press, and dry press) are used to repot powder makeup products like eye shades, blushes, highlighters, bronzers, and contours. 
Repurpose by Mixing and Matching
It is the most exciting, challenging, yet excellent method to repot makeup. What I do is, mix and match different products to form an exclusively new product.
Mixing powder eyeshadow with a cream eyeshadow.
Repurpose the broken lipstick into a tinted lip balm.
Mixing highlighter in a lotion to make a shimmery body lotion.
Fixing a Broken Lipstick
A broken lipstick breaks my heart. I need lipstick to complete my makeup look, but I have methods to fix my broken lipstick.
Heating the broken lipstick
It is one of the easiest methods to fix broken lipstick quickly. 
Please take out the broken lipstick from its container. Make sure to take all of it out.
Put all the contents of the lipstick on the metal spoon.
Heat the spoon using the candle. You will see that the lipstick melts into a liquid consistency.
Pour out this liquid into a container so that you can reuse it.
Tip: I use my spare contact lens container for this purpose.
Fixing broken lipstick with a lighter
 I remove the broken piece of lipstick from the container and freeze it for 10 minutes.
Using the lighter, I heat the broken end of the frozen lipstick.
While it's still warm, I reattach the heated end to the lipstick in the lipstick tube.
I put the lipstick in the freezer to ensure it solidifies enough to be reused.
What Can I Use Instead of Rubbing Alcohol to Fix Makeup?
What's more exciting for a makeup lover than fixing the broken makeup? Using rubbing alcohol to fix broken makeup is the most common method. Rubbing alcohol is cheap and mess-free. So, many options exist to fix broken makeup instead of rubbing alcohol. For example:-
Surgical spirit
Setting spray
Primer
Coconut oil
Simple filtered water
Can I Use Hydrogen Peroxide to Fix My Makeup?
Hydrogen peroxide is a mild antiseptic used to treat wounds and bruises to prevent infection of minor cuts, scrapes, and burns. You can use Hydrogen peroxide, which causes skin irritation, to fix the makeup. 
Can I Use Hand Sanitizer to Fix Broken Makeup?
Hand sanitizer contains constituents like glycerine, aloe vera, and essential oils. These are all-natural and organic ingredients and are the best for skin nourishment. But when fixing makeup, using hand sanitizer is tricky because hand sanitizer doesn't evaporate from the surface. It may change the consistency of the product by thickening it more. So, hand sanitizers you cannot use to fix broken makeup. 
Can you Use Micellar Water to Fix Broken Makeup?
Micellar water is formulated to bind makeup particles with it firmly. Pouring a few drops of micellar water on the broken piece of makeup (powder product) fixes it nicely. Micellar water doesn't only remove the makeup perfectly, but it also does wonders in fixing the crushed makeup.
Does Alcohol Ruin Makeup?
Have you thought of the consequences of using the makeup product on your face that you have just fixed using rubbing alcohol? Fixing the makeup with rubbing alcohol is entirely magical. You have restored your broken makeup palette. But, It can unexpectedly cost you. Too much alcohol can dry your makeup product, and applying it to your face makes you more susceptible to skin irritation and allergies. 
Conclusion
You have broken your makeup and want to know how to fix it. This piece of writing will surely help you. Fixing makeup is a simple task. It's just that you have to follow some instructions and have a complete guide to fix broken makeup. This article explains how I repot my makeup and the methods, steps, and tips I follow. It would help if you tried it and you would win.