How to Refresh Makeup After Work? Comprehensive Guide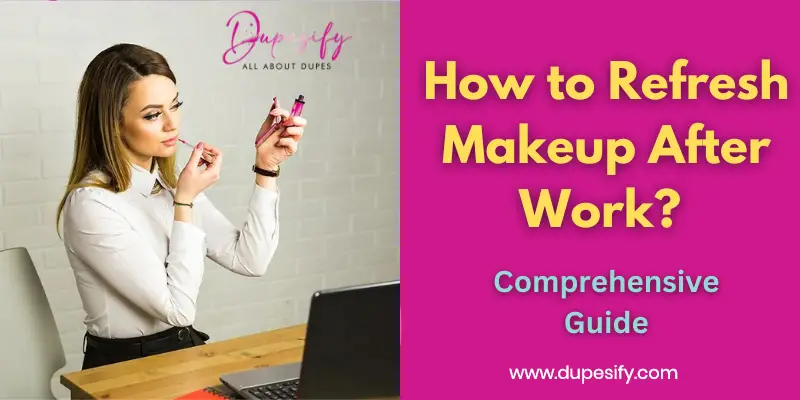 It is common and natural if your makeup is dull and slowly disappears after 4-5 hours. Everyone is going through this phase, but the thing that works out is to refresh or retouch your makeup to get a new or fresh look. So, this guide on How to Refresh Makeup After Work is for all the ladies and FTM who want to refresh their makeup after work. 
Being a professional makeup artist is all about solving people's concerns related to makeup. FTM and women often ask me how their makeup looks refreshed after work. As they apply makeup early in the morning before going to work, and then they might have to go straight to meet their friends or they have to go to attend a meeting outside. Their main concern is about retouching the makeup after long hours.
As a makeup artist, I give people instructions and tips on refreshing their makeup after work without making it look cakey and patchy. I will elaborate on the strategies you should follow to attain the perfect makeup without making it clumsy and smeary. To know all the answers, you must keep reading them.
How to Retouch makeup?
Retouching or freshening your makeup is required when you have to go straight from your work or see any creases and fine lines appearing on your skin. Below, I will illustrate how to retouch your makeup smoothly, which will be equally helpful for the FTM makeup.
Use Blotting Paper 
First and foremost, I use blotting paper ( you can use blotting powder) on your skin to take out all the oil and grease that might build on your skin. Blotting paper is responsible for absorbing the oil your skin produces after makeup. I grab one blotting paper and gently dab it on my face. It absorbs all the excess oil and makes my skin look less greasy and oily.
How to use a Mist spray to refresh makeup?
Mist spray or any other face spray helps to refresh the makeup. I use it before applying layers of makeup to my skin. I spray it almost 6-7 inches away from my skin so it does not disturb my applied makeup and let it dry itself. 
How to refresh Under eye concealer?
It does not matter if you use a higher-end or a drugstore concealer; it will settle into creases and fine lines and make your face look smeared and cakey. I take concealer on a brush and smoothly dab it over my under eye, chin, and nose area, so it does not disturb my Foundation and other makeup. Additionally, concealers help to reduce shine. So, I use it around my nose to lessen my oil.
How to refresh Eyeshadows? 
If you know you are going out straight from work, you better not wear darker eyeshadows. It would help freshen your already applied eyeshadow. I refresh my eyeshadows by:
Simply take the eyeshadow of my choice on the brush and apply it to my lid (over my older ones).
I gently apply it to avoid falling out on my skin and creating a messy look. 
I ensure that the color I choose is darker enough, which helps me to apply it over my older eyeshadows.
How to refresh Eyeliner and Mascara?
The best thing about eyeliner is that it never melts and fades away. But, if my eyeliner fades away and disappears, I grab it and softly apply it over the previous one. I ensure that it does not disturb my eyeshadows and my eyeliner.
Mascara is best for so many reasons. The ultimate reason is that it uplifts your eyes, and applying mascara awakens your eyes if you are sleepy. To refresh my mascara:
Firstly, I grab my curler lashes and re-curl them with light pressure. 
After this, I apply a thin layer of mascara to help build up my lashes. 
Warning: applying mascara over the previous one makes clumps on your lashes. So, take precautions before coating over previous mascara.
How to Refresh Eyebrow? 
I use the brow gel to reshape the brow and keep them in place for the rest of the day. Usually, my brows do not loosen their shape if I feel they look imperfect. I grab my brow gel and fill my brow with the help of a brush and reshape it. 
How to refresh Foundation?
Foundation is the main product of your makeup, and if it does not look cool and perfect, who cares for your eyeshadows and lipstick? 
To make it look perfect, I refresh my Foundation by taking a small amount on my hand so it warms up from the heat.
Further, I smoothly apply it all over my face where it needs to and dab it with a sponge or my fingers.
I ensure that the retouching foundation will not settle into creases and lines.
Further, I sometimes use vaseline as a primer to properly settle the foundation.
How to apply Setting Powder Retouch? 
Face powder helps absorb and remove all the excess oil from your face and, on top of it, sets your Foundation and concealer. Whenever I refresh my makeup, I grab a big fluffy brush, add powder, and gently apply it over my face. 
Warning: Avoid applying too much powder on your face because it might make your face look cakey and powdery.
How to refresh Blush? 
Blush allows your skin some natural flesh color, and they tend to fade away quickly. I prefer to use a tinted blush to refresh my makeup after work because it quickly dissolves into the skin, and you do not need any brush to mix it well. 
Warning: As you reapply, you do not need as much of it. So use a light hand on it. 
How to refresh Lipstick or Lip gloss?
Eating and drinking will fade away your lipstick. It is the part of the makeup that usually needs a retouch. 
I remove my lipstick entirely by using a sugar scrub and scrubbing my lips until the dead skin drops (you can use a toothbrush to scrub). 
Further, I apply a lip balm to let it sit on my lips. 
Next, I blot it off and apply the lipstick. 
The result is smooth, fresh, and healthy compared to the scaly, chapped lips.
Why does my makeup look dry?
Makeup is not always the reason for your dry look. Certain circumstances make skin look dry when applying makeup. Below, I list the reasons why does anyone's makeup look dry?
Not using skincare products.
Not enough moisturizing skin 
Not exfoliating the skin
Might not use a hydrating primer
Might be using silicon or matte Foundation
Must overuse powder on the face
May not use a hydrating mist
How to touch up Makeup after Sweating? 
Getting a sweat on your face and body is natural and normal. It varies from person to person. Most people get high sweating on their body, but their face remains sweatproof, and some get a sweat on their face, smashing and ruining their makeup. In this situation, the question arises: How to touch up makeup after Sweating? For the answer, I illustrate a guide that helps you out if you see this condition.
I got ready to go to a party when suddenly guests arrived at our home. I changed my clothes, so the smell of the dishes did not get into them and made myself ready to serve them. After their return, I was shocked when I saw my face in the mirror. 
My face was sweating, especially on my T-zone, which ruined my makeup. I did not have time to wash my face and do makeup again. An idea hit my mind, and I quickly attempted it. 
I used a blotting paper gently on my face so the excess oil would take out. 
Next, I applied a small concealer to settle my creases and fine lines. 
Afterward, I used a powder on my face to set the Foundation and concealer into my skin. 
Lastly, I grab my lip gloss to retouch up, allowing my lips to look glossy and shiner. It is the quickest way to retouch your makeup after sweating.
Conclusion 
In the above guide, I thoroughly elaborated how you refresh and retouch your makeup after work. Moreover, I demonstrate all the techniques you can adopt to get a fresh and new look after refreshing your makeup. All you need to get your hands light on the products because you have already used them on your face.