Skincare vs Makeup | Which Do You Choose?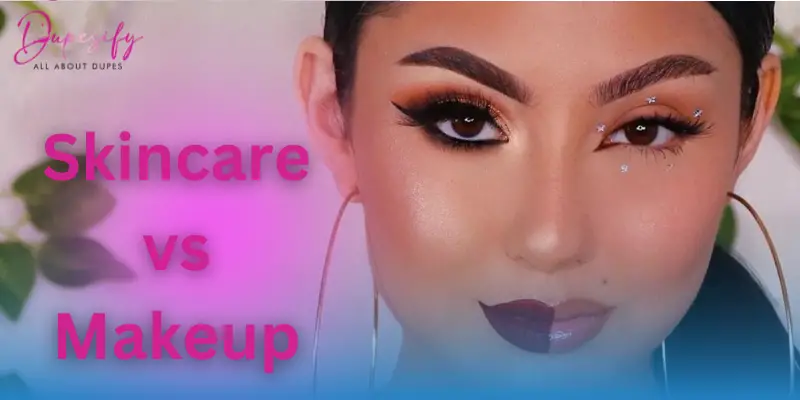 What do you choose, Makeup or Skincare? Makeup and skincare have become a lifestyle and go hand in hand; both are necessary for real life. It is an all-time debate, so it has interested many people in having a balance between Skincare vs Makeup.
Everyone has their priorities and preferences regarding makeup and skincare. It is a bit challenging to choose between the two. In this article, I will mention some of the arguments to prove the debate between makeup vs skincare, their difference, importance, and FAQs to help you choose from both easier.
Difference between Skincare and Makeup
Skincare and makeup are considered to be alike because, today, makeup contains components beneficial for the skin. These two terms are quite different from each other. I have formulated points to prove my points.
Makeup has gained its meaning from putting it together in one place. Makeup beautifies face features using colors, pigments, and other cosmetics. And there are different types of makeup available for females, Male makeup, FTM Makeup, and many other options.
Skincare is taking care of the skin to improve its texture and keep it healthy. Skincare makes your skin look beautiful, natural, and radiant using anti-oxidants, ceramides, and vitamins. 
Functions
Makeup alters your overall appearance by enhancing your features and hiding all the skin imperfections giving you a smooth and textured-free finish to your face. You can achieve a perfect jawline by contouring your face.
Skincare treats skin issues while making your skin healthy, soft, and supple. It focuses on hydrating, nourishing, and preventing the skin from pollutants. You can treat enlarged pores by using toners. 
Utilization Time
You can not wear makeup at all times. Makeup is applied for a temporary period. Whenever you have to look presentable, you apply makeup to mask every imperfection on your face. You prefer to put on makeup at your workplace, on a specific occasion, etc.
Keeping bare skin is natural and authentic. One can't go against nature. Radiant-looking skin is all that matters. It is a big no for me if I have enlarged pores, discoloration, and acne breakouts on my skin. 
Cosmetic Products
Cosmetics is a comprehensive term used for both makeup and skincare. Skincare and makeup products fall under the category of cosmetics. Some products are used as both skincare and makeup, like different types of primer, tinted sunscreens, and lip balm having natural colors, but there is a vast difference between makeup and skincare products. 
Makeup products include foundations, concealers, color correctors, eyeshadows, bronzers, contours, highlighters, and lipsticks. Each product is used to enhance a particular feature. 
Skincare products include face wash, cleansers, toners, exfoliants, masks, serums, scrubs, moisturizers, lip balm, body butter, etc. Each product performs a particular specific function for the skin. 
Treatments
Today makeup and skincare have flourished to a great extent. Specific treatments help improve appearance whether you are using makeup or skincare.
Makeup treatments are also known as permanent makeup. The innovative makeup trend allows you to put on makeup for a specific period permanently. It includes lash extension, fuller lips, thicker brows, etc.
Skincare treatments treat skin issues like hyperpigmentation and acne breakouts, improve skin complexion, and have glowing skin naturally. It includes laser treatments, dermabrasion, botox, and many more.
Skincare Vs Makeup – What is more critical, Skincare or Makeup? 
Makeup and skincare are talked about in the same way regarding skin perfection. Furthermore, both do wonders in improving the skin's appearance. There are still some people arguing about the importance of skincare and makeup. 
Skincare rejuvenates and replenishes your skin, protecting it from dust and allergens and giving your skin what it demands. It hydrates dry skin, controls sebum from oily skin, shrinks the pores, and soothes and calms irritated skin. 
Makeup helps you to mask away the imperfections on your face. It makes you attractive, giving you the look you desire. It hides dark spots, acne blemishes, hyperpigmentation, scars, and redness.
Final verdict: Both makeup and skin care are essential in their respective ways. I suggest you invest your money and time in high-quality skincare and makeup products. 
Why is skincare important for makeup?
It is said skincare always comes first before makeup. You should make sure that you take care of your skin. If you focus on skincare and use good skincare products that are formulated in a way suitable to each skin type, you will need a lot less makeup on your face, and the makeup you wear will look much better. 
As a working lady and a makeup aspirant, I can't live without makeup or even think of leaving my home bare face. Whenever I apply makeup, it transforms me by highlighting my features and gives me the confidence to boost my personality. 
Makeup only hides the imperfections, but skincare treats those skin issues and clears them from their roots, leaving you with healthy skin. I think skin care is essential for good makeup for many reasons. 
Learning about skincare 
If you only know about skincare, you can maintain your skin. Learning about skincare helps you to discover how the skin works and what it demands. Treating your scars well is way more practical than hiding the scars under makeup.
Adding skincare to your routine will eventually eliminate the blemishes, scars, and acne; it will also even out your skin tone. The proper skincare regimen will reduce future skin problems. Skincare is a slow process, but it is worth your time, energy, and money.  
Knowing about skin type
Skin type is the factor my skincare and makeup highly depend on. It helps me choose only those products specifically for my skin type. In this way, I can fulfill the needs of my skin. Treating Skin types like dry, oily, combination, and acne-prone according to their requirements is imperative.
More Skincare, Less Makeup
Makeup is a fake illusion of good skin. Using concealer to hide the blemishes is easy but superficial and can harm your skin by aggravating your skin problems. You use makeup to improve your appearance, but what if you already have neat skin? Eventually, with more skincare, you will need less makeup.
Skincare Settles Makeup on Face.
Why do you prep your skin well before applying makeup? It is because plump skin will settle the makeup well on your face. In addition, makeup looks skin-like and doesn't get patchy or cakey. Skincare will provide a cleansed, moisturized canvas for a makeup application. 
Point to be noted: Good skincare leads to a flawless makeup application. You can invest in The Ordinary skincare products. 
What are the 5 basics of skincare?
I follow a good skin care regimen to make my skin as fresh as possible. There are 5 basic steps in the skincare regimen that you can follow to achieve the desired result. 
Tip: Always use skincare products according to your skin type.
Regular face washing/ Exfoliation
Face wash is significant every morning and night. Face wash cleanses dirt and other pollutants from my face. It is necessary to wash the face because it provides a clean surface to work on.
I exfoliate my face religiously. Exfoliation helps to remove the layer of dead skin, providing a smooth finish to my face. It clears my pores and diminishes the appearance of black and whiteheads on my face.
Tip: I need to wash my face in the morning to start the day and the night before going to sleep. Use gentle exfoliators like Cetaphil Extra Gentle Scrub. 
Toner/Essence
I use the toner to soothe my skin. Toners balance the skin's pH, shrink the pores, and control the excess oil on my face. Essence boosts my toner, providing my skin with the much-needed nutrients that promote surface cell renewal. My favorite is Pixi Glow Tonic Toner. 
Serum/Facial Oil
What the serum does is the most asked question. Serums target your skin issues. It ensures that it treats my skin well, providing me with all its benefits. For each problem, there is serum available. Regular use of the serum is the key to healthy skin. 
Tip: I use serums with AHAs and BHAs (Retinol and Niacinamide). These ingredients are known to control excessive oil by shrinking the pores.
Moisturizers
Moisturizers are a crucial factor in enhancing my skin. It retains the moisture on my skin. Moisturizers instantly treat dry and flaky skin as well as oily skin. With every use of the moisturizer, my skin feels smoother, firmer, and younger. I prefer using CeraVe Moisturizing Cream.
Sunscreens
Sunscreens meet the need for both skincare and makeup. Protection from the sun's harmful rays is critical in environmental crises. 
Sunscreens act as a barrier between the skin and the outer world that helps maintain the skin's natural texture and reduces the risk of many skin issues. Pipette Mineral Sunscreen Broad Spectrum SPF 50 is my go-to sunscreen.
Best Makeup and Skincare Brands
Makeup and skincare should be your priority. I advise you to continually invest in high-quality makeup and skincare products because they have direct contact with your skin and may or may not be harmful to your skin. So, it would help if you made a wise choice in purchasing them. 
I have illustrated some of the best makeup and skincare brands.
Best makeup brands
Armani Beauty
Hourglass
Charlotte Tilbury
Nars
Loreal 
Best Skincare brands
The Ordinary
Dr. Jart+
Tatcha
Loreal
Neutrogena
Fact: In 2021, Loreal was ranked as the global beauty manufacturer with a revenue of about 35.6 million US dollars.
Skincare vs Makeup Industry
The cosmetics industry is one of the most valuable markets globally. The skincare and makeup industries are flourishing days by day. People are more into spending their money on skincare and makeup products.
In the same way, with the rapidly changing makeup trends, beauty companies are producing more and more high-quality makeup and skincare products to meet their consumers' demands.
In past years, there has been an increase in the purchase of more skincare products than makeup. Today people opt for skin-friendly skincare products that do the job of makeup. In the same way, some makeup products have components that are proven to be beneficial for the skin. Mineral makeup is one of the prominent examples. 
According to Statista, the US accounts for 22% of the value of the global cosmetics industry. 
FAQs
Is skin better without makeup?
Without makeup, your skin breathes freely. Sometimes, makeup produces excessive oil on the face, causing the pores to get clogged up and further adding to the black and whiteheads. Makeup is a barrier between the skin and the outer environment; your skin may feel suffocation. In my opinion, yes, skin is better without makeup.
Wearing makeup for long hours may irritate your skin. Your skin is at a greater risk of developing many issues like fine lines and wrinkles, causing your skin to become less elastic and can lead to aging. 
Does not wearing makeup make you look younger?
Makeup makes you attractive by enhancing your features beautifully. It makes you look younger and much prettier. Not wearing makeup can make you look tired and worn out with all your imperfections. From my perspective, not wearing makeup doesn't make you look younger.
Should you wear makeup every day?
Makeup has become my life's basic necessity, and I wear it daily. It makes my look stand out. I ensure that the makeup I use on my face is high quality and contains no toxic chemicals. I also follow a good skincare regimen. According to my experience, yes, you should wear makeup daily.  
Conclusion
Skincare vs Makeup is not to be confused as similar things are different in their respective ways. In this article, I have described the difference between the two, their importance, the best skincare and makeup products, and at what rate the skincare and makeup industries are flourishing. I hope this piece of writing will help you in the best possible way to understand both domains.