Does Airbrush Makeup Cover Wrinkles? Information to know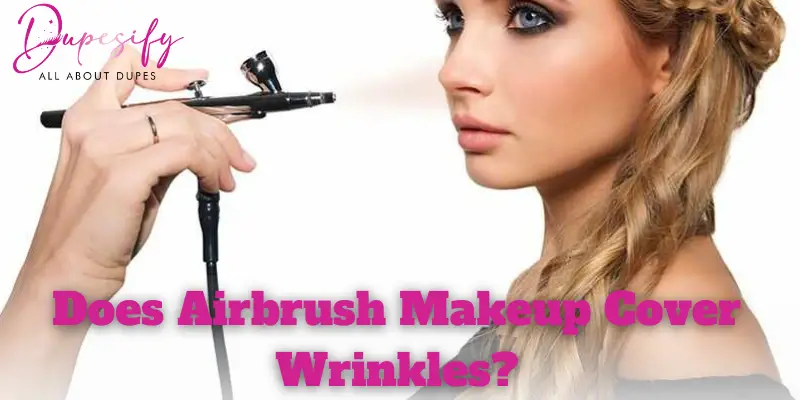 Makeup trends are changing at a rapid rate. People are moving out of traditional everyday makeup and opting for more advanced makeup. Airbrush makeup is one of the newest innovations in makeup trends, and makeup enhances my features and hides scars, dark spots, and wrinkles. Last week I conducted a seminar on airbrush makeup, and I came across a frequently asked question: Does airbrush makeup cover wrinkles?
Piece of information: Airbrush makeup is applied from an Airbrush gun. The makeup is dispersed in a fine mist onto your face, resulting in an even thin layer.  
Wrinkles, fine lines, and scars are significant hurdles to a spotless makeup look. Trying to cover it with makeup requires a lot of skill and expertise. Yes, Airbrush makeup can cover wrinkles providing you with a natural finish. This article is about Airbrush makeup, how to hide wrinkles by using it, comparing it with regular makeup, and its pros and cons. 
Is Airbrush Makeup Good for Wrinkles?
Do you want to make the right choice for a more natural makeup look in which you don't have to layer products on your face to hide wrinkles? Opt for Airbrush makeup as it minimizes fine lines and wrinkles and gives the skin a more even and smooth appearance.
When applied through an airbrush gun, Airbrush makeup gets settled in the creases and wrinkles and covers them perfectly; moreover, it is excellent for hiding any imperfections on the face. It addresses a bunch of makeup needs for older and mature skin. Sensitive skin can also go for airbrush makeup as it is less likely to get irritated. 
Note: Airbrush makeup is hypoallergenic, hygienic, and non-comedogenic.
Best Airbrush Makeup for Wrinkles
Airbrush makeup has revolutionized makeup preferences. It has come up with makeup that not only gives you a natural-looking finish, feels light on the face, and doesn't layer up the foundation but also hides wrinkles, fine lines, and scars. Choosing the best airbrush makeup for wrinkles is very important. Remember some things when choosing/using airbrush makeup to cover wrinkles. 
Level of coverage you need
What level of coverage is the deciding factor in hiding wrinkles using Airbrush makeup? Airbrush makeup gives you a natural finish to the foundation. You will undoubtedly need a full-coverage foundation to cover wrinkles and dark spots. Airbrush makeup is weightless on your face and doesn't make the foundation cakey in terms of covering wrinkles. 
This foundation gives you a lighter feel of foundation on your face and is best suitable for wrinkles and matured and textured skin. Also, it won't clog your pores.
It gives way more coverage than a mineral foundation. It may look heavy on the face because of its liquid consistency. But, with skillful application, it can cover up wrinkles.
Tip: My suggestion goes to Temptu Airbrush Makeup System and Dior Airflash Spray Foundation.
Get an insight about Gluten in makeup by reading: Is CoverGirl Makeup Gluten free?
The formula for Airbrush Makeup
It all depends on the formula of the foundation that does wonders. A good formulated foundation can give you the desired outcome of makeup. 
The silicon-based formula absorbs more oil and sinks into pores to control the shine on your face. Its consistency is heavy, so it behaves more like a traditional makeup foundation. 
It is the best option to adapt to the airbrush makeup foundation, provides you with your desired coverage, and is breathable for your face. 
It works the same way as a water-based formula foundation and is used when creating body art or temporary tattoos. 
My tip: Always look for a lightweight formula on the skin that has hydrating properties because wrinkled skin tends to dry quickly. 
Choose a Shade Matching Your Skin Tone
It is the most critical factor in covering wrinkles through airbrush makeup. It ensures that the foundation sits well on your face giving you a natural look. 
How do you Hide Wrinkles with Airbrush Makeup?
Covering wrinkles using airbrush makeup requires a lot of skill and expertise. Also, it can be intimidating at first. A skillful person knows what type of gun is required, what power is given to the compressor, and how to hide wrinkles using airbrush makeup. I will give you a step-by-step guide on hiding wrinkles using airbrush makeup.
Moisturizer
Moisturizer is essential in dealing with fine lines and wrinkles. It smoothes out the textured skin. It hydrates the skin and prevents makeup from sliding off the skin. 
Primer
Give your skin an extra boost of moisturization by applying primer on your skin. Primer evens fine lines and wrinkles by forming a barrier layer over them; moreover, it doesn't clog the pores. It will give you a clean canvas to work on. 
Foundation
Pour a few drops of foundation into the Airbrush gun's chamber, and apply pressure on the compressor. A fine mist of foundation is sprayed gently on the face using an airbrush gun, giving the foundation a flawless finish. 
Note: Only 2-3 drops of the foundation are enough. You can also mix and match your foundation to make your perfect shade. 
Focus on specific areas
When applying foundation, focus on the areas of your face that need the most coverage, like around your mouth, nose, and under-eyes. In circular movements of hands, continue to apply the foundation. It ensures that you are putting only a little product on your face. 
Set with a setting powder
Setting powder locks your makeup onto your face for a long time. It absorbs the oil on your face that can cause your makeup to slip away from your face. Lightly dust off the powder on the areas where you require the most foundation. 
How Long Does Airbrush Makeup Last?
Foundation is applied in a thin layer on your face using airbrush makeup. It feels much lighter and doesn't look cakey. So, there is less chance of makeup disappearing from your face. As per my experience, airbrush makeup lasts all day long. 
Point to be noted: Airbrush makeup is water-resistant, smudge-proof, and transfer-proof. 
Which is Better Airbrush Makeup or Traditional Makeup?
Airbrush makeup has recently invaded the makeup industry and has dominated the interests of makeup lovers. Also, it has diverted people's minds from the usual old ways of doing makeup. Today all prefer airbrush makeup over traditional makeup. The main difference between the two is:-
Application
Airbrush makeup is applied using an airbrush gun by maintaining a certain distance from the face. Each product applied to the face is finely sprayed from the airbrush gun. There is no contact on the face; hence the makeup blends well with the skin. 
Women apply traditional makeup using sponges and makeup brushes. You can apply it by having direct contact with the face. The brushes and sponges create friction on the face; moreover, they can leave strokes on the face. 
Final look 
Airbrush makeup gives you a flawless and natural-looking finish. It only lays a little on the product on your face. The makeup looks radiant on your face.
There is a more chance to use more products than what is required. It results in your makeup looking cakey and layered up. Regular makeup gives you a flat look. 
Final Verdict: In my opinion, airbrush makeup wins over regular makeup.
Can you Wear Airbrush Makeup Everyday?
You can apply Airbrush makeup by spraying the product onto your face. The formula is a thin, almost water-like liquid. It settles and blends so well in the skin that it gives you a skin-like finish. I will answer that you can wear airbrush makeup daily and achieve a no-makeup look. 
Is Airbrush Makeup Worth it? Pros and Cons
Let's talk about whether airbrush makeup is worth it. Yes, it is worth it as it has completely changed ways of makeup application, but it has flaws and benefits. Let's discuss some of these.
Pros
Water-proof, smudge-proof, and transfer-proof.
No touch-ups are necessary.
Flawless natural finish to makeup.
It can opt for a no-makeup look.
Last all day long.
Suitable for all skin types.
Cons
It is expensive.
Required skillful application.
Required prior training.
You can also read about Is Shein Makeup Safe?
Conclusion
Airbrush makeup creates a smooth, full coverage, long-lasting application that lasts all day long and feels or looks natural on your skin. In this article, I have answered the question: does airbrush makeup cover wrinkles? It ideally covers up wrinkles and fine lines by settling the makeup on the skin. I have illustrated all the main points regarding airbrush makeup, how to hide wrinkles, a comparison between airbrush and regular makeup, and its pros and cons. Give it a try and experience it by yourself.