Is Shein Makeup Safe? Comprehensive Discussion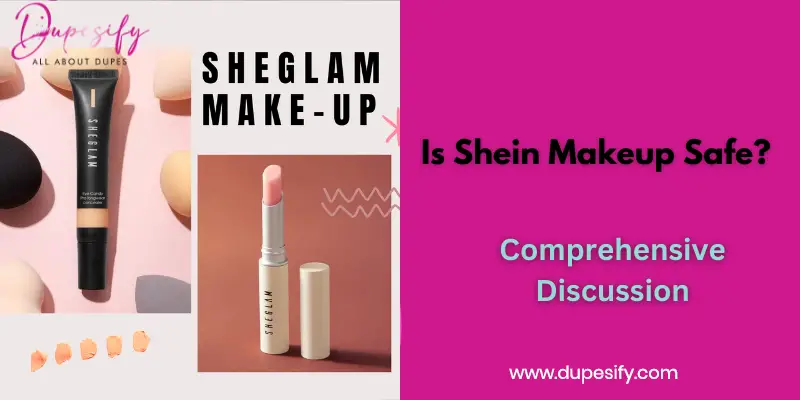 From clothing to accessories, I love purchasing goods from Shein. Last week, In an exhibition, I learned that Shein had started its makeup brand. That was exciting news for me, so I searched about the products and found a frequently asked question on social media about its makeup line: Is Shein Makeup Safe?
Tidbits: Shein's makeup brand, Sheglam, offers trendy makeup products at affordable prices.
The question about the safety of Shein products raised a sense of curiosity, so I thought to give them a try and order their basic makeup stuff. In this article, I will mention the Shein makeup products that are safe for the skin and friendly on the pocket.
Is Shein Makeup Safe? 4 Key Things to Know
As we all know, while manufacturing its products, every makeup brand considers its audience's skin texture and tone requirements. Product designers keep in mind the skin types of makeup users and then add components in the formulation of products. Let's discuss the factors that make Shein makeup safe and formulate an honest conclusion.
Cruelty-free
I must say that Sheglam maintains this standard for its production because the brand claims that it does not test its makeup products on animals. Cruelty-free products are safe and healthier, as mentioned on their website. So, you can conclude that the makeup which Sheglam offers is more skin-friendly and contains fewer chemicals.
Vegan
Sheglam tells its audience that any makeup product does not contain ingredients derived from animals. In this way, Shein vegan-free makeup products do not cause allergies and rashes to the skin. From a broader point of view, I can say Shein products may have their ingredients derived from plants, like vegetable glycerin or oils from soya and corn plants.
Non-comedogenic
Shein products do not form a layer on the skin and prevent pores from breathing. Instead, it contains anti-clogging properties in its cosmetics. By applying Shein products, you will feel a smooth finish, and it also does not cause breakouts. Simultaneously, it tends to absorb excess oil as it does mine. 
Talc free
As a consistent Shein buyer, I want to highlight that Shein claims its products are 100% talc free. It means Shein pressed powders do not contain asbestos, which causes lung cancer.
Is Shein Makeup Safe To Use?
I had my box of Shein makeup with me and applied its essential makeup products on my face; the results amazed me. I found out how fresh they were and how can they protect skin from cosmetic damage.
Foundation
The foundation is a critical step in achieving a flawless look. I applied Complexion Pro Long Lasting Breathable Matte Foundation with a beauty blender, and the oil-free foundation effortlessly glided on my face giving me a smooth, matte finish. Moreover, It was so lightweight that it made me wonder if I was wearing moisturizer alone.
The foundation did not clog my pores and let the skin breathe to the fullest. Also, as it contains SPF, you do not have to wear extra sunscreen before this foundation. 
Concealer
I got on a 12-hr Full Coverage Concealer to hide my dark spots. It successfully erased creases by concealing all the blemishes under its thick consistency. Moreover, this concealer did not give me the feeling of itchiness. You can also use this concealer to hide acne marks because it is a buildable product. 
Setting Powder
The following product I tested was Shein SheGlam Insta-ready Face & Under Eye Setting Powder Duo-BISQUE. The granules of the setting powder were soft to the touch, and they quickly absorbed excess oil from my face. The powder was fragrance-free and had a velvety touch. It erased my wrinkles and cakey base and provided a sheer matte finish with coloring agents like iron oxide, titanium dioxide, and suitable pigments. Is iron oxide safe in makeup is still ambiguous.
I want to mention here that this 2-in-1 setting powder has some amount of talc that covers the under-eye areas, but at the same time, it has a moisturizer texture on the face that contains no asbestos.
You can also read: Can I use Toner as Makeup Setting Spray?
Eyeliner 
I am fond of wearing marker eyeliners, and to my excitement, I found the same at Shein that I wanted. The Eternal Beauty Liquid Eyeliner is a pen-shaped liquid eyeliner that makes my eyes more definite and decked up. Its precise tip was easy to glide through my hooded eyes. You can achieve long-lasting pigment due to its waterproof consistency.
Mascara 
I believe mascaras are a game changer for the entire eye makeup look. To test this, I ordered mascara from Sheglam. Let's discuss its performance. The Max Impact Easy-Off Volumizing Mascara provided excellent volume and lengthening effect to my lashes. I fell in love with this product for my daily wear.
Shein mascara is fragrance-free, and it contains no added essential oils.
Eye Shadows
The most reviewed eye shadow palette was the Sheglam Breeze Palette, so without wasting any time, I ordered it. The packaging was no less than a luxury palette. The palette has neutrals, matte, and glitter shadows in one packaging.
I preferred to apply it with brushes; however, its matte somewhat disappointed me, but the glitters created havoc on my eyes. I liked it for myself.
Blush
The Color Bloom Blush Liquido from Sheglam is a gel-cream liquid blush. On its application, I noticed it provided my cheeks a natural flush, and the blush looked radiant due to its creamy consistency. 
Color Bloom Blush Liquido is alcohol-free, infused with vitamin C, and has a deliberate amount of SPF, which is suitable for skin protection.
Lipstick
Shein offers lipsticks, tints lip creams, but I opted for Sheglam Starlight Velvet Lipstick. When I applied it to my lips, it effortlessly glided and did not cause any dryness. The lipstick had a thick creamy texture that described its full coverage finish.
Frequently Asked Questions (FAQs)
Is Shein makeup from China?
Shein is indeed a Chinese online retail company that originated in China. It gained popularity for its affordable and trendy fashion items but has since expanded to offer a wide range of products, including makeup.
Who is the owner of sheglam?
The owner of Sheglam is Chris Xu, who is the founder and CEO of Shein. He has played a significant role in the company's growth and success.
Is sheglam a shein brand?
Sheglam is a brand that falls under the Shein company. It focuses specifically on makeup and skincare products, offering a variety of options for beauty enthusiasts.
Is SHEGLAM nontoxic?
While there is no definitive information readily available about the nontoxic nature of Sheglam products, it is recommended to research the specific ingredients and consult customer reviews to determine their safety and suitability for individual preferences.
Do celebrities use Shein?
Yes, some celebrities use Shein. Here are a few examples:
Khloe Kardashian
Normani
Big Sean
Tyga
Casey Affleck
Addison Rae
Bella Thorne
Liza Koshy
Sofia Carson
Saweetie
These celebrities have all been seen wearing Shein clothing or accessories. Some of them have even collaborated with Shein on special collections.
Final Thought
Sheglam is an emerging makeup brand offering you a wide range of makeup. I have mentioned the factors that make Shein makeup safe in this article. I have also declared my first impression to you by testing it on my face. In my point of view, every skin reacts differently to different products as they do not cause me any skin damage. Do give me a try to Shein makeup on my suggestion. In my opinion, if the brand has to grow, it doesn't compromise on its safety. Providing the best ingredients and packaging.