Is Iron Oxide In Makeup Safe? Detailed Analysis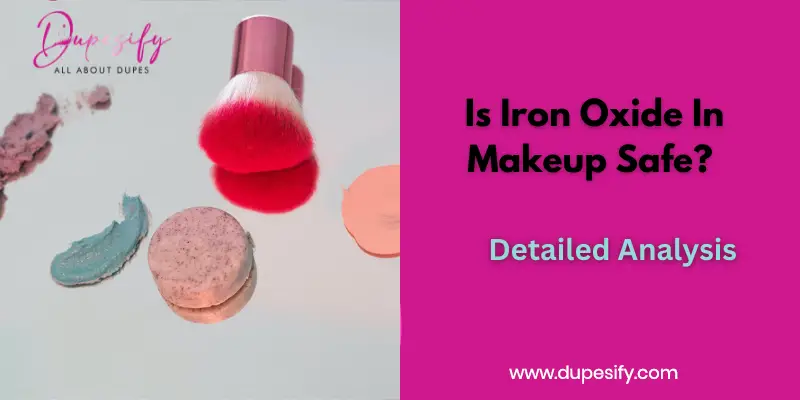 Have you ever thought that the makeup products you use contain iron oxide? Facial products contain synthetic iron oxide as an essential coloring agent in cosmetics formulations. From foundations to lipsticks, iron oxide adds intense color to makeup products. As a makeup designer, I will answer the question: Is Iron Oxide In Makeup Safe?
Point to ponder: Synthetic iron oxide is not to be confused with natural iron oxide. Synthetic means its composition in a lab under controlled conditions, while natural iron oxide is produced in mines with other heavily contaminated metals.
Iron oxide is gentle on the skin when used within specific limits because it is created synthetically to eliminate all irritants. In this section, I will illustrate that iron oxide makeup products are safe by looking for makeup products that cause no damage to the skin.
Why Is Iron Oxide Used In Makeup? 3 Reasons To Use 
Iron oxides are inexpensive, naturally occurring minerals. They add beneficial properties to cosmetics which is why these oxides are highly recommended in makeup products.
Pillar of Makeup products
In my opinion, iron oxides add colors to products to make them match numerous skin tones. Using different types of makeup products without iron oxides makes no sense.
Non-irritating
Iron oxides are synthetically created to eliminate the contaminants of naturally occurring iron. These mineral products are fully vegan and safe to use on the skin without any fear of rashes and breakouts.
Staying Power
The best quality of iron oxides is to enhance the staying power of makeup products. These mineral oxides are moisture resistant and effectively increase the longevity of makeup application. You cannot face the difficulty of applying products again and again. 
Why Is Iron Oxide Added to Foundation?
Have you ever thought about using iron oxide in makeup? The primary function of iron oxide is to add color to cosmetics. It helps to even out the skin tone providing full coverage. Iron oxide in makeup foundation protects skin from discoloration, especially for darker skin.
As a colorant, it is used in alcohol-activated makeup also I have described removing alcohol-activated makeup in my recent blog on Dupesify.
I have tried foundations that contain iron oxide and cause no allergy to my skin. So I would like to suggest a Derma Blend Flawless Creator Liquid Foundation product. It is gentle on my skin's surface and does not cause redness. Moreover, it gives a matte finish and ensures long-lasting makeup. I must say, the Iron Oxide Derma Blend Foundation is a skin-friendly product.
Does Sunscreen Need Iron Oxide?
We all know sun rays cause harmful impacts on our skin and make it dull. Not only is it dangerous for the skin tone, but it also causes aging at an earlier stage. Iron oxides are used in sunscreens to give a sheer tint minus the white cast that other minerals leave behind.
The only solution to combat visible or blue light and UVA rays is tinted sunscreen containing iron oxides. For protection against UV rays. I advise you to use sunscreens that have both zinc oxide and titanium oxide. Tinted sunscreens do not scatter light and protect the skin from harsh irritants.
Pro tip: Not using iron oxide alone is enough; the same goes for zinc and titanium oxide. I recommend selecting one good quality sunscreen that has all three ingredients.
Is Iron Oxide Safe In Lipstick?
Can you think why lipstick shades are vast? Lipsticks are made up of wax, oil, and pigments, and the pigments are the iron oxide colorants that make it possible to create unlimited shades of lipsticks and lip glosses. Moreover, iron oxide-infused lipsticks restore the natural lip color and give extra moisture than regular ones. 
I have used many lipsticks that retain moisture on my lips and give instant nourishment. These lip products have iron oxides, and it is safe to use. The Perricone MD No Lipgloss Lipgloss protects my lips from dryness and has SPF properties to cure pigmented lips.
What Is Iron Oxide Used For In Makeup?
How is it safe to use iron oxide in makeup products? Iron oxides are used in color formulations in cosmetics. It possesses mattifying properties to make the makeup look smear-proof. Similarly, yellow iron oxide is used in setting powder to absorb the excess oil and diffuse the imperfections. 
Setting powders contains an amount of iron oxide and titanium oxide that protect skin from sun damage as well as do the job of making makeup crease-free. Maybelline Fit Me Loose Finishing Powder is the best powder I like. It provides my skin with a feathery treatment. 
Is Iron Oxide Safe In Mascara?
As mentioned above, iron oxide is very gentle on the skin and possesses non-irritating properties. Mascaras do not clump and lengthen the lashes without transferring harmful allergens inside the eyes.
For many reasons, Stila Stay All Day Lash Water Resistant Volumizing Mascara is my go-to product. First, I do not need to wear fake lashes with them, and from a health point of view, I have to not put eye drops in my eyes before wearing this mascara.
FAQs
Is Iron Oxide Good For Skin?
I like to mention that iron oxide is synthetically created and is gentle on the skin's surface. Even people with sensitive skin can use iron oxide skincare and makeup products. Iron oxide is beneficial for the skin because it masks the existing skin pigmentation and also prevents it from developing pigmentation. Iron oxide is also effective in treating the hyperpigmentation of the skin, the disease known as Melasma.
Is Iron Oxides Non-Toxic?
Iron oxides are composed of iron and oxygen that occur naturally. For use in cosmetics, these oxides are produced in controlled conditions to make them free from contaminants. You can use iron oxides in makeup products because they are safe on the skin and non-toxic.
Is Iron Oxide An Allergen?
Iron oxide is an essential ingredient in providing tint to cosmetics. Unlike nickel, iron oxides cause no harmful allergies to the skin. These are frequently used in makeup products like eyeliner, mascaras, and eye shadows but produce no adverse effects on the eyes. You can buy iron oxide products and safely use them.
Conclusion | Is Iron Oxide In Makeup Safe?
Do you imagine applying makeup when it has metals? Well, wearing it may not be a ridiculous idea. Iron oxide has been safely inculcated in cosmetics, thus ensuring skin safety.
In this article, I have elaborated on how makeup products become your skin's best friend, even if they are loaded with iron oxides. Moreover, I illustrated the name of makeup products that protect against skin damage from visible light and blue light with added SPF properties.