How to Store Makeup Sponge? Complete Guide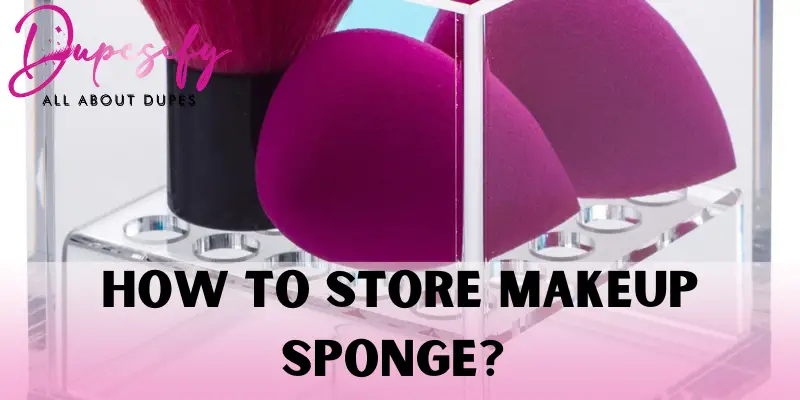 Makeup is growing tremendously. Makeup tools have revolutionized makeup applications. Earlier, people used fingers to blend makeup, then came makeup brushes. But now, the makeup sponge has changed the whole era of the makeup industry. Knowing How to Store Makeup Sponge is necessary to increase use and life.
A makeup sponge gives an airbrushed and flawless look and is one of the must-have makeup products. It absorbs the product and transfers it to the applied area without wasting it, and it is a versatile product.
It is designed in a way to be used to apply almost everything to the face. I don't need any other brush if I have my makeup sponge. These sponges come in different sizes and shapes. This article is all about how to store makeup sponges and their benefits.
How to Store Makeup Sponge?
I need to store makeup sponges properly. Proper storage not only increases the lifespan of the sponges but also prevents the sponge from bacterial growth. I ensure that my beauty blenders/ cushions/ sponges are perfectly clean or washed if needed, ideally stored, and don't come in contact with the outer surface and get contaminated. Here are some of the holders to store beauty blenders.
Tip: I always store my beauty blender when it is scorched. 
Beauty Blender Blender Defender
It is a flexible, Silicone Beauty Blender Storage cover. The tiny holes in it make it unique to use to store makeup sponges. It gives the blender the much-needed air, so it doesn't mold.   
Beauty blender stands
Beauty blender stands are my favorite to store my sponges. These stands come in different shapes and sizes according to the size and shape of the beauty blender. It is straightforward to clean these stands.
Acrylic makeup sponge holder
I find it very easy to store my sponges in these acrylic makeup sponge holders. It is a transparent box. It seems aesthetic on my makeup vanity. 
Air Drying Makeup Sponge Holder
It is very effective for storing my makeup sponge. It stores, as well as the air, and dries the sponge perfectly, and these stands have enhanced the look of my makeup vanity.
DIY Storage Stands
Suppose I don't have any of the beauty blender stands. I have come up with a solution to this problem. I made beauty blender stands at home.
I use toothpaste or foundation caps to store my beauty blender. 
I don't discard the cover on which the beauty blender is sold and keep my beauty blender in it.
Storing my beauty blender in a mesh bag dries out the blender perfectly and prevents it from getting contaminated. It is eco-friendly.
An old worn-out ring can be excellent DIY storage for a beauty blender.
Common Mistakes to Avoid in beauty blender storage
An adequately stored beauty blender can serve me for a long time. I was a fool doing common mistakes when storing beauty blenders. I have formulated these mistakes to avoid while storing beauty blenders. But before knowing the mistakes, you better know How to use it sponge/applicator according to the guidelines.
Storing it as it is
I used to store my beauty blender as it is without washing it. If I had to wash it, I washed it with only water. I wash it with a gentle makeup-removing cleanser, then air dry it. Every time I use a blender, I wash it.  You need to learn how to clean your makeup case properly.
Storing the wet/damp blender
A wet blender is more prone to bacterial growth. I now avoid storing my blender when it is wet. Before storing my blender, I ensure that the blender is completely dry. Even a little moisture in it can be harmful. 
How to Store beauty blender for Travel?
I am always very protective of storing my beauty blender when traveling. But, no worries. I have a solution to this problem. Hacks for storing beauty blenders.
I never store a damp/ wet blender. I store a completely dry blender.
Tip: If I must rush urgently and my bender is wet, I dry it with a hair dryer.
I keep my blender in a mesh bag. It is eco-friendly. It allows the air to pass on through the blender.
I never keep them in an air-tight container or zipped plastic bag while traveling.
How do I Keep the Bacteria out of my Beautyblender?
When storing beauty blenders, I keep this in mind: my beauty blender doesn't catch any bacteria. It is thoroughly washed, cleaned, and dry.
To remove the most challenging makeup stains from my beauty blenders, I soak them overnight in warm water. 
I always use a gentle makeup-removing cleanser to wash them. 
Air Dry the blender always. 
I store them in a clean and dry place. 
How do you Dry a Beautyblender after Washing it?
A wet beauty blender does wonder while applying makeup, but at the same time, it can be harmful. Mold can multiply on a wet blender, so I need to dry it after washing it.
I always air-dry the blender. It will take several hours for a blender to dry completely.
I keep the blender in a clean place to dry.
I avoid exposing the blender to direct heat and sunlight.
Read also about: Can You Blow Dry Makeup Brushes?
Do you clean Beautyblender after each use?
I recommend cleaning the beauty blender after each use. A clean beauty blender prevents skin irritation, allergies, and issues.
Should you freeze your Beautyblender?
A freeze beauty blender gives an airbrushed, flawless finish to my makeup. It soothes the puffiness on the face, shrinks the pores, and controls excess oil on the face. I recommend using a freeze beauty blender. 
How Long do beauty blenders Last?
A well-clean beauty blender can last for a longer time. It depends on the usage of the blender and how the blender is washed and stored. I replace my beauty blender when I feel mold has grown. When you have reached the endpoint, you better dispose of the makeup product rightly.
Conclusion
Beauty blenders are a game changer in my makeup application. Due to the wonders it does, I am very vigilant in storing them properly. An adequately stored makeup blender has a longer life span. In this article, I have discussed a complete guide on the beauty blender storage holders, mistakes to avoid while storing, and how to dry and keep them safe from bacterial growth. A beauty blender is a must-have for me.