What to keep in your Purse Makeup bag? 10 Must-Haves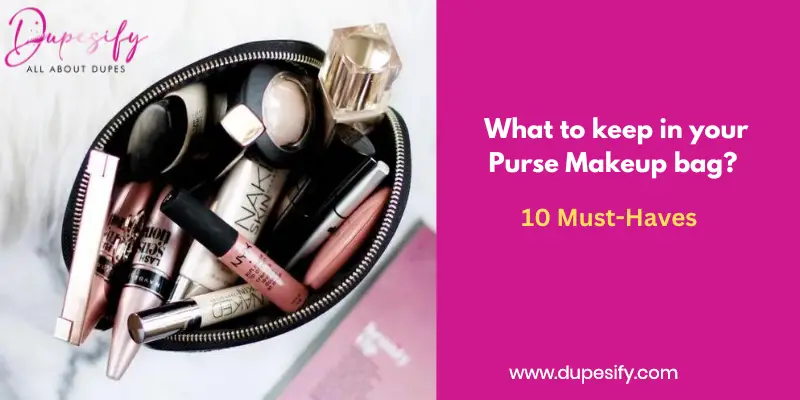 As a travel lover, I must pack my makeup bag whenever I plan to go out. Sometimes, it makes me exhausted. I believe, If my makeup bag is ready, I can easily toss it in any purse to save time. All this traveling taught me to manage/ prepare my makeup bag for all occasions. So, I should make/ create a guide on what to keep in your purse makeup bag.
In this guide, I will illustrate/ describe to you what you should add to the makeup bag in detail. Moreover, I will elaborate/ explain about setting the makeup bag later in the article. So, keep reading till the end.
10 Must-haves in Your Makeup Bag
Different types of makeup products are imperative for a woman to have in the bag. I am sharing the 10 must-have makeup products I always keep in my makeup bag. 
Hand-Sanitizer
Hand-Sanitizer (it is not a makeup product, but I must have it) always saves me from getting any germs. Honestly, I do not like people eating food without washing or using hand sanitizer. It does not matter if I attend a wedding or go out with my friends. It is always in my purse. 
Moisturizer
I have a dry-to-combination skin texture. For this, I always have to keep a mini-size moisturizer in my makeup bag. I recently used Clinique moisturizer surge, and I love it. It hydrates my skin and allows the skin to build up a smooth and soft texture. 
Concealer 
My forever and ever product that I never forget to put in my makeup bag is Concealer. It covers the dark circle beneath my eyes and blemishes too. Applying a little amount of Concealer hides my undertones. I use my ring finger to blend it. The Concealer does not require a wand or brush. 
A sheer Foundation
Sheer foundations are easy to apply and look more natural than a complete coverage base. I apply one push of the foundation on my skin, which absorbs so smoothly. It seems I did not apply any foundation.
I like to blend it with my fingers as the skin has natural heat and helps too. Also, the sheer foundation does not create any creases or fine lines. 
Translucent Powder
Translucent powder is my way of giving my skin a fresh look. Sometimes, I apply it directly after the moisturizer. It makes my skin color even and hides the spots or acne scars so well.
Small, Neutral Eyeshadow
I prefer neutral eyeshadows. They can be used both for creasing and proper eye makeup look. Eyeshadows make you appear refreshed and awake, and I have a small eyeshadow compact/kit in my makeup bag. 
Mascara
To build up my eyes, I never forget to apply mascara. Mascara allows my lashes to look thickened and longer. I have a small mascara in my purse and makeup bag.
Tint/Blush
Tint/Blush gives skin a natural flush. I apply it to my cheeks, the tip of the nose, and the chin. I recommend a cream or liquid blush; it can easily blend with your fingers(blend upward to make a blush) and does not require a wand or brush. 
Lip Gloss
One of the worst feelings is having chapped lips. For this, I always have lip gloss in my makeup bag. Lipsticks are best, but lip glosses make my lips look more plumpy. It gives my lips moisture, also adding a shine.
Perfume 
Sweating is natural, and everyone who has a lot of sweating uses perfumes. Perfumes give a pleasant and desirable scent to a person's body. I like perfumes and always carry perfume in my makeup bag.
I use travel-size perfumes as these are easy to put in the makeup bag. Otherwise, full-size perfumes require enough space, and I am sure everyone's bag fills just after adding the perfume.
How do you set up your makeup bag?
Setting a makeup bag is quite tricky but not an impossible thing. Once your makeup bag is set, it is easy to pick your desired product. Here I will share tips on How to set up your makeup bag?
Empty Your Bag
Firstly, your makeup bag should be turned upside down, allowing every makeup product to come out. You might be surprised to see the products hiding underneath the mess.
Check the Expiry Date of Makeup Products
Check out the expiry dates of your products. You might have been tempted to use your favorite products, but they are useless. Toss them out and grab new ones before organizing your makeup bag.
Use Small Pouch for Brushes And Sponges
Tossing the sponges and makeup brushes back in the bag makes a mess. Because you put them in a hurry, you can use another pouch for the different types of brushes and sponges within your makeup bag.
Don't Keep Two Products for One Purpose
Get rid of the two products which are used for one purpose. For example, you can choose one that suits you most rather than adding both translucent and loose powder.
Clean the Makeup Bag
Before adding the products back into the makeup bag, make sure you wipe and Clean the Makeup bag to remove the dirt. If your makeup bag is made of plastic, you can use makeup remover wipes to clean the dirt, or if it's a fabric-made bag, you can pop it into the washing machine using hot water. 
Clean Makeup Products
You must clean off the products before adding them to the makeup bag. Use a damp cloth with water to remove all the spills around the products (it's usually on the foundation and Concealer)
Setup Bag
Once you are done with all the wiping, it's time to reload the makeup bag. 
Instead of tossing the products aimlessly, group them by size. 
Put all the flat and long products like the eyeshadow palette, mascara, lip glosses, and brow pencils in one place. 
Group the square and round products like face powder and blush.
Line them up in a neat row. 
Tip: It is easier if your bag has compartments.  
Conclusion
This article thoroughly described what I keep in my makeup bag. Further, I explained how to organize the makeup bag when it becomes messy, and you can not find things quickly. I believe the above guide will help you with what to keep in your purse makeup bag and how you set it up.