Can I wear makeup after laser hair removal? Tips & Guide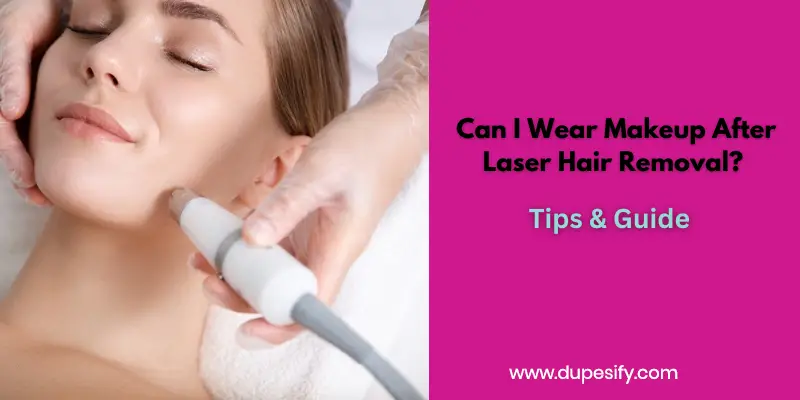 Having flawless and hairless skin is everyone's dream. To achieve these, people opt for hair removal treatments. These days there are a lot of hair removal methods. Laser hair removal is one of those treatments that are most hyped about. I also underwent this procedure and came across my fellows' question: Can I wear makeup after laser hair removal?
Tidbit: Laser Hair removal is an advanced form of phototherapy. It is a popular cosmetic procedure to remove unwanted hairs from the body. A non-invasive treatment uses beams of light to target hair follicles, thus inhibiting their ability to produce new hairs. 
Are you a person who can't do without makeup? And you are wondering about applying makeup after laser treatment. You can wear makeup after laser hair removal but with particular care and caution. In this article, I have discussed laser hair removal, how to apply makeup after it, and the post-precautions of this treatment. 
According to Statista, 1.99 million Americans preferred hair removal treatments over waxing in 2020.
Can You Put on Makeup After Laser Hair removal?
Makeup application after the treatment depends on the density of the Hair that has been treated. The denser the Hair, the more skin will take time to heal. Each type of laser affects people differently, and it may be a difficult task to put on makeup.
Yes, You can put on makeup after laser hair removal, but you must follow some instructions.
How soon after laser hair removal can I wear makeup?
You can apply makeup right after the session, as this treatment has little or no noticeable side effects. I recommend putting on makeup after 24-48 hours of the treatment. Give your skin rest for some time to settle down before applying makeup. The point here is to let fresh skin cells and pores breathe. Whenever you apply makeup, apply it gently. 
Tip: Be careful choosing what type of makeup you wear after laser hair removal.
If you have robust and heavy hair growth, you may experience redness and swelling. I suggest you take good aftercare of the treatment so that your skin heals naturally and beautifully without causing any harmful side effects.
What Happens if I Put Makeup on After Laser Hair removal?
Is it safe to apply makeup after a laser? Skin becomes sensitive after undergoing any treatment. Sensitive skin is at a greater risk of redness and swelling. Applying makeup readily after the treatments can lead to skin irritation, bacterial infections, and itchiness. Mostly, makeup is made up of synthetic ingredients, which may be harmful to your skin when applied readily after any skin treatment.
Warning: If there is any blistering or crusting, you should avoid makeup for some days.
Makeup After Laser Hair removal 
As a makeup lover, I can't go out bare-faced. Therefore, I always put on makeup, whether it is a BB cream, mascara, or some lip and cheek tint. It makes me look presentable enough. Makeup application after undergoing laser hair removal is not that easy. You have to look presentable and take care of your skin side by side. 
My tip: I apply mineral makeup made up of organic minerals free from any chemicals, dyes, and fragrances after undergoing a skin treatment so that my skin retains its actual healing. 
Sunscreen
Sunscreen always comes as a rescue to treat sensitive skin. Sensitive skin is more prone to be affected by the sun's harmful rays. Sunscreen is a must, and if you have done a skin procedure, make sunscreen your best friend. I use Pipette Mineral Sunscreen Broad Spectrum SPF 50.
Use Aloe Vera Instead of Primer
Do you want to make a wise choice for your skin? Primer provides a smooth canvas to work on and clogs pores to control oil. It is a big no for you and your skin. My experience is that aloe vera can be used as an alternative to Primer.
Tidbit: Aloe vera has soothing, moisturizing, and cooling properties that heal sunburns, redness, and itchiness.
Foundation/Concealer
When applying foundation, you must keep one thing in mind, don't go for a waterproof foundation. You can opt for BB/CC cream, tinted moisturizer, or a light coverage foundation to improve the texture of your face. Moreover, it will be easy to remove without harsh rubbing on the skin. You can use L'oreal Paris True Match Minerals Foundation, which suits me very well.
You can use concealer to hide any scarring you are facing. 
Blush/Bronzer/Contour
You can apply blush to give a flush of color and dimension to your face. I suggest you use cream-based products on your face to keep it hydrated, causing no flakiness. 
Eye makeup
You can go for subtle eye makeup instead of a heavy and dark eye look. Makeup after an eye exam and makeup after laser removal are two different aspects, so I used to apply lip and cheek tints to my eyelid to give them a natural finish so that my eyes don't look like they are not part of my face. Apply mascara to only the outer edges of the lashes.
Warning: Avoid applying shimmers and glitters to your eyes as they can irritate your skin; in addition, don't go for fake eyelashes. 
Lipstick
I recommend you always use tinted lip balm because long-lasting lipstick can irritate your lips. 
Lip and Cheek tint by Benefit is my absolute favorite product.
Setting the makeup
Setting the makeup is very important to keep everything fixed and in place. I think you should use a setting spray instead of a setting powder. Setting spray sets your makeup; furthermore, it provides your skin hydration. I use MAC Prep + Prime Fix+ setting spray.
Warning: When applying makeup immediately after laser hair removal, you should refrain from comedogenic, fragrance-infused, powder-based, and oil-based (Essential oils) products.
You can also read: Can you wear makeup after a Spray Tan?
Is getting Laser Hair Removal Worth it?
Laser hair removal is becoming popular these days. Most people opt for laser treatment to get rid of Unwanted Hair. It comes with specific pros and cons that need to be considered.
Pros of laser hair removal 
It is an effective treatment to get rid of Unwanted Hair.
It comes with little or no apparent side effects. 
You can get it done not only on your face but also on other areas of your body.
It reduces hair growth. The new hairs are lighter and thinner.
Cons of laser hair removal
It is an expensive treatment. 
It is a long process requiring many sessions to see the desired results.
It may not be an ideal process for darker skin tones.
How Do I Take Care of My Face After Laser Hair removal?
My skin catches redness and swells up after laser hair removal. Taking care of the skin is the ultimate key. I always follow a good skincare routine after undergoing treatment to achieve the best treatment results. I have formulated a list of DOs and DON'ts after having this treatment:-
What are the DO's after laser hair removal?
You can do icing on the affected areas. 
Always applying sunscreen has a broad spectrum to protect it from the sun.
The laser can dry your skin and apply a thick moisturizer to hydrate your skin. My vote goes for EltaMD Enzyme Gel. You can also use emollient creams. 
Regular cleansing is needed as it keeps the skin clean from all dirt. You can use a gentle cleanser.  
After one week of laser treatment, exfoliate your face with a gentle exfoliator. It speeds up the shedding of hairs.
What are the don'ts after laser hair removal?
Avoid direct sunlight and intense heat, and avoid tanning beds and saunas.
Do avoid those activities that cause excessive sweating.
Avoiding smoking and alcohol lets the skin heal at its best.
Avoid touching your face; this may transfer the dirt to your face. 
You should not scratch, pick, tweeze or shave.
Are there any Long-term Side Effects of laser hair removal?
Laser hair removal is one of the safest methods to eliminate unwanted Hair. The process is long-term, but it has excellent results. Laser hair removal has no long-term side effects, but it comes with some common after-effects.
It can cause an active rash, resulting in redness on the skin.
Immediately after treatment, there is a chance of swelling on your face. Swelling may appear as large goosebumps. 
Blistering and crusting may cause.
Dryness may be caused on your skin when exposed to light rays. 
Avoid using comedogenic products, as I explained in the guide on wearing makeup after Microneedling.
Why do I get Pimples after Laser hair removal?
Your skin becomes sensitive and dry after the treatment. This treatment opens up pores, and they get clogged easily. The clogged pores are susceptible to acne and pimples. The dead cells can't escape from the surface and form a pus-filled infection. 
Why is my Hair Growing back after laser?
Laser is a long process that requires multiple sessions to have effective results. Even though laser treatments damage hair follicles, they are not wrecked. New Hair grows back when Hair follicles recover from the initial damage. But these hairs will be much lighter and thinner than the earlier ones. The results of laser hair removal are effective and long-term. 
Sum Up
Laser hair removal has proven to be effective for my skin. It has reduced hair growth on my skin. After undergoing this treatment, I wear makeup with great caution and care to ensure that my skin feels best. In this article, I have given you a complete guide to laser hair removal treatment. It is one of the hair removal treatments. You should invest in this treatment because it has long-term results, is painless, has no noticeable side effects, and is an effective treatment for unwanted hair.