How to Dispose of Makeup? Steps and Tips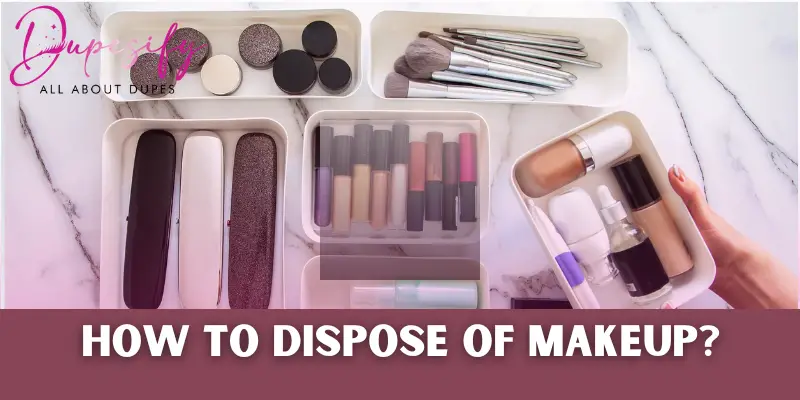 Our collective responsibility is to keep our environment clean and comfortable for its inhabitants. Discarding makeup products can be tricky because they will have a significant impact (either positive or negative) on our ecosystem. It is a frequently asked question how to dispose of makeup?
Makeup products and the packaging it comes in are made up of toxic chemicals that can be hazardous to our environment. For the ecosystem to self-sustain, these beauty products should be disposed of with utmost care. This article covers the steps and tips to discard and recycle makeup products.
How to dispose of makeup?
Chemicals in cosmetics have a disastrous environmental effect if disposed of unnaturally. I discard them when my makeup expires, gives a weird texture, or smells bad. It is essential for me that I waste them without harming our environment. 
In this regard, some makeup brands like MAC, LUSH, LOREAL, and GARNIER have come up with recycling makeup products. It is a great initiative introduced by Terra cycle. I have formulated some steps to discard my makeup products.
Emptying Makeup Container
Emptying makeup containers is necessary because chemicals in cosmetics are non-biodegradable, and they can be harmful to our environment. Also, You can clean your makeup case regularly to keep things intact.
Tip: Emptying makeup containers is beneficial so that the makeup residue doesn't accumulate in landfills.
Cleaning my makeup products using paper towels or removing wipes is my first step. For not-so-approachable places, I clean them with cotton buds or cotton swabs. For mascara and eyeliner cleaning, I use a Spoolie.
Eye shade kits are a difficult task for me to clean. It is composed of many materials like pans made of aluminum, magnets, and mirrors.
I take a plastic bag or a mason jar with a tight lid opening.
Then I empty all the makeup residue from lipsticks, mascaras, eyeliners, foundation, concealers, and eye shades in a jar or a sealed plastic bag and then throw it in a trash bin.
I soak the emptied containers in hot water, add a little dishwashing soap to clean them thoroughly, and then air dry them. 
Makeup content can't seep from the sealed jar or a plastic bag. So, there is no leakage of any makeup in landfills and waterways.
Warning: Try not to rinse off any makeup residue in your sink; strictly avoid it. The makeup content will eventually go into the landfills and waterways, thus, disturbing the water life.
Recycling or Throwing away makeup containers
It is an essential step when it comes to disposing of makeup. Many makeup companies have come up with recycling programs (recycling programs) that take back empty containers and recycle them for reuse in the future. 
Tip: When I discard my makeup, I check for these programs online or in-store at my local beauty retailer. These stores are very particular about which containers they recycle. They accept only clean containers.
I begin with separating the containers or the products depending on what's recyclable and what's not.
Lipsticks, lip liners, mascaras, and eyeliners can not be recycled, so I throw them in the garbage.
I throw the glass bottles like perfumes or foundation bottles in the glass recycling bin because you can recycle the glass. Pumps of these bottles are not recycled.
Eyeshade kits and compact powder can't be recycled, so I throw them in the trash.
You can not recycle Makeup brushes.
The packaging of the makeup products is made of paper and cardboard; these are easily recyclable.
Tip: Before throwing them away, I ensure that the products are entirely sealed by their lids and caps so that there is less chance of makeup content spilling off if the residue is left.
TerraCycle Makeup Recycling
Terra cycle is an innovative recycling company that has become a global leader in recycling hard-to-recycle materials, including cosmetics and beauty products. This company has revolutionized the disposal of makeup.
They have been working for years to reduce waste and clean the environment by introducing new recycling programs. Terra cycle has partnerships with many beauty brands to recycle cosmetics. 
Can I Recycle Makeup?
Makeup products are made up of chemicals that may harm our ecosystem, so recycling them with great care is advised. However, it is a difficult task but has proven effective in reducing waste. A recent study mentioned that 50% of people don't try to recycle their empty bottle containers, which causes 2.7 billion plastic bottles to accumulate in landfills every year.
How to Correctly Recycle Your Empty Beauty Products – Real Simple
You can replace Glass, plastics, and paper. In addition, you can not recycle mirrors, magnets, and bottle pumps. You should throw these products should in different bins according to their recycling. You should contact makeup recycling companies whenever you discard your makeup.
Tips: When purchasing makeup products in the future, I prefer biodegradable and environmentally friendly products that are easy to recycle.
Sephora Makeup Recycling
Sephora has come up with the recycling of makeup products. It has partnered with the Pact Collective, working collectively to dispose of the makeup in a conscious way that can not be hazardous to our environment.
Sephora and Pact Collective have created Beauty (Re)Purposed, a pilot program meant to "give your finished beauty products a second life," according to its slogan. Sephora and Pact Collective team up to take down cosmetic waste.
Conclusion
For better survival and the natural stability of our ecosystem, please dispose of your makeup with great care. In this article, I have mentioned the easy steps and tips on how to dispose of makeup. I follow these steps and tips religiously whenever I discard my makeup. You should also consider these tips.