Why Does My Makeup Separate on My Nose?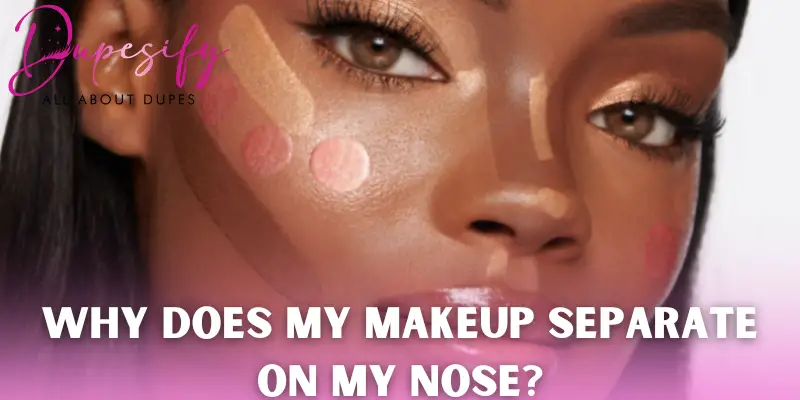 Flaunting a flawless makeup look is everyone's dream, but it can sometimes be challenging. It is a real struggle regarding foundation separation on your nose. It can shatter your entire makeup look. As a working woman, I have to apply makeup daily. It was a big problem for me: why does my makeup separate on my nose?
The nose looks cakey and patchy when the makeup slips away from it. Makeup separating from the nose can be caused by various reasons. This article is all about the reasons and tips to get rid of the makeup separating from the nose. 
6 Reasons Why Does My Makeup Separate on My Nose?
No matter what you do, you always have your makeup separate from the nose. Getting a smooth application of makeup on the nose is what we all want. I have dealt with this problem, but I have now overcome it. I have formulated some reasons for makeup separation on the nose.
Blackheads and Whiteheads/Enlarged pores
A nose full of blackheads and enlarged pores was a significant reason for the makeup separation on my nose. Blackheads gather in the enlarged pores causing clogged pores. Makeup doesn't absorb in the clogged pores, resulting in makeup fading away from the nose.
Tip: Using nose strips can help you get rid of blackheads. 
Oily or a dry Nose 
An extremely oily and dry nose can cause makeup separation. Oil tends to layer up on the skin, and makeup doesn't settle on it. The makeup eventually slips away from the nose. A nose loaded with dryness causes the foundation to become patchy on the nose. 
Using makeup formulas that don't complement each other
Sometimes, you apply some makeup products that don't complement each other. Oil and water tend to repel each other. These products don't mix, resulting in makeup separation from your skin. 
Warning: Never use products that don't have the same base ingredient.
Layering up the product
To mask every imperfection and attain good foundation coverage, you layer up a lot of foundation on your nose. Layering a lot of product on the nose can make your nose look cakey, and the makeup can fall off instantly.
Not Using Color Correctors on the Nose
Enlarged pores on the nose gather up whiteheads and blackheads. Excessive oils accumulate on the surface of the nose, and all these factors darken the nose area. Not using the color corrector to match the skin tone with the foundation shade causes the foundation to get oxidized and look patchy, so it slips away from the nose. 
Waterproof makeup
Waterproof makeup is sweat-proof and transfer-proof. Not using waterproof makeup can result in makeup slipping from the nose. 
How do you keep foundation on your nose?
To achieve your desired flawless makeup look, you should know how to keep your makeup on your nose all set and absorbed without being cakey and patchy. Here I will explain the various steps to keep your makeup all set throughout the day.
Get Familiar With the Skin Types
It is the primary step to any good skincare and makeup routine. Getting familiar with your skin type saves you from many trial-and-error situations.  
Whenever I feel dry, I use thick and cream-based skincare and makeup products to help combat dry skin.
For oily skin situations, I always stick to water-based products.
Skincare regimen
I exfoliate my face religiously. Exfoliation helps to remove the layer of dead skin, providing a smooth finish to my face. It clears my pores and diminishes the appearance of my blackheads. I follow a good skin care regimen to make my skin as fresh as possible. You can follow some basic steps in the skincare regimen to achieve the desired result. 
Tip: Always use skincare products according to your skin type.
Regular face washing
The face wash is essential. Face wash removes excessive oil from the nose. It is necessary to wash the face because it provides a clean surface to work on.
Tip: I need to wash my face in the morning to start the day and the night before going to sleep.  
Exfoliation
Always use a gentle exfoliator to remove the dead cells from the nose.
Toner
I use the toner to soothe my skin. Toners balance the skin's pH, shrink the pores, and control the excess oil on my face.  
Serum/Facial Oil
What the serum does is the most asked question. Serum locks the hydration. It gives me a more improved appearance to my skin, making the dark spots less prominent. Regular use of the serum is the key to healthy skin.  
Tip: I use serums with AHAs and BHAs (Retinol and Niacinamide). These ingredients are known to control excessive oil by shrinking the pores.
Moisturizers
Moisturizers are a critical factor in enhancing my skin. It retains the moisture on my skin. Moisturizers instantly treat dry and flaky skin as well as oily skin. 
Prepping the Skin
Make sure you prep your skin very nicely when applying makeup just after finishing your skincare. 
Primer/Eye primer
Primer is the essential step in prepping the skin before applying makeup. Primer ensures that the makeup lasts longer. It hides the pores, smoothes out the skin, and provides a clean canvas to work on. You can also use an eye primer on your nose. Eye primers have more capability to bind makeup together in a place. 
Tip: I recommend gel-based primer instead of silicone-based primer because silicone-based primer doesn't absorb in the skin. These products stay up on the skin's surface. For an oily nose, I prefer to use a mattifying primer.
Use a setting powder before applying the foundation
If you are worried about setting your makeup on your nose, use a setting powder after primer and before applying foundation. The powder will soak and control the excess oil and keep the nose shine-free.
Makeup Application
The right way to apply makeup matters a lot. It will decide the long-lasting makeup. I use creamy products on my nose first, then proceed towards setting them with powder products. It gives me a smooth finish.
Tip: I always use primer and foundation with the same base ingredient. For example, using primer and foundation that are water-based.  
The "Less is More" Works Best
Layering up the product makes no sense. I always apply fewer products on my nose, so it doesn't become cakey.
Don't rush
Whenever I apply skincare or makeup products, I don't rush. I let the product absorb on my nose correctly before applying the following product. In this way, each product I apply settles nicely, giving me a flawless finish.  
Don't Rub Just Dab
I work on the product application formula "don't rub, just dab." Rubbing may cause the product to slip away from the skin. Dabbing settles the product into the skin, giving me a blended look. 
Tip: I blend the foundation on my nose with a sponge and don't use a brush because the brush leaves streaks on my nose due to its bristles, and the sponge blends the foundation effortlessly.
Using setting spray/setting powder
It is the final step in setting all the products on the nose. Lightly dusting the powder on the nose settles the product nicely. The setting spray locks all the products in place. 
Conclusion
Flawless makeup is all that matters. A good skincare and makeup routine can help you achieve your desired look. You can tackle Makeup separation from you know why. In this article, I have demonstrated those reasons and tips to prevent this situation. These are my tried and tested tips. It would help if you also opted for these tips. I am sure you will be successful.
.