How to wear sunglasses without messing up makeup? Tips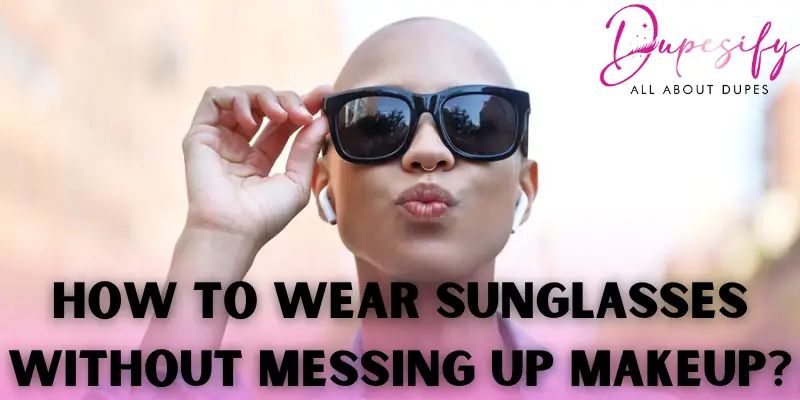 Sunglasses are a must for me because wearing sunglasses is the only logical solution to face the scorching sun. But for a makeup lover like me, rocking sunglasses while putting your makeup on is difficult. I pour my time and energy into putting together my makeup look for the day, but sunglasses ruin everything. After many failed makeup applications, I now know: how to wear sunglasses without messing up makeup.
For most of my life, having my makeup on, I have stuck to a no-sunglasses look because sunglasses shift away makeup giving a weird texture to my face. Moreover, it has significantly cost my eyes by developing irritation and allergies. But now I have figured out the problem. In this article, I have developed tips and hacks to wear sunglasses without ruining my makeup.
Tips on How to Wear Sunglasses without Messing up Makeup?
Whether it is summer or winter, I prefer to wear sunglasses whenever I go out because why not. After all, I must protect my eyes from the sun's rays just as I wear sunscreen. Due to the metal or plastic friction, sunglasses can displace the makeup it comes in contact with. In this regard, I have formulated some tips to rock your makeup with sunglasses without worry. 
Blotting Paper/Sheets
What is your topmost priority? Obviously, to ensure that makeup stays longer on your face and especially on your nose because you wear sunglasses on the tip of the nose. The nose is the epicenter of excessive oil production. I always use blotting sheets on my face to remove excess oil so that the makeup glides smoothly on a clean surface.
Tidbit: Blotting paper is absorbent that soaks extra oil, and makes the surface clean and shine-free.
Primer/Eye primer
Primer is the essential step in prepping the skin before applying makeup. Primer ensures that the makeup lasts longer. It hides my pores, smoothes out the skin, and provides me with a clean canvas to work on. For wearing sunglasses over my makeup, I always apply an eye primer, especially those without any pigment. Eye primers have more capability to bind makeup together in a place. I use Urban Decay's Original Eyeshadow Primer Potion. 
Taking eye primer, I squeeze out a pea-sized amount of it.
Rubbing it between my fingers so that the heat provides an excellent binding force.
I apply primer on the bridge of my nose, the areas around my nose, and all over my face.  
I blend it nicely with my fingertips.
Letting it rest on the skin, I apply other products to my face.  
Tip: I recommend gel-based primers instead of silicone-based primers because silicone-based primers don't absorb in the skin. They stay up on the skin's surface. 
For an oily nose, I prefer to use a mattifying primer.
Use a Setting Powder Before Applying the Foundation
If you are worried about setting your makeup on your nose, use a setting powder after primer and before applying foundation. The powder will soak and control the excess oil and keep the nose shine-free. This step is known as baking. Baking is the critical process to set makeup in place. I prefer to use Coty Airspun loose powder.
Taking a sponge, I dip it in the setting powder. You can use toner as a setting spray.
Then, apply the powder to my nose.
I don't dust the powder but place the powder on the areas of my nose where the sunglasses make contact. 
Let it rest for some time, then dust it off using a brush.
Foundation Application
I don't follow any hard and fast rules to apply foundation. I stick to the routine of foundation application. I use matte, waterproof, and sweatproof foundations like Maybelline fit me matte and poreless foundation. It is best suitable for oily skin. To combat dry skin, pour a few drops of hydrating facial oil into your matte foundation. You can also use any mixing medium to give the foundation a better consistency. 
Pro tip: I always apply foundation with a damp sponge. I dampened it with a setting spray. The foundation adheres to my face well using a setting spray.
Set the foundation using a setting powder
Liquid products tend to displace from the surface quickly. It is better to set them with a setting powder like Rimmel Stay Matte powder. Setting powder fights against the oil and humidity, making the foundation less likely to fade away. 
Ending makeup application with a setting spray
After I have done all my makeup, I use a setting spray. This step ensures that my makeup is locked and won't come off quickly. I prefer to use All Nighter Long-Lasting Makeup Setting Spray From Urban Decay.
Touch-up is a must
This step can irritate you and keep you engaged throughout the day, but at the same time, it will prove beneficial to you. To ensure that your makeup stays on longer, always touch up your makeup frequently. 
Tip: Always touch up using a little foundation on the area where it is required and set it with a setting powder. Don't use concealer to touch up, as it will give you a weird texture.
4 Useful Hacks to Sunglass-proof your Makeup
Those, as mentioned earlier, are the go-to makeup application steps to prevent your makeup from messing up. Now, I will give you some valuable and practical life hacks to wear sunglasses without messing up your makeup. 
Apply contact lenses underneath the sunglasses
If your eyesight is weak like mine, I suggest you wear contact lenses underneath your sunglasses. Sometimes switching between your contact specs and sunglasses increase the risk of makeup being messed up. 
Avoid Wearing Fake Lashes or Lengthening Mascara
The lengthened fake lashes will be more susceptible to touching the mirrors of sunglasses when you blink your eyes. It will eventually irritate you throughout the day.  
Tip: Always go for voluminous mascara instead of lengthening one when you have to wear sunglasses because mascara particles can leave their marks on the mirror of the glasses. It can mess up your eye makeup. 
Cleaning your Sunglasses
It is the most significant factor in displacing the makeup from your face. When a dirty spec makes contact with your face, it messes up your makeup. I am very mindful of cleaning my sunglasses.
I clean my sunglasses using rubbing alcohol or simply antibacterial wipes. 
After cleaning the glasses, I dust off some setting powder on the eye pads. 
Do glasses go above eyebrows?
Eyebrows define your personality to a great extent. Covering it with sunglasses is a big no for me. I always opt for sunglasses touching my brow line but not covering my entire eyebrows. 
Spoiler alert: These tips and hacks will cost you extra time and effort, but they will be worth it if you can't do without your shades or wear contact glasses.
You can also read: Can I wear Eye makeup to an eye Exam?
Conclusion
Got everything on How to wear sunglasses without messing up makeup? Squinting is not an option. Sunglasses enable you to stand out in the daytime. If you are worried about wearing sunglasses over makeup, then you are at the right place. You can rock your look by following the simple and easy tips and hacks. This article is all about tips to apply makeup in a way that will not get ruined by wearing sunglasses and the life hacks to save you from an unexpected situation.