What is Mixing Medium for Makeup?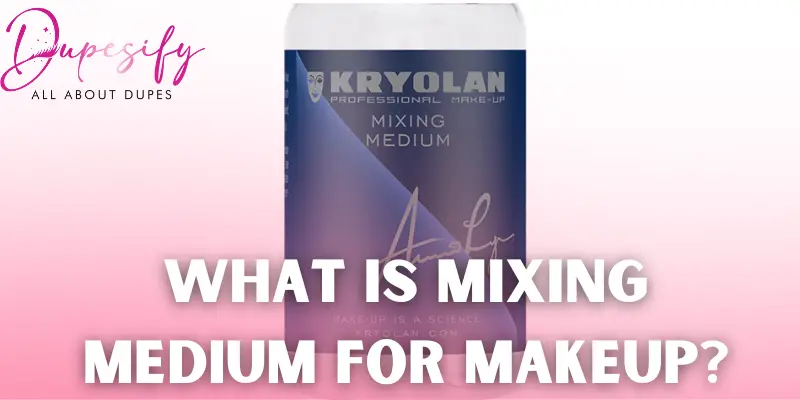 Want to apply long-wear makeup without using creamy products? You can experiment with pigments and transfer them into liquids. Yes! You read it right, and it can be possible by using a makeup mixing medium. When creating exceptional looks using powdery makeup products, I come across a question from makeup enthusiasts: What is Mixing Medium for Makeup?
Tidbits: makeup mixing medium is a colorless liquid or a gel-like substance that can mix with powders and change into a liquid or creamy texture. The primary function of a mixing medium is to combine the powdery particles and adhere them to the skin for a longer time.
Mixing medium for makeup is famous these days as it is in the hands of makeup lovers to enhance their beautiful looks. It is used to increase the shine and intensity of beauty products, as a makeup experts. I want to tell you the specifications of the makeup mixing medium. Along with this, you will get to know what a mixing medium is, why many makeup lovers use it, and the steps of using it.
What Is Mixing Medium For Makeup? Benefits. 
Playing with colors using a mixing medium has numerous benefits, including this magical product in the good books of many makeup aspirants. I vote for a makeup mixing medium to create tricky and exceptional looks.
Intensity
When applied with makeup products, mixing medium increases shades' intensity and looks more pigmented and brightening.
Adherence 
Mixing medium has a primary function to adhere with the beauty products and make them look natural and absorbed in the skin.
Customization 
You can use a mixing medium in a variety of ways. It is easy to customize the color of eyeshadow as an eyeliner or change the consistency of the foundation from full to medium.
I challenge you to personalize the lip color, and you will see astonishing gleams of the shade.
Fall Out
When the products convert from powdery to a creamy texture, the fall out of the pigments becomes minimum.
Skin Friendly
Makeup mixing medium has various variants, such as gel, wax, and liquid. It's paraben free and suitable for all skin types. You can use this product, and can seal your makeup look.
How Do You Use Mixing Medium? Steps.
A mixing medium transforms pigments, glitters, loose eyeshadow, and powdery compacts into a silicone polymer which means it will remain fixed in its place. The main components that are used with the mixing medium in makeup application are mentioned down below:
Makeup mixing medium
Makeup product in powder form
Spatula
Stainless mixing palette
In this section, let's see the steps of using a makeup mixing medium.
Grab the mixing palette and sprinkle blush, eyeshadow, and foundation powder.
Drop a makeup mixing medium over it.
Blend them with a spatula and customize the consistency and texture.
The product will transform into a creamy texture.
Can You Use Mixing Medium With Foundation?
Then I will say yes, the mixing medium is highly effective in combining with powder foundations. The benefits of this product are numerous. First of all, it customizes your makeup product according to your choice.
Mixing medium when poured in thick creamy foundations makes them thinner in consistency to give you sheer coverage. Mixing medium acts as a dura-line and gives dry foundations a new life. Similarly, you can enjoy the new creamy foundations. This medium increases the durability of the powder base for those who have dry skin.
How Do You Turn Eye Shadow Into Eyeliner?
A makeup mixing medium can convert loose pigments into eyeliners. You can apply glitter eyeliner and matte eyeliners by using a medium. You must grab the flat eyeshadow brush and dip it in the bottle of liquid mixing medium. Then I suggest you glide the damp brush onto the desired color of eye shadow, and your eyeliner is ready.
Warning: do not pour mixing medium directly into eye shadow; eye pigment loses its color and becomes dry.
Read also: How to Remove Magnetic Eyeliner without Makeup Remover?
Can You Use Mixing Medium on Eye Shadow?
Looking for a liquid eyeshadow without having it? Yes, you read it right. I am giving you a product that can convert powdery eyeshadows into creamy ones. It is a mixing medium that sticks to the loose pigments and converts them into liquid eye shadows, which are easy to apply in no time.
I love mixing mediums to create cream eye shadows from shimmers, glitters, and matte or metallic eye shadows. Moreover, I challenge you to combine different eyeshadows with a mixing medium and see the extra shine and intensity of the shades.
What Can You Use As a Mixing Medium? Product Breakdown.
Do you run out of makeup mixing medium? 
You don't have to worry. I will give you a fast recipe to prepare my mixing medium using minimum ingredients. I challenge you to make it for yourself so that you can save money and enjoy DIY mixing mediums for makeup.
Diy Mixing Medium
You can easily prepare a homemade mixing medium by following the below steps.
I take the measuring cup and pour 1 part glycerin and 3 parts water into it.
Then I let them mix as one component.
Before pouring this mixture into the bottle, I make sure to wash and dry the bottle.
A bottle of a mixing medium is ready to apply pigmented and smudge-proof makeup.
By following these steps, I make my mixing medium, saving me money and a lot of time.
Warning: prepare a mixing medium that lasts only a few days; otherwise, water provides a source to breed bacteria.
You can also read: How to make makeup concealer at home?
Eye Drops
Eye drops also contain ingredients that adhere to makeup products and effectively be used to wear the eye shadows of your choice. You have to follow the same method you use for a makeup mixing medium and are ready to create the bling look.
Use fewer eye drops as a mixing medium as these drops contain medical drugs that cannot be safe for the eye's skin.
Can I Use Setting Spray As a Mixing Medium?
As we all know, the primary function of setting spray is to fix the makeup or make it long wear. In the case of metallic eye shadow, the same goes for a mixing medium. Both setting spray and mixing medium can be used as alternatives.
Setting sprays are the best mixing medium when the original ones cause you irritation or rashes. You will find no significant difference in setting spray as a mixing medium. In addition, you will be able to create a bold and crease-free red carpet look.
Is Primer Used As A Mixing Medium?
The answer to the question is a big yes; primer even out all makeup products on the skin. Similarly, it can function as a mixing medium for giving us vivid, and natural makeup looks. You can use the primer with tinted moisturizer to customize the foundation, mix loose eyeshadows to increase their vibrancy, and personalize your eyeliner looks.
Primers are also effective in creating cream highlighters and liquid blushes from powder ones that look more flushed and subtle on your skin.
Pro tip: always use non-tinted primers for a makeup mixing medium.
Final Thought
After reading this article, you want to buy a mixing medium and increase the viscosity of your makeup products, especially eye shadows. In this article, I elaborated on the usage of mixing medium in simple steps and the benefits of this product. If you want to avoid purchasing it, the solution also lies as an alternative to the mixing medium in this post. Do give it a read.