Does Baby Oil Remove Makeup? Detailed Analysis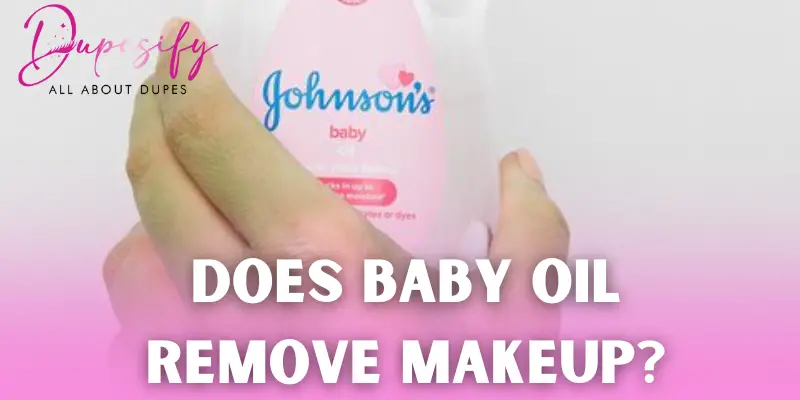 Makeup removal is as necessary as putting on makeup. It is essential to remove the makeup at the end of the day so that the skin breathes freely. We should make the right choice of makeup-removing products because they directly impact our skin. I have been using baby oil to remove my makeup for a long time, and my fellows have asked me does baby oil removes makeup.
Baby oil wonderfully removes my makeup. It is infused with mineral oils. It has nourishing, healing and moisturizing properties that keep my skin moisturized to a great extent. In this article, I analyze baby oil, its use as a makeup remover, and its various benefits.
Does Baby Oil Remove Makeup?
Baby oil is an excellent alternative to any high-end makeup remover. For ages, it has been used as a makeup remover. It removes my makeup perfectly without leaving any residue on my face. The oil melts away the toughest makeup like waterproof mascara, long-lasting lipstick, and dark eye shades like a pro leaving behind soft and supple skin. Moreover, it is suitable for almost all skin types.
Tip: Baby oil is vegan, non-comedogenic, and paraben-free.
How do you use Johnson Baby Oil to Remove Makeup?
We instantly think of Johnson's baby oil when there is talk of baby oil. Baby oil is very gentle on the skin. I have been using baby oil as a makeup remover for a long time now. I haven't experienced any harm to my skin while using it. You can also remove your makeup using baby oil in simple steps:-
I pour a few drops of baby oil on the cotton pad.
Starting with removing my eye makeup, I gently rub the cotton pad on the eyelid, eyebrows, and eyelashes in circular motions, and I make sure that the eye makeup is removed.
I take another clean cotton pad, pour a few drops of baby oil, and clean my face makeup.
Similarly, I remove my lipstick.
Afterward, I wash my face with a gentle cleanser to clean the greasiness of the oil.
In the end, I pat dry my face and continue with my regular skincare after makeup removal.
Does baby oil remove waterproof makeup?
No worries about removing waterproof makeup when you have baby oil. You will be amazed at how easily waterproof makeup comes off using baby oil without causing any harshness to your face. Baby oil goes deep into the skin layers, soaks the hard particles of makeup, and removes them without difficulty.
You can also read about: How to Remove Alcohol-Activated Makeup?
Is baby oil better than makeup remover?
Baby oil is infused with natural oils like jojoba oil, coconut oil, and other mineral oils. As it is smooth and oily, there is no need for a hard scrub to remove eye and waterproof makeup. It causes no dryness, flakiness, irritation, or redness. It gently removes the makeup around the face's delicate areas (around the eyes). So, it is an effective makeup remover.
Makeup removers used to remove waterproof makeup are made of ingredients that can harm our skin. Sometimes, makeup remover requires harsh rubbing to wipe off makeup. It can be an alarming situation for sensitive skin. So, baby oil is better than a makeup remover.
Does baby oil clog pores? 
Baby oil is natural and safe to use. It is gentle on the skin, thoroughly cleaning the face and removing the dust from the pores. It is non-pore obstructing. All skin types can use baby oil. But, the excessive use of the oil on acne-prone skin can result in breakouts because the oil will tend to accumulate in the pores, thus damaging the texture of the skin.  
Warning: Sensitive and acne-prone skin must avoid the excessive and regular use of baby oil.
Does baby oil darken skin?
Baby oil has moisturizing properties in it. It seals the moisture in the skin, protecting it from the outer environment and pollutants, and softens and hydrates the skin. Formulated with organic and natural ingredients, it doesn't darken the skin. Using it can improve your overall skin texture.
What are the Benefits of Johnson baby oil?
Johnson's baby oil is an essential product in nursing the baby. That means it is the safest product to use on the skin. Baby oil is free of dyes and allergens, making it a versatile product. Anyone of any age can use it. Some of the benefits of baby oil are:- 
Cost Effective
Avail the chance to purchase one product that has multiple uses. Baby oil is cost-effective and, once purchased, goes a long way.
Baby oil as an Emollient/Moisturizer
Emollients are hydration when applied to the skin to soothe and hydrate it. Baby oil is an effective emollient for me. I use baby oil to treat dry, itchy, or scaly skin conditions, and it treats my eczema and other skin issues. You can use makeup to cover eczema.
Moisturization is all that our skin needs the most. It contains all ingredients that are used to treat skin sensitivity issues. Its rich formula penetrates deep into the skin, forming an oily layer on the top, preventing the skin from any damage. 
Tip: I use baby oil after the shower so that my skin absorbs it better.
Prevents Stretch Marks
If you desperately need to treat stretch marks, then you are at the right place. Baby oil is a magical product that helps treat stretch marks.
Tip: Removing stretch marks using baby oil is a slow process, but it is effective.
Alternative to Shaving Cream
You are in a hurry and have run out of shaving cream. Don't panic; you can use baby oil as an alternative to shaving cream. It has soothing properties that can help prep your skin before shaving. 
Hair Treatment
You can use Baby oil for treating hair. It will help in providing moisture to your dead and dry hair. Your hair will become glossy, shiny, and softer than before. 
Baby oil as an under-eye gel
Under eyes are the most delicate part that needs our attention. Baby oil can be used as an under-eye gel. Massaging the oil onto the under eyes for some time can help reduce your dark circles. 
Can I put baby oil on my face?
As I said earlier, baby oil is an excellent moisturizer. I put baby oil on my face to treat my dry skin or whenever I feel my skin needs extra hydration. Baby oil is my go-to moisturizer. 
Warning: You should avoid overnight use of baby oil on your face. 
When should I use baby oil?
Baby oil is not only used in baby care, but it has various other uses as well.
Gives a flawless manicure
Remove temporary tattoos
Use as a massage oil
Soothe cracked heels
Use as an after-shower moisturizer
To lubricate woods
Remove band-aids
Is baby oil the same as cleansing oil?
Baby oil is made of mineral oils and fragrances. It is used for various purposes except for cleansing the face. The excessive use of mineral oil can harm the skin. Moreover, the fragrances in it may irritate the skin.
Cleansing oil is made of botanical oils. It is specially made to cleanse the face, rinsing off the dirt and giving a neat texture to the face. Also, it has antioxidants and anti-aging agents that are good for healthy skin. Baby oil is not the same as a cleansing oil.
Conclusion
Baby oil is a good makeup remover. It removes the makeup without causing damage to the natural skin barrier; it also locks the moisture and provides hydration to the skin. Baby oil is the safest makeup remover I have used on my face. This article is about a detailed analysis of baby oil, its use as a makeup remover, and its benefits. I suggest you give it a try. It will surely be beneficial for your skin too.