How to Use Cream Makeup? Ultimate Guide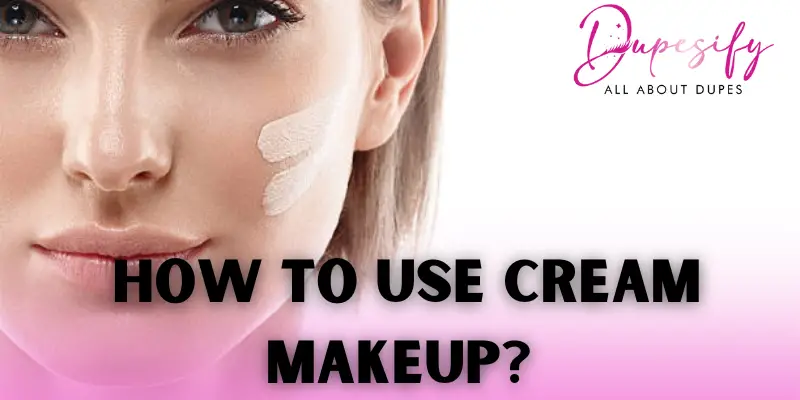 Makeup has become our lifestyle. It comes in powdery, liquid, and creamy formulations. It is up to you what makeup to choose best suited to your skin. Cream makeup is my savior in dealing with my dry skin conditions. As a makeup artist, I have expertise in using all kinds of makeup. This article is all about How to use cream makeup?
Tidbit: Oil-based cream makeup has been used in theaters, dance floors, stage shows, and for shooting purposes for a long time, but it is different from face painting.
Cream makeup is the best makeup to wear. A mixture of oils and water forms a creamy consistency when applied. It is long-lasting and is best for every skin type, age, and color. In addition, it gives your face a natural, radiant, and dewy look. Cream makeup needs a skillful application to achieve desired results. In this article, I will explain how to use cream makeup.
What are the basic steps to use Cream makeup? 
Do you want dewy, luminous, and youthful-looking skin? Cream makeup products should be your choice. Cream makeup is a thick textured, oil-based/water-based makeup that leaves a smooth and hydrated finish to your face giving you a natural and radiant look. 
This makeup is versatile, blendable, and has the lightweight formula that your skin wants. It is best suitable for long-wearing hours without damaging the skin. It contains oils that sink well into the skin instead of sitting on top of the skin. Cream makeup is smudge-proof. You can apply cream makeup in these steps.
Prep your skin
It would be best if you understood that prepping the skin before applying makeup is the first and foremost rule. It ensures that our skin is well-cleaned and prepared to put on makeup. Start with cleansing your face, exfoliating, and end with applying a moisturizer so that makeup blends easily on your face. 
Apply the Cream Product First
Whenever you are using cream products, always keep in mind that cream products are applied first and then set by powder products. Cream products tend to penetrate the layers of your skin instead of forming an outer layer on the skin.  
Fingertips are Best for Blending
Do you want your makeup to blend seamlessly and give you a skin-like finish? Always blend your makeup with your fingertips. Fingertips pick up a good amount of product. Moreover, the oils in cream products melt with the heat of your fingertips, and it helps the product blend effortlessly on your face without creasing and slipping off.
Pay Attention to Makeup Tools 
You can use a brush or a damped beauty blender to blend your makeup. Good brushes are critical; you should choose those specifically designed for the cream makeup application because the denser the bristles, the more saturated the product will apply to the skin. A damped beauty blender helps you to pat and press the product into your skin.
My tip: Makeup brushes having synthetic bristles are my preferred option. 
Less is Always More
Cream makeup is highly pigmented, and a little goes a long way. You should apply it in lesser quantities, give it time to dry and set it on your face before applying another product.
Don't over-apply the product; otherwise, you will fall into a mess.
Set Cream products with Powder products
Cream makeup is buttery in its texture and velvety in the finish. It seals your skin's moisture and gives you a glowy, natural look without making your face cakey or patchy. There is a high chance of it slipping and disappearing from your face. 
You should always set your cream makeup with powder products. You can use powder blush on cream blush, set your cream bronzer with a powder bronzer, and so on. Powder products keep them set in their place, preventing them from smudging. 
Setting Spray is a Must
Setting powder sets your base and concealer in place, making your face dry even though you apply it over cream makeup. To set your entire makeup, you must spray a good amount of setting spray on your face. It gives a boost of hydration to your face and locks your makeup all day long.
Best Cream Makeup
Cream makeup is now setting new standards with its rich texture, skin-like finish, and keeping the skin healthy and natural looking. People used to consider that cream-based products are only best for dry skin but are suitable for all skin types. 
Cream products are formulated in a way that they are suitable for all skin types because they vary in their texture from heavy to light. These are my favorite makeup brands that have come up with some of the best cream makeup products. 
Fenty Beauty
Bobbi Brown
Glossier
Best Cream Makeup used as a Face Paint
Cream makeup has been used by professionals, especially in theaters, for many years and is preferred to use still today. Oil-based cream makeup has been used in theaters, dance floors, and stage shows for shooting purposes, creating different looks like a clown, Halloween, etc. 
It is different from face painting. Its formula is sweat-proof and water-resistant. When hit by the harsh camera and studio lights, cream makeup looks more natural than face paint. My preferred choice for cream makeup that theater artists can use are:-
Ben Nye Cream Makeup
Mehron Cream Makeup
Kryolan Cream Makeup
Cream Makeup Seint
Seint makeup is all cream based and is an innovative approach to the traditional method of makeup application. It is best used for mature and textured skin. Seint makeup is an all-in-one palette with foundation, blush, bronzer, and lip tint. 
It glides smoothly on the face giving full coverage, yet feels like a second skin on your face. It doesn't clog pores and settles fine lines and wrinkles while giving an even tone complexion to your face. 
Cream Makeup for Mature Skin
Mature skin is difficult to deal with when it comes to makeup application. It demands more hydration, a buttery texture, and a smooth appearance on the skin. You can do that all by using Cream products.
Cream products are best to apply on mature skin. These products sit perfectly in the fine lines and wrinkles and cover up all the discoloration providing a natural glow and skin-like appearance and keeping your skin hydrated without cracking. 
Frequently Asked Questions
How do you keep cream makeup from cracking?
Cream makeup is a full coverage makeup, but because of its creamy formula, it can easily crack. To prevent your cream makeup from cracking, always prep your skin by applying a good moisturizer, prime your face with a primer, and set your makeup with a powder.  
Is cream makeup better than liquid?
Cream makeup is cream, not liquid, not powder. It enhances your skin's natural glow with its buttery texture, velvety finish, and creamy consistency. In addition, it gives you younger-looking skin.
Liquid makeup is liquid in its formulation, which tends to dry your skin or sometimes dries to a powdery finish giving you a cakey and textured look. It sits on top of your skin, feeling heavy on the face. 
Do you set cream makeup with powder?
Cream makeup has a lightweight formula that gives you a dewy and luminous look. Cream-based makeup is so buttery and has a gliding texture that it may slip from the face. You have to set it with a powder to make it long-lasting. 
Conclusion
Cream makeup looks beautiful and gives a natural warmth to your skin. Many makeup artists are taking an interest in using it. Cream makeup is used as face paint in theaters and for creating different looks. In this guide, I have elaborated on some basic steps to use cream makeup, the best brands to choose from, and how cream makeup is suitable for mature skin. You can also add cream makeup to your makeup vanity by reading this guide.