How to Apply Makeup? Step-by-Step Complete Guide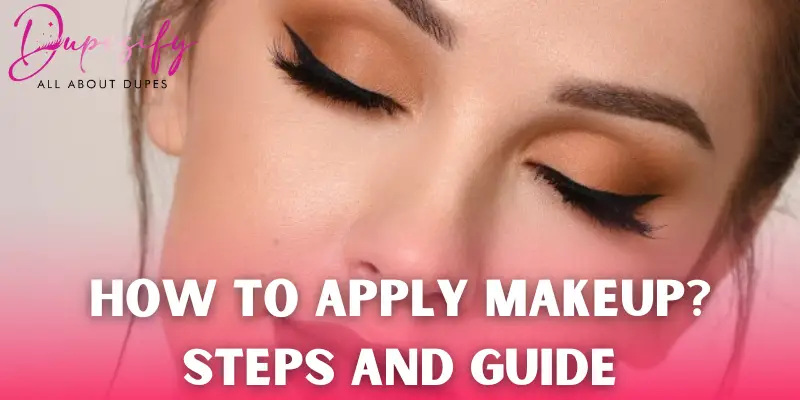 Makeup is the cosmetic material used to enhance the overall look. It has been used for centuries by both men and women. Applying makeup has become a necessity for everyone because it gives a sense of self-care and self-esteem, and applying is an art. Do you know How to Apply Makeup?
The desire to look good has always existed since we gained consciousness. We must be aware of our surroundings, and we need to self-groom ourselves. To look good and groom ourselves is an essential life need. Today's man has opted for makeup. Makeup is about the confidence and strength needed to cope with societal demands.
Makeup is a way to express myself, enhancing my traits. We are all born beautiful, but a little bit of self-grooming harms nothing. I am influenced by the beautiful women around me who always try to look presentable, and they all have motivated me to be beautiful and to look pretty. Here I am discussing how to apply makeup. For a soft and natural makeup look. The quantity of makeup application differs if I go for a soft natural look or a full glam heavy look.
What are the steps to putting on makeup?
Makeup application is not rocket science; it is the movements of our hands on our faces and how we believe we look beautiful. Skillful application of makeup matters a lot. I apply makeup daily, and it takes me hardly 10 to 15 minutes or 25 to 30 minutes depending on where I am going and the occasion.
I am very particular about the makeup products I use on my face, whether skincare range or makeup products, and I take good care of my oily skin to avoid breakouts and acne. To kick start the day, I wash my face with a face wash to clean any dirt. It gives me cleansed skin to start with. Excellent skin results in flawless makeup. 
Keeping my skin type in mind, I then spread a water-based moisturizer over my face. It gives me gentle and soft skin. I apply sunscreen to protect my skin from the sun's harmful rays. It also provides a barrier to the skin from the outer environment. Lastly, I apply lip balm onto my lips to make them soft and smooth. It is my routine to prime my face for makeup.
There are also different ways to apply makeup for masculine makeup and FTM Makeup. We have provided you with the guide on Dupesify.com.
These steps are my order of putting on the makeup, which can vary among others.
Cleansing 
First, I clean my face to remove any dirt that will later cause open pores and acne. I have combination skin, so I prefer to use the cleanser with hydrating and sebum control formula. After washing my face, I also wipe my face with facial wipes to create a neat and clean canvas for the next step.
Icing 
After cleansing, I take an ice cube and gently massage my face. I do this step as long as the ice cube melts and the oil on my face subsides; icing reduces the pores' size and helps control the sebum. Icing is the best way to make the makeup stay on the face for longer.
Moisturizing
I moisturize my damp face with a light moisturizer so that it can recover its natural hydration. Then, I apply the hydrating serum to the dry parts of the face, let all the products sink into my face, and gently massage my face to increase blood circulation to achieve smooth textured skin.
Primer 
As the name suggests, it makes my face ready to put on makeup. Primers are of various kinds depending on the different skin types. I apply a mattifying gel-based primer on my oily skin with my hands, and you can also apply it with a brush.
It prevents clogged pores and gives a smooth finish to my skin. It shrinks all my open pores and is a barrier between my skin and the foundation layer. Now my face is ready to apply makeup.
Foundation
Choosing the correct shade of foundation is essential when applying makeup. It can be hard sometimes to choose the best match for the foundation, but once it is found, it can be a game changer in our makeup. 
I prefer a yellow and warm-toned foundation for my face. It is believed that yellow-toned foundations are best suitable for Asian skin tones. The quantity of the foundation I apply depends on whether I am going for a soft or a full glam makeup look. 
I apply foundation with a kabuki brush and then give a final touch to it by tapping my face with a damp beauty blender. Several other brushes in the market are used for applying foundation, like flat brush, kabuki brush, and many others. I prefer a liquid foundation as it gives my makeup a natural and flawless finish. 
Sometimes I go for BB or CC cream to create a natural makeup look. Recently I have started using tinted moisturizer against the foundation. Tinted sunscreen can also do the job. Using foundation daily can be harmful to our skin. For a glam look, I either use a stick foundation or a liquid foundation, depending on my mood. 
Concealer
Concealer is essential in my makeup routine. It hides my pigmentation and acne scars and makes my skin even toned. I use a concealer shade of my skin tone to hide my dark circles and any scars on my face.
I use a lighter shade of concealer to highlight particular areas of my face and like to go for liquid concealers rather than stick concealers. Cream concealers also do a great job on my face. I apply concealer on the different areas of my face like:-
On the bridge of the nose 
On the eyelids
Below the eyes 
On the sides of the nose 
On the chin 
Just below the lower lip 
Face Powder – Loose Powder
I use face powder or loose powder to set the foundation and the concealer. All the shine created by the foundation and concealer gets mattified using powder. In the summer, I use loose powder on my face to make my makeup last longer throughout the day. 
Loose powder prevents my makeup from sweating and keeps it fixed on my face all day long. To touch up, I use face powder. Again as mentioned above, I use face powder that best matches my skin tone. I use a fluffy brush to dust off the powder on my face.
Blush 
I enjoy applying blush to my face. It makes me happy to see my cheeks all coral and rosy. I use peaches and coral blush because it suits my skin so well. There are so many shades of blushes made for different skin types. 
Mainly I apply blush on the apples of my cheeks, and sometimes I apply blush right under my cheekbone to achieve a lifted look of my face. Sometimes I use cream blush, and sometimes powder blushes, but the cream blush needs to be set by the powder blush. 
Contouring and Bronzing 
Contours are cool-toned, and bronzers are warm-toned. I use contours to achieve the lifted look of the face, use bronzers to give warmth and dimension to my face, and apply contour and bronzer with a contouring brush. 
You can go in the shape of 3, starting from the middle of the forehead, gliding toward the cheeks, and then taking it to the jawline. On the other cheek, you can work in an inverted 3. 
Highlighter
Highlighters complete my face makeup. I prefer to use powder highlighters, and if I use a cream highlighter, I use it before applying my foundation to get that natural glow. I apply highlighter on the areas of my face like:-
On the cheekbones
On the brow bone
On the chin
On the bridge of my nose 
Eyes
Eye makeup is the key to the look I am achieving. I usually experiment with different eye shades or create a cut crease on my eyes for glam makeup. For the soft and natural, almost no makeup look, I go with the natural shades.
You can also read: Can I wear Eye makeup to an eye Exam?
I apply a white pencil on my lower lash line to make my eyes look wide. Eye makeup has various steps:-
Eyebrows
I fill in my brows with a shade that matches my brow hair. Usually, I mix black and brown shades to fill my eyebrows. I don't fill in my brows heavily, and I keep it simple and minimal. I start by lining my eyebrows and then filling in the gaps, and I complete my brows by applying small strokes throughout the brows. Once my brows are filled in, I brush them neatly with a spoolie. 
Eyelids
I prime my eyelids with an eye primer, then apply a concealer of the shade that matches my skin tone to hide the pigmentation on my eyelids. Once my eyelids are primed, I set them with a face powder to avoid creasing on them so that my eye shades have a good payoff for the color I want to apply. 
I use a soft color or single natural shade on my eyelids daily. For a heavy look, I go for different shades. I apply a highlighter on my brow bone and in the tear duct of my eyes to complete the eye look. 
Eyeliner
I don't apply eyeliner daily, but for a heavy look, I experiment with my eyeliner by applying a simple and basic eyeliner to a winged liner. Eyeliner gives a new dimension to the overall eye makeup. 
Mascara
I am a mascara person. I can't do without mascara, and I keep changing my mascaras. Mascara adds volume to my lashes, making them longer and fuller. The Mascara application is critical to me. I brush my eyelashes with a clean brush to remove any powder, and I curl my lashes with an eyelash curler. 
Then, I start by swiping the brush from the roots of the lashes and taking it to their tips. After applying the first coat, I wait for the mascara to dry. I then apply the second coat in the same way. In this way, I coat my lashes to achieve a fuller look of my eyelashes. I sometimes apply fake lashes. 
Lips
Choosing the right shade of lipstick is very important for me. I believe that lipstick completes the makeup look. I apply lip balm to my lips to make them smooth, then apply lip liner to line my lips, and then go for lipstick to get my lips colored. 
Daily, I apply natural colors, and for a glam look, I go for dark lip shades. Nude lip shades are trendy these days. They go with almost all of the makeup looks. Sometimes I apply lip gloss on top of the lipstick. 
Setting spray
The use of setting spray is the final step in my makeup routine. It keeps my makeup fixed in its place all day long. It prevents my makeup from creasing or being cakey or patchy, provides hydration to my face, and keeps my makeup flawless. You can also use toner as setting spray.
Grabbing the setting spray in my hand, keeping it at some distance from my face, I spray it evenly all over my face. It dries out and does not need to be rubbed off. 
What are the Benefits of Applying Makeup?
Makeup is an art, therapy, and a way to be ourselves. 
It is a way that paves the precise dimension of our life. 
It is the reflection of our personality. 
Makeup highlights our character.
Makeup has become a part of our daily life and has set new beauty standards everywhere around us. 
Makeup refreshes our minds and fades away all our tiredness once we see ourselves in the mirror looking all good. 
It prepares us to start our day with a fresh and new look. 
Our face is a blank canvas; applying makeup gives us strength and motivation, builds confidence, and prepares us to face the world.
Conclusion
Makeup, for me, is a way to feel as strong as I am. There are no hard and fast rules for applying makeup. I do it as I like it .because I know my face type and how to enhance my features so that I look beautiful the way I am.