How Long Does Professional Makeup Last? Detailed Guide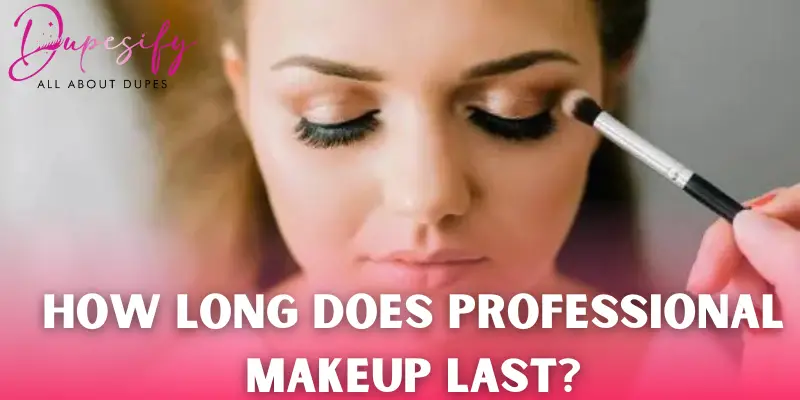 I like the makeup look that lasts long. With the advancement in the makeup industry, new products and ways of applying makeup are also introduced. It ensures that the makeup lasts long without smudging, creasing, and fading away. I am a professional makeup expert, and I know how long does professional makeup last?
Long-lasting makeup makes me self-assured. I ensure that I give the perfect signature look to my clients. In this article, I will discuss the factors for long-lasting makeup and the reasons that contribute to the makeup not setting up on the face.
How Long Does Professional Makeup Last?
Professional makeup lasts up to 12-14 hours. It depends on various factors like skin type/condition, prepping the skin properly, applying the makeup, and making the right choice of products. For professional makeup to last long, some factors help in this regard. 
Knowing the Skin condition/Type
To achieve long-lasting makeup, you should keep this thing in mind to know your skin type. This step is crucial. It helps me choose the correct products suitable for the particular skin type. Moreover, I ensure that my skin is in good condition to apply makeup. 
I apply creamy or oil-based products on dry skin. It provides hydration, preventing the skin from getting dry and flaky. 
I apply water-based products on oily or acne-prone skin. Water-based products are lighter and absorb into the skin instantly. Moreover, these products provide a smooth texture to the skin.
Prepping the Skin
Prepping the skin is another essential factor for long-lasting makeup. It is crucial for me that my skin is prepped correctly before applying makeup. It acts as a barrier between the skin and the makeup products, giving the skin an enhanced appearance to work upon. I have formulated some steps to prep the skin.
Exfoliation
I always make sure to exfoliate my face before applying the makeup. Exfoliation removes the layer of dead skin cells, providing my face with a smooth finish. It prevents makeup piling. 
Toner/Essence
Toner soothes the skin while maintaining its natural texture. Toner shrinks the open pores, which prevents excess oil on the skin.
Moisturizer
Moisturizer retains the moisture of my skin. It gives the skin an improved finish. Dry skin requires a creamy or thick, oil-based moisturizer, and oily skin requires a thin or water-based moisturizer.
Primer
Primer is the essential step in prepping the skin before applying makeup. It ensures that the makeup lasts longer. It hides the pores and provides a clean canvas to work on. 
Tip: I apply gel-based Primer instead of Silicone-based Primer.
The Ways of Makeup Application
I don't follow any hard and fast rules for applying makeup. For me, what is important is that I properly apply makeup products. 
Take Time
Whenever I apply makeup, I take time. I let the product settle down on my face and then applied another. In this way, each product I apply gives my face a flawless finish.
Apply in Dabbing movement
Rubbing may cause the product to slip away from the face. Dabbing settles the product into the skin, giving me a blended makeup look.
The Less is Always More
The less product is applied, the more it settles into the face giving a smooth finish. I always apply less quantity of the product. Layers of makeup don't last long.
The Right Choice of the products
I apply good quality makeup products over my face. In this regard, I make a wise choice of makeup products. Good quality products not only make sure that makeup will last long but are also not harmful to my skin. 
Tip: I use a primer to prep my face and a setting spray to set up all the products.
Why Makeup Fades After a Few hours?
People believe it will eventually last long for professional makeup, but here are some reasons that can contribute to fading the makeup after a few hours of its application.
Waterproof Makeup
As a professional expert, I know people don't use waterproof makeup and then complain that their makeup doesn't last long. Waterproof makeup prevents my makeup from slipping away due to sweating and heat. There are different makeup dupes in the market that you can opt for.
Creamy products
Powder products disappear within a few hours of their application. Creamy products have more staying power on the face. So, I use creamy products in makeup instead of powdery products.
Touching your Face Frequently
I avoid touching my face frequently when I put on makeup. Touching the face with your hands transfers the products from the face to your hands. It displaces the makeup from the face.
Does Primer help Makeup Stay on Longer?
I have tried and tested that Primer does a beautiful job in making the makeup long-lasting.
The functions of Primers are:-
Seals the pores and improves the texture of the skin.
It controls oil production, making the skin shine-free.
It acts as an anti-aging agent.
Reduces acne appearance.
Is setting spray better than powder?
I use both products to set my makeup. The main difference between the two is their formulation. I use powder to set the foundation and concealer in place. It mattifies creamy products. I use setting spray to set my whole face, including eye makeup, blush, highlighter, and even lipstick.
It gives hydration to my face while fixing the makeup on the face. It sometimes gives a natural glow to my face. I sometimes use a setting spray to prep my face before applying makeup. 
Conclusion
As a professional makeup expert, I think makeup is fun and challenging at the same time. With the ever-growing trends in makeup, I opt for makeup that lasts long. I have discussed all the factors that help to achieve long-lasting makeup and the reasons which contribute to the fading away of the makeup.