What Are the Two Basic Types of Makeup in Theatre? Guide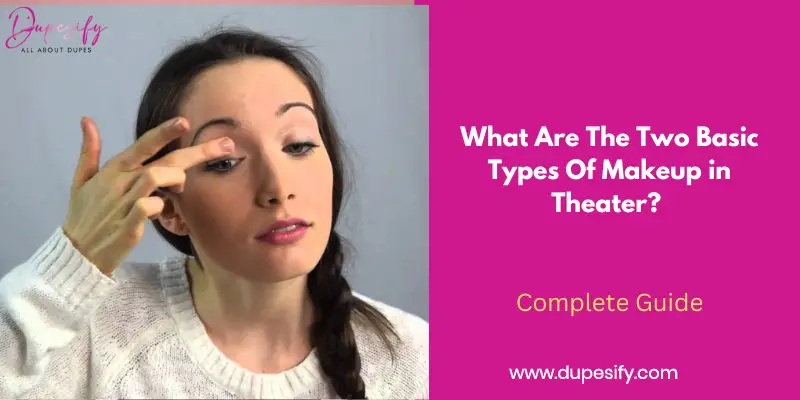 Makeup is everywhere, whether on dance floors, ramps, or theaters. You cannot deny the importance of makeup in your reel and real life. Are you discussing the reel makeup transfers thoughts to the doorstep of theaters? As a theater makeup artist, I know many types of makeup. So this article is all about: What Are the Two Basic Types of Makeup in Theatre?
Actors change their looks by wearing several types of makeup products and following various techniques. They become young and old and turn themselves into a monster with the help of stage makeup. It helps them to dive into their role and to get distracted from their real life. 
In general, there are many types of stage makeup. But specifically, in this article, I will describe the two basic types of theatrical makeup in detail, with their merits and demerits, so that it becomes easy for you to pick one as per your mood.
What Are The Two Basic Types Of Theatrical Makeup? 
Theatrical makeup includes many types of makeup to showcase impactful actors and powerful villains. I can say that makeup masks actors' original personalities and only demonstrates what they want.
I have used wax, alcohol, water, and cream-based makeup on many actors to enhance their features and personality on stage. Sometimes, there is a lot of pressure on me to create the right look with the correct type of makeup that is exactly suitable for their character. So, I will explain the two basic types of makeup in theater: Cream-based and Cake makeup.
Cream-Based Makeup
As we all know, Cream Makeup is a thick textured, oil-based makeup that provides a full coverage finish. It is also available in stick and cream formats. I often apply cream products to actors to protect them against facing sharp yellow camera lights. 
Oil-based cream makeup is highly used in a theater because it is waterproof and is diligent to wear for a long time. The cream makeup includes beauty products that contain mineral oils. The oily consistency of makeup products forms a layer above open pores and causes no perspiration even after exhaustion.
In my opinion, Cream based makeup is suitable for long and active scenes of theater.
Pros: 
Cream-based makeup is easy to apply on larger areas like the face and body.
It is sweatproof and set on the skin like a moisturizer.
It provides a gradient effect.
Cons: 
Cream makeup is hard to remove.
It can cause breakouts on sensitive skin.
Cake Makeup 
Cake makeup is available for actors that get activated when mixed with water. Both powder-based and water-based makeup includes the category of cake makeup. Like me, many makeup artists also use powders to apply to actors and achieve a long-lasting finish.
Cake makeup is easily found in pancakes or pressed powder form. It provides controlled coverage and fantastic color depth. I prefer to apply cake makeup because it easily blends on the skin using a sponge and makeup brushes. 
For beginners, I must say, it is relatively tricky as powder makeup always leaves streaks on the face. Handling cake makeup becomes tricky because you cannot get the right consistency when mixing water.
I am highly convinced that using cake makeup produces effects in active scenes, such as creating bleeding or bruises.
Pros: 
Cake makeup is more gentle on the skin than cream makeup.
It is easy to remove by using wipes.
Detailing is possible with cake makeup.
Cons: 
Without water, cake makeup is of no use.
Cake makeup needs a field expert in its application.
What Type Of Makeup Enhances An Actor's Appearance?
How can you decide the right makeup for actors? Let us find out the answer. As we all know, theaters contain lights of cold tones that easily faint the makeup colors. For this reason, I tend to use thicker makeup with a lot of high pigment content.
Cream and cake makeup provide warm tones to the face, delete theater lights' cold tone effects, and help get more masculine looks. Moreover, I used pigmented makeup on actors to enhance their features by concealing their blemishes and skin conditions. 
As a theater makeup artist, I suggest you wear thick makeup on actors. By applying pigmented makeup on actors, I discovered that it prevents their skin from being damaged.
Pro tip: make sure to use darker shades of foundation to compensate for the natural skin color, which can fade out under bright lights.
Why Is Makeup Important In Theatre?
How can performance be done without makeup? For sure, you don't want the facial features of your actor under theater lights. Similarly, performance, costumes, and set design also depend on theater makeup. Stage makeup has many roles, and you cannot deny its importance in theaters.
Character Building
I ask you a question, can you manage to mold an actor into a stage character without makeup?
Well, it is practically not possible. Makeup is beneficial in character building. A makeup artist's responsibility is to convey the characters' mood through their makeup.
Idea Of Setting
Makeup and costumes are the primary factors that estimate the time and place of the stage setting. It demonstrates whether the action takes place in the past or present.
Visual Effects
I like theater makeup because it easily provides key information about the story and helps an actor to portray the character's thoughts and emotions.
Final Thought
Varieties of makeup have been tried in theaters for decades. In this article, I have also mentioned the two basic types of makeup in theaters and their pros and cons. Additionally, I elaborated on the importance of stage makeup. To conclude things, read this article and choose any one of the types of makeup for theater use, according to your makeup skills.