How Much Does a Fashion Photoshoot Cost? Complete Guide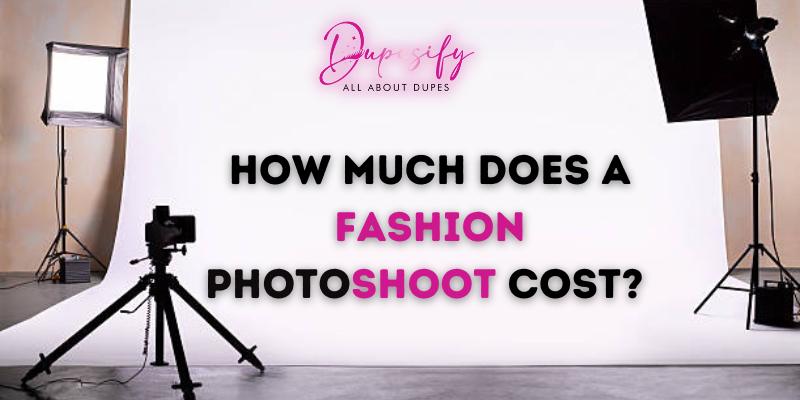 Fashion is a sizzling hot topic everywhere. A fashion designer and stylist would take their business to the next level by hiring a great photographer, model, location, etc. Because what a good and great photographer does for your brand is worth it in the end. One cannot explain How much does a Fashion Photoshoot Cost as many things depend other than just a photographer. 
Over the last few decades, fashion photography has taken up all the room by leveling up the designer's artistic piece. It is a genre of photography which is highly in demand by brand designers. The fashion photographer's snapshot dressed models to showcase the designer's outclass vision behind the clothes and items. 
A photoshoot done by a professional photographer will reflect its worth and cost. However, hiring a photographer will also depend upon the experience. A photographer must know photography skills and how and from which angle to take snaps. The better the experience, the better the experience. Further, I will break down the photoshoot cost along with other factors. 
How much does a Fashion Photoshoot Cost? Fashion Photography Packages
Want to Invest in Fashion? The fashion industry has grown so big that there is real competition, not in between the designers but also the customers. Whoever gets the new piece will be the first to show.
In the era of digital marketing, every designer hopes to display their talent and artistry on social media platforms. So that their loyal customers who have set a bird's eye on every new collection of their favorite brand get it first and show their friends and family before they do. 
An experienced photographer is what every designer is seeking. Additionally, if you hire a photographer with average photography skills, the outcome might not meet your expectations and desires. For this, do research and find the best and most professional photograph for your photoshoot. 
The cost of a fashion photoshoot can vary widely depending on many factors, such as the location of the shoot, the experience of the photographer, the number of outfits being photographed, and any additional services that may be included (such as hair and makeup, retouching, or equipment). 
You can also read our blog post about How to Become a Makeup Product Tester in 2023?
Photographer Rates
Before hiring a photographer, ensure you do proper research. Do not get fooled by photographers who have zero skills. If you want to showcase your brand's new accessories and want to sell them, you must hire a professional photographer who knows all the angles. 
Typically, the cost of photographers varies from $100 – $300 per hour. 
Location and Set
Deciding on a perfect location for a shoot is an absolute must.
The location of a photo shoot can significantly impact its cost. Outdoor locations like a beach or park are often free to use but may require permits.  Indoor locations, such as a studio or rented space, can vary widely in cost depending on the location and size.
Shooting in a studio can be more expensive than shooting in an outdoor location, as renting a studio will add to the photoshoot's overall cost. Studio rentals can range from a few hundred dollars to several thousand dollars ($300 – $2000), depending on the location and amenities offered.
Shooting in a more exotic or remote location may require additional costs, such as travel, lodging, and transportation for the photography team and models.
Overall, the location cost can be essential in budgeting for a photoshoot. It is advisable to inquire about the cost of location rental/permit from the location manager before deciding.
Props 
A prop overall visualizes the message or concept and makes the photographer's and model's moods pleasant throughout the shoot. Moreover, it enhances the main subject, highlights the makeup products and features, and provides depth to a scene. 
A prop can be of distinct types, such as a flower, prism glass, candles, fairy lights, colored cards, confetti, etc. These props complement your product. A prop is usually between $50 – $120 (according to your requirements). 
Snacks and Refreshment 
Snacks and refreshments are not typically considered a significant cost in a photoshoot, but they can still add up depending on the length and complexity of the shoot. 
Many photographers will provide snacks and refreshments for the models and crew as a courtesy. However, some may have a limited budget for it.
The cost of snacks and refreshments can vary depending on the type and quantity of food and drinks provided. Simple items like water, coffee, and light snacks like fruit may be inexpensive, while more substantial items like sandwiches or meals can be significantly more expensive.
Model Photoshoot Cost
The cost of models in a photo shoot can vary widely depending on the type of shoot, the experience and reputation of the models, and the length of the shoot.
For commercial photoshoots, models will typically be paid for their time. And the cost of models can range from $200 – $300 per hour, depending on the model's experience level and reputation.
The cost may be lower for new models or those with less experience, while more experienced or high-profile models can command much higher rates. The cost also depends on the usage of the photographs, like if they will be used for advertising, editorial, or e-commerce.
Models may sometimes be compensated with trade, such as clothing or other goods, instead of cash. Or if you are planning a complete fashion show, then learn here How Much Does A Fashion Show Cost?
Pro tip: Discussing the compensation package with the models and their agents before the shoot is essential to avoid misunderstandings.
Hair and Makeup 
The cost of hair and makeup in a photoshoot can vary depending on the type of shoot, the experience and reputation of the hair and makeup artist, and the number of looks or outfits being photographed.
You can count on $200 for basic hair and makeup. Get an insight into makeup artists and their benefits here: What Are The Benefits Of Being A Makeup Artist?
Overall, the cost of hair and makeup can be an essential factor in budgeting for a photoshoot.
Tip: it's advisable to get quotes from multiple hair and makeup artists to get an idea of the cost for the specific needs of your photo shoot.
Final Words 
So, How Much Does a Fashion Photoshoot Cost? Fashion shoots are pretty expensive. Designers take their brand's next step by adopting digital marketing technologies. They showcase their new collection and capsule wardrobe through photoshoots. Everything costs a lot, from hiring a photographer to location and providing snacks. On average, a full-day fashion photoshoot costs $500 up to $5000, depending on your requirements.