How To Use Silicone Makeup Applicator? Steps And Reasons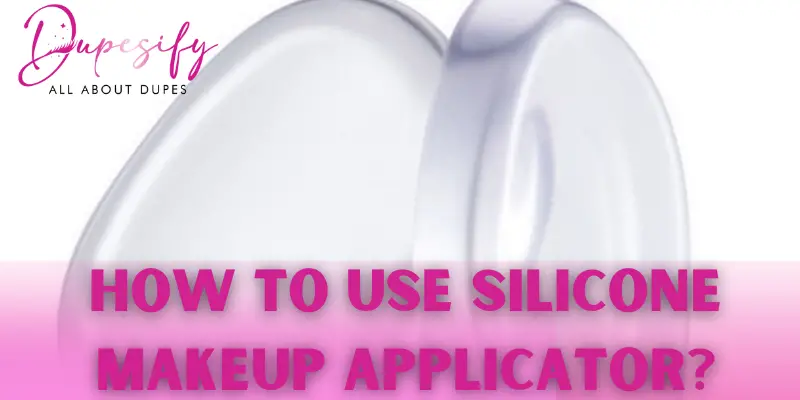 Bringing a new variety of makeup tools to cope with newer makeup formulations is no more difficult. As a makeup artist, I have used makeup brushes and beauty blenders to wear makeup. Well, I have heard about the silicone makeup applicator that creates havoc in the makeup industry. So there is a frequent question among makeup aspirants: How To Use Silicone Makeup Applicator?
Tidbits: The silicone makeup applicator is a beauty sponge made of silicone and designed not to absorb as much product as a regular sponge. 
As we all know, silicone applicators are famous as jelly sponges because they have smooth, transparent surfaces on both sides. In this article, I will mention the easy steps of using a silicone makeup applicator and its benefits rather than traditional beauty blenders.
How To Use Silicone Makeup Sponge? 4 Steps to use
Silicone blender comes in various sizes for getting a flawless makeup look. Wearing makeup using a silicone applicator is slightly different compared to traditional makeup tools. In this section, I will describe how I use a silicone makeup sponge in a few easy steps and gain desired results. 
After prepping my skin, I take less than an average amount of liquid foundation on my face and ensure that it has spread all over my face by using the dome part of a silicone applicator. Hence, tapping the product on my skin, under my eyes, and along the corners of my nose.
Then I pump a bit more foundation into my palm and blend it with a silicone blender in a circular motion to confirm that it evens my skin tone with the entire product. I gently swipe the silicon applicator on my face and build the coverage I want.
I use the sides of the silicone blender to create a sharp line on my cheeks, which helps me contour. 
I grab the silicone applicator and apply a cream concealer, blush, and liquid highlighter.
Silicone sponges push all the makeup into the skin, so I suggest you only extract the required product. The primary function of silicone blenders is that it does not absorb products. It means you can save makeup products without wasting them every use.
You can also read about: How to Clean Makeup Case?
What Are The Benefits Of Silicone Applicator?
What about the makeup applicators that provide easy handling and a velvety finish?
I changed my makeup-applying techniques as soon as I started using a silicone applicator. My first attempt with this tool could have been smoother, but I learned how to use it. The most benefits it gives to my skin are noticeable, and I feel delighted to share them with you.
Save Product
The silicone sponge has become my go-to makeup application tool because it takes less than the usual amount of makeup products. I can obtain my desired coverage while saving my products, which are pocket-friendly.
Non-Porous
I have suffered breakouts while using beauty blenders, but as I switch to silicone sponges, my skin responds positively. The silicone makeup applicator is non-porous, preventing bacteria and germs from transferring to the skin. The silicone makeup applicator is my skin's best friend and lets me discard my regular sponges.
Skincare
Have you ever thought that a silicone applicator has a dual role? Yes, you read it right; at first, I was equally surprised, but then I used a silicone sponge on my face, and the results amazed me. You can use a silicone blender to wear creamy foundations and effectively apply skin care products like moisturizers and hydrating serums and truth about them.
Gua Sha
Can you use a silicone makeup applicator as a gua sha? If not, I can give you a pro tip for this. You have to keep your silicone sponge in the freezer for some time and then use it to relieve inflammation and puffy eyes.
Are Silicone Sponges Better Than Regular Sponges?
The high point of using a silicone sponge is that it does not eat the product. Moreover, you can easily clean it. Just rinse with water and clean with bath soap. Silicone tools harbor no bacteria, so I preferred using them over regular sponges.
One more factor that makes silicone sponges win against regular sponges is that they can be used unless there is no damage to their outer lining. 
According to me, silicone applicators are not suitable for applying makeup in the nooks and corners of the face due to their flat shape. While using a silicone sponge, you are restricted to applying only creamy makeup products, which do not work well with dry powders.
As we all know, traditional sponges work well when damp, and you can apply setting powders or loose powders with them. These sponges are all-rounder; blend the cream makeup and dry makeup, leaving no streaks. I advise using regular sponges because they can be triangular, round, or oval and easily approachable to every small face area.
I cannot deny the fact at the same time that regular sponges have foamy material which readily absorbs the product and adequately uses using salt removal solution to lighten the permanent makeup. You have to wash them every time before and after their use. In addition, these sponges store a lot of germs with other makeup products that are detrimental to your skin.
Reason To Not Use A Silicone Makeup Sponge
Do you want your makeup to look cakey? As I have mentioned above, how I use a silicone makeup sponge on my face. To my disappointment, it did not give me a look that I desired because the blending ability of a silicone makeup applicator is not powerful enough to absorb the foundation in the skin. 
Of course, you need a makeup tool to blend everything on your face. The silicone sponge sweeps the foundation and creates a mess rather than blending it. The working of a silicone makeup tool is like you spreading jam on toast.
It is my opinion about a silicone makeup applicator after using it. Using a silicone sponge or not is your choice. I recommend you use regular sponges for makeup application to make a judgment easily.
FAQs
How do you get makeup off silicone?
The silicone makeup applicator consumes less product and does not allow the colonization of bacteria. So it is straightforward to take the product off; you have to rub the bath soap on it and then rinse it with water.
Another way to clean the silicone sponge is to wipe off the makeup access with facial wipes. Wipes have makeup-removing agents and quickly vanish the makeup from the silicone applicator.
You can read: How to Wash Makeup Cushion? for detailed explanations.
How Long Does A Silicone Sponge Last?
The longevity of a tool directly depends on its hygiene conditions. Since the silicone applicator is an easy cleaning product, you can use it if you do not notice any cracks on its outer lining. A suitable quality silicone makeup applicator can last approximately 12 months with a practical application.
Final Thought
Silicone makeup applicators are the new trend in makeup application, but the excess for everything is terrible. In this article, I have showcased how to use silicone makeup applicator and their benefits. Moreover, I highlighted the comparison of regular sponges and silicone sponges. Now the ball is in your court on how you stick to the old norms or try innovations.