Is Makeup Worth it? Complete Guide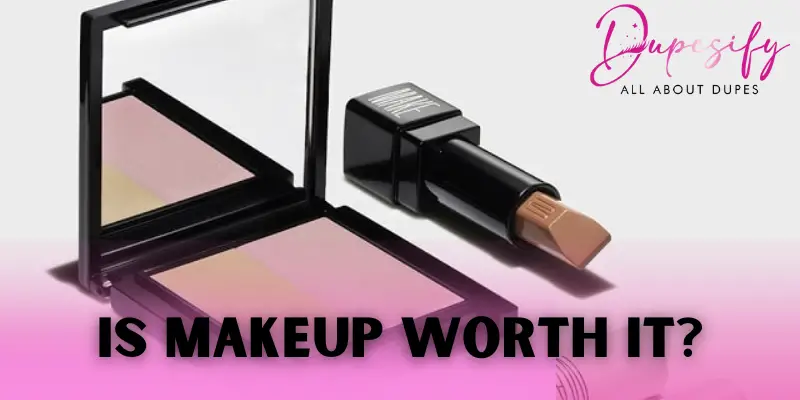 Makeup is a tempting tool to make you look attractive. The worth of makeup is due to the importance and satisfaction that it provides to its users. As a makeup aspirant, I have tried many qualities of makeup products. After spending almost all my money deposit on beauty products, a question hit my mind: Is Makeup Worth it?
According to Statista, in a 2017 survey, 31 percent of consumers in the U.S. spend between 26 to 50 U.S. dollars purchasing beauty and skin care products per month.
Makeup is worth buying because it has become a part of my daily life. I cannot do without it. In this article, I will discuss why makeup is worth buying and explain my preferences for buying good-quality makeup while maintaining my budget. 
Why is makeup worth it? Explain 
Is Makeup Worth it? I cannot deny the worth of makeup as it makes me confident. Moreover, makeup boosts my personality, making me more confident wearing it. This section discusses some aspects of the makeup that increase its significance.
Skin-friendly
Makeup is worth the money when it suits the skin. Most beauty products are skin-friendly, which is their central plus point. They readily get absorbed in the skin and give you a natural finish and smoothness.  
Makeup contains high-quality or low-quality ingredients. What matters is whichever beauty product you use provides comfort to your skin and makes you feel confident and beautiful. In that case, you can easily buy what you want.
Pro tip: you ought to choose those products which are not made up of ingredients (silicone-based, mica, talc, etc.) that cause harm to the skin. Always make the right choice by selecting vegan, paraben, and cruelty-free products.
Cost-effective
I am a working woman and have to maintain a monthly budget to live the life of my dreams. A range of high-end and drugstore makeup products is available in the market. I believe makeup is worth it when it is cost-effective. Regarding this, I have a fact in my mind that makeup is something but not everything. We should be practical in buying and using makeup products.
Enhancing the features
Wearing makeup is only worthwhile if it enhances your look, regardless of whether you use an excellent or low-quality beauty product. Makeup can transform your personality by hiding your imperfections.
In my perspective, makeup is magical because contour gives dimension to the face. Bronzing warms the facial tone. There are so many tips in makeup applications that you can follow to uplift your flawless look.
What are the other factors that add worth to the makeup?
In this section, I will highlight the makeup specifications for all those who can't stop buying it at every cost, whether the product is genuine or a dupe. Not only the simple ingredients that attract you towards them but also some other factors, including making them worth buying or using.
Packaging 
How does packaging make makeup worth buying? Any product packaging that is travel friendly or easily fits in a small space is worth buying. I support my point by suggesting that good packaging is a significant factor in increasing the worth of makeup products. 
Increased pigment
What matters to me is the payoff of a product on my face, be it its foundation, eye shadows, blush, or highlighters. A highly pigmented product ensures long-lasting makeup. So, I always go for a highly pigmented product. 
Applicators 
Some makeup products have applicators that do not contribute to proper makeup application. Choose those makeup tools and applicators that effortlessly glide on your face and perfectly fit your face cuts.
Fragrance 
Fragrances cause skin irritation and allergies. Scented makeup products are attractive enough but buying them costs you skin damage. I advise you to select those products free from scented chemicals so they will go long.
Patch test
As we all know, sometimes certified makeup products cause sensitivity to the skin. Moreover, the consistency does not match the skin type. My recommendation is to do a patch test before considering any makeup product. It gives you the product's credibility in the future, which counts if it is worth using or not.
How do you select makeup products that are worth the price?
In this section, I am not talking about cheap or good makeup because every expensive makeup must not be a good one, and every cheap makeup must not contain low-quality ingredients. To support my debate, I only describe how you can select products to make their worth.
Foundation 
Still trying to understand! From where to purchase a skin-friendly foundation?
As we all know, foundation is one of the essential makeup products everyone wants to buy, considering its quality, longevity, and texture. Foundation is the first product that applies to your skin after primer, so it should be of good quality, and you can prefer to buy it from a designer makeup store.
Face Makeup
Foundations alone cannot prepare the go-to face. Blush, highlighter, and bronzer enhance the entire makeup look. I use high-end blush and highlighter to make my face subtle and glow naturally. I advise you to spend money on radiant products rather than ones that give a shimmery effect.
I have tried many bronzers in powder form as well as creamy textures. If you ask me for the best bronzer for face warmth, I will give you the address to move towards creamy ones. These products naturally provide dimension and highlight all the beautiful facial curves.
Eye makeup
The pigment is the main component that makes any eye shadow excellent or bad. If these products contain good quality, whether offered by a high-end store or a drugstore, you must grab them on a first attempt. My final verdict for purchasing eye shadows at a higher rate so they can make your eyes pop beautifully. 
You can purchase eye-enhancing makeup products from anywhere, but consider my advice before buying them. Eyeliners and mascara are the kind of product that demands replacement after every 3-6 months. By reading the ingredients that suit your skin, you should spend more money on these products than purchase them from a local drugstore.
In our blog post, you can also read about wearing eye makeup to an eye doctor: Can I Wear Eye Makeup to an Eye Exam? 
I vote for choosing high-end brow gels or brow pencils to give definite shape to brows. Designer products sufficiently provide you with desired components to uplift the optic features.
Setting Powder and Setting Sprays
You cannot give dimension to your face or claim completion without power. Whenever the discussion starts for these makeup sealing products, I recommend spending extra money and purchasing designer stuff. They are probably the last products you lock your makeup with, so they should be good quality.
Lipstick and Lip Gloss
Lipsticks are products that always remain in fashion. Likewise, people like different shades of lipsticks and lip glosses to paint their lips. Finding good quality lipsticks is bliss as they protect lips from dryness and unusual pigmentation. When buying fewer costly lipsticks, I prefer to purchase tons of lip products at a lower cost.
Final thought
Is Makeup Worth it? Makeup earns its worth when it suits your skin and pocket and contributes to making you look presentable. In this article, I elaborated on factors that prove makeup draws your attention to grab it and makes it worth the money. In addition, I also describe the kind of products that should be of good quality for everyday use.