Can you use primer without using makeup? Guide and Tips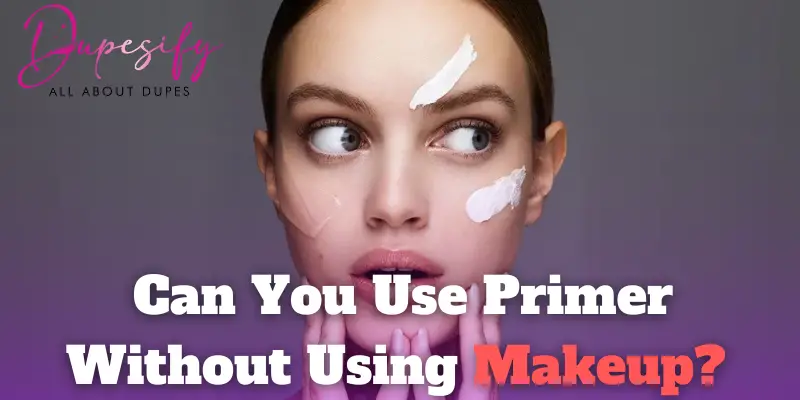 Having flawless skin is like achieving a long-lost dream. Everyone is worried about enhancing face features with or without makeup. The constant struggle with skin problems and hiding imperfections is the question of the town. Can you use primer without using makeup?
The answer lies in using a product that can blur out everything. Primers are the ones that can do this job. I am fond of the "no makeup" makeup look. But how can a primer be used without wearing makeup? 
This article is my comprehensive description of enhancing the features rather than covering all of them.
What happens if you only wear primer?
Lately, I started using a silicone-based primer that helps in achieving my dream look. I do not have to apply foundation or any other coat of BB or CC cream on my face. Primer alone can be enough.
Can you use primer without using makeup?
I often use Primers without makeup. First, before going anywhere, I apply moisturizer to retain the organic hydration of my skin. 
I take out the pea-sized material of the product and gently press it onto my face skin with my fingertips. The primer gets warm in between tips and works more effectively.
 Tidbits:
Applying only primer gives a smooth canvas without causing any heaviness.
Priming reduces makeup time.
Primer instantly gives a natural look.
I believe primer acts as a barricade between skin and makeup. So I let the primer set on my face so that I could enjoy the bump-free texture.
Tip: Priming alone can create a makeup look free from creases and wrinkles.
Can we use primer daily?
I have open pores to hide, so I prefer to prime my face instead of doing makeup daily. I use two types of primers for my skin because the primer is one of the must-have makeup products.
Daily, I use the mattifying primer to control face oil. I apply it to my t-zone so that the oil sets in place. My open pores also blur out by using the product.
Another primer that I use is color-correcting. I wear it on the parts of my face where I have discoloration. I use a red color-correcting primer to conceal my dark circles.
So the answer to the question is a big yes; you can wear primer daily for a smooth or natural appearance. If you skip primer, makeup can penetrate deep inside the skin, causing pores to open and resulting in breakouts.
Do I need to set my primer?
Primer is the product that comes next to skincare and makeup. I set my primed face with translucent powder so that the product locks inside the skin and makes it look flawless. Setting the primer also prevents me from doing touch-ups again and again.
Is face primer necessary?
I consider it necessary to prime my face. It hydrates my skin and prevents clogged pores; I have experienced its tremendous benefits. My skin looks more fresh and plumpy when the primer is on.
Can primer be used as a moisturizer?
Primers and moisturizers are different from each other. I use both products as they have different functions to perform. Moisturizer is the last step of my skincare routine that prevents me from skin dryness. Primer is the first step before applying makeup anything to my face. Primer after the moisturizer does wonders for my face, making makeup applications last longer.
Can you wear primer to sleep?
Applying primers is a healthy activity to follow for a natural appearance. At the same time, it may cause damaging effects on the skin when leaving it at night. The primer acts as a protective layer and grabs all the dirt. Leaving it at night can quickly transfer inside the skin and cause severe infection. I do not recommend leaving the primer all day and night.
Final thought
Can you use primer without using makeup? Yes, we can use primer without makeup on our faces. Moreover, using primer does not cause any harm or damage to your skin. I have provided you with a complete guide and tricks on using primer without wearing any beauty product. I also gave extra information to support my statement that you can create the look you want without using any beauty product.