How to Set Makeup Without Powder? Tips and Tricks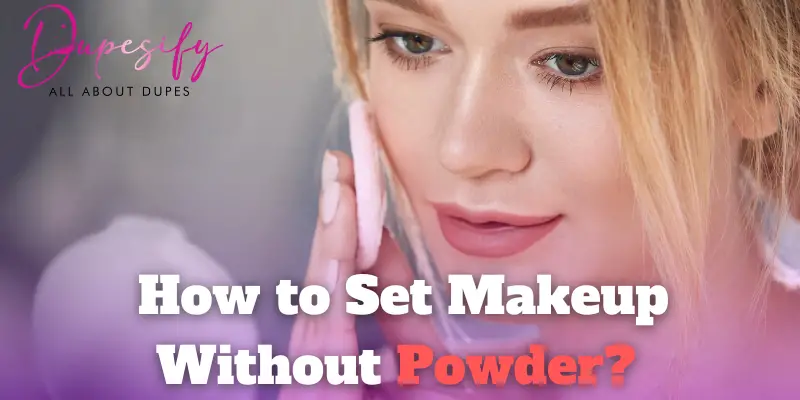 Makeup products have many alternatives that work the same as the original ones, and applying setting powder is optional to fix the makeup. There are many choices to do that. In this article, I will describe How to Set Makeup Without Powder? 
 As a makeup artist, having no setting powder is not a difficult situation for me to tackle. I always have options that efficiently fulfill the duty of makeup setting powder. In this article, I will elaborate on setting makeup without powder.
Read Also: Can you use primer without using makeup?
How do I set my makeup without using powder?
When I have no powder to fix the makeup, I take specific steps so that even after wearing makeup, my skin does not demand any setting powder.
I prep my skin nicely and use a water-based cleanser to wash my face properly.
After cleansing, I apply moisturizer mixed with serum.
Tidbit: mixing serum with moisturizer gives you hydrated skin that covers all the dry patches.
By now, the moisturizer has been absorbed into my skin, and my face is ready for a flawless look.
Then I apply silicone-based primer to smooth out my facial bumps and blur out the appearance of open pores.
Tidbit: Wearing primer creates the canvas for makeup. Moreover, it prevents pores from clogging by controlling the excessive oil on the face.
When I have no powder, I use creamy products on my face so that it looks fresh and moisturized at the same time.
To achieve a crease-free look, I use a beauty sponge to absorb all the extra makeup so that the necessity of using makeup powder vanishes.
Pro tip: dab the sponge rather than rubbing it on the face.
What else can you use to set your makeup?
Another alternative that I prefer is to use a makeup setting spray. Setting spray is perfect for obtaining a powderless makeup look. The spray prevents makeup from melting and lasts all day with the correct application.
In the absence of setting powder, I vote for setting spray because it is
Suitable for every skin type
Gives natural glow
Keep makeup in its place
Increase the lifespan of makeup
Tips: before applying the setting spray, it is obligatory to shake the bottle to mix all the ingredients.
 Cover the eyes while using setting sprays to prevent allergens from entering the eyes.
Why doesn't my makeup stay on?
Makeup stays on a hydrated and smooth face. Here are some tips that I use to make my makeup look even. 
Choosing right shade
Foundation comes in many shades, and I consciously choose the shade that matches me. It helps in building even skin without using any powder.
Apply full coverage foundation
I opt for a full coverage foundation in the absence of setting powder. A full coverage foundation can blend by itself easily. It readily makes my face smooth without creating any lines or flaky patches.
Applying too much blush and bronzer
I often reduce the application of blush and bronzer whenever I run out of powder. In that case, it does not look cakey. 
Blotting paper
I use blotting paper before applying any makeup products to absorb the excess oil. The oils transfer from skin to paper, and my face is ready to give a stunning look.
Final thought
Makeup can be fixed without using any setting powder. I have described the various tips and tricks for that. Moreover, I also give extra pieces of information to support my statement.