Can You Put Makeup Over a Pimple Patch? Guide and Tips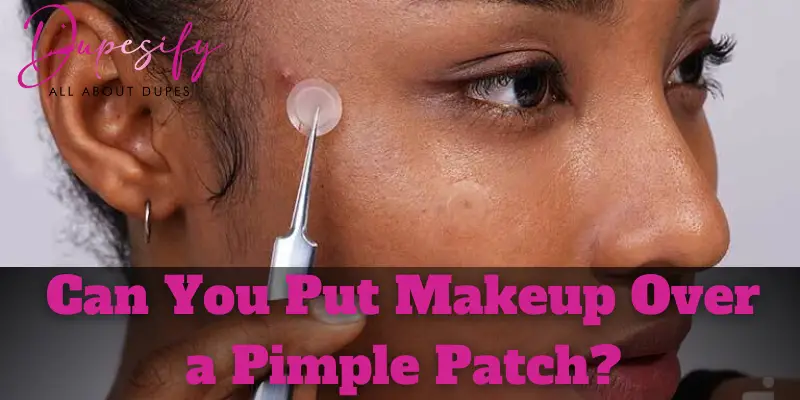 We must accept our skin in all its forms, whether dry, oily, sensitive, or acne-prone. Acne breakouts or pimples are a collective problem of almost all skin types. Pimple patches are trendy these days and have captured the attention of the makeup lovers like me. I also have acne-prone skin. Recently I came across a question can you put makeup over a pimple patch?
Applying makeup on breakouts and pimples can be tricky. A pimple patch has made the job easy for me. I can apply makeup on pimples with complete confidence and flaunt it all day. This article is about wearing makeup on pimples and the steps and tips for using pimple patches.
Tidbit: Pimple patches are thin sheets loaded with tea tree oil and salicylic acid to treat the pimple. It socks up the excess oil and prevents dirt and bacterial infection from reaching the pimple. It comes in different sizes and shapes.
Can you Put Makeup over a Pimple Patch?
I have applied makeup over a pimple patch several times. Applying a pimple patch before putting on makeup has proven effective for my pimples. Wearing makeup with acne and putting makeup to cover cold sores both touch the same issue. These pimple patches act as a barrier between the pimple and the foundation, preventing pimples from clogging up. I wear pimple patches without any worry. First of all, I will discuss how to wear a pimple patch.
How to Wear a Pimple Patch?
The use of pimple patches goes in vain unless used correctly. I mostly use a pimple patch when I finish my nighttime skincare. But I have used these patches all day long. I wear these patches in the daytime and then apply makeup on them. I follow these easy steps to wear a pimple patch.
I wash my face with a gentle cleanser.
Pimple patches don't stick on the wet surface. I pat dry my face and don't rub it. Then, I put a patch of a slightly larger size than my pimple on the affected area.
Warning: Don't wet the patch before applying it. A wet patch will lose its stickiness and not stick to the skin.
I put slight pressure on the patch, so it sticks onto the pimple effectively.
Afterward, I apply other products like moisturizer and makeup onto my face.
How to Put Makeup over Pimple Patch?
These pimple patches are an excellent product for my acne-prone skin. As I have to wear makeup daily, I put these patches over my pimple and then put makeup on them. However, there are no hard and fast rules to applying makeup over pimple patches. It's just some tips and techniques that make it easy for me to apply makeup.
I applied a pimple patch to the affected area.
Prepping my face for the makeup by putting moisturizer.
Then, I apply foundation to my face.
Pro tip: I put the foundation on the patch and dab it softly with my fingertips. I don't rub the foundation with the beauty blender on these patches. 
Then, I continue with the blush, bronzer, setting powder, and lipstick.
Tip: I use ultra-thin patches when I have to put makeup over pimple patches. So they are not visible in the makeup.
At night time, I use thick patches on my pimples. 
Warning: I don't layer too much foundation, concealer, and powder on the pimple patch. It will cause the area to become cakey, resulting in an uneven appearance.
You can wear makeup over eczema, which I have already described in my post on Dupesify.com.
Are pimple patches Noticeable?
Pimple patches are sometimes noticeable and sometimes not. It depends on the size of the pimple patch I am using. The thick ones are easily detectable. It isn't easy to notice the thin ones. 
Do you put pimple patches on Before or After Moisturizer?
I always apply a pimple patch on my clean and dry face because pimple patches don't stick on wet surfaces. I put on a pimple patch before putting on moisturizer. 
How Long do you leave pimple patches on?
I put on a pimple patch at night and leave it overnight. The overall period of a pimple patch is 6 hours. If my patch is raised and has turned cloudy, I replace it with the new one. 
Conclusion
Pimple patches have become a part of my daily skincare routine. It prevents dirt and infection from accumulating in the pimple. It treats pimples well without the particles of pimples spreading all over my face. The use of pimple patches is mess-free. I have found my warrior to fight back the pimples.