How To Pack Skincare For Travel? Detailed Guide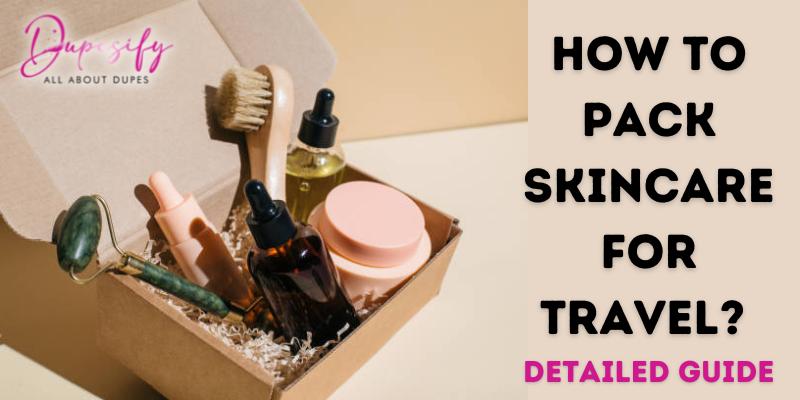 Do you want to use travel hacks to pack your skincare products? Traveling demands extra attention toward your skin. You never know how your skin responds to having a vacation. Traveling and skincare can be manageable simultaneously. This guide will undoubtedly clear your worries on How To Pack Skincare for Travel? 
You must have been aware of the traveling and the burden it puts on you. Packing your stuff for traveling requires a wholesome wit. Your clothes, shoes, and other necessities can easily fit in your luggage, but the stressful part is packing your skincare. You should focus on packing your skincare in a manageable way; the rest will ultimately fall into place. 
From oil-based serums to water contained toners, It's a bit tricky to manage skincare stuff in your luggage. This article is detailed information on essential tips and valuable packing hacks for your skincare while traveling. 
How To Pack Your Skincare For Travel?
A skincare freak will not travel without skincare and makeup products because it is a matter of fact that traveling can put a toll on your skin. Regarding this, you must prepare your skin for traveling and ensure it will do its best while hanging out and having your 'me time.' 
You must have heard everyone saying, 'pack light for traveling.' The same goes for skincare products' packing. Following Skinminimalism, keep it minimal and what is needed the most. Packing your skincare must begin with planning your trip. Your destination will give a direction to your skincare product's packing. This guide is also an answer to How to Pack Skincare for Plane. 
Prepare Travel Skincare Kit
How to pack skincare in a carry-on? Packing skincare is fun and an uphill task. While traveling, a Travel Skincare Kit always comes in handy. You can carry it in your hand or just put it in your baggage. Listing the products you need, arranging them, and stacking them in a separate bag are all essential steps to packing skincare in a carry-on.  
After listing and deciding on the products you are carrying with you traveling, you can arrange your stuff for the final packing of skincare products.
Make a list of Skincare Products.
Make a list of the products you will need on your trip from myriad skincare products lying in your closet. While traveling, managing all your stuff, including your skincare products, will be a massive burden on you. 
Stick to the Essentials
While traveling, you must keep Skin-minimalism in your mind. It is better to take only essentials and leave the rest. As we know, less is more skincare routine is the best you can do with your body. Your ultimate must-haves while traveling should include face wash, eye cream, moisturizer, sunscreen, and eye cream. You can take a break from certain items like toners, serums, face masks, and other skincare accessories.And You will probably need the following:-
Cleanser/Face Wash
Moisturizers
Sunscreen
Lip Balm
Eye Cream
Serums
Skincare Accessories (Wipes, Cleansing clothes)
You can also read about the following: 7 Best Benefit Erase Paste Dupes – Review And Buying Guide
Opt for Multifunctional Products
The most helpful hack while traveling is opting for all-in-one products. You can use multifunctional products like SPF-containing moisturizers to save space. This way, you don't have to worry about checking the myriad of skincare products you have brought while traveling. You can easily manage your time and other to-do lists. 
Use Travel Size Kits
You must have thought that 'Travel Size Kits' are a total waste of money with no practical use, but to your surprise, they are a lifesaver. Travel Size Kits allow you to ditch big tubes and heavy jars of your skincare products and carry the content in required quantities without piling up your space. Stack these travel-size kits in your skincare bag. 
Travel Size Kits include:-
Pump bottle for your moisturizers
Spray bottles for toners
Air-tight containers 
Carry Samples of Skincare Products
Sample sizes of skincare products are not meant for experimentation but are of great use while traveling. You can carry the sample size and miniature anywhere in your luggage, and they will not take up your space. 
Use a Contact Case for Eye cream.
Do you suffer from eye irritation while traveling? Traveling can make your eyes suffer. You should make Eye cream your best friend while traveling. Instead of carrying big tubes of eye cream, you can accommodate the content in your lens contact case. 
Skip Liquid-based Products
There is a high risk of spilling liquid content while traveling. Skip liquid-based products and go for balm-based products to protect yourself from mess and fuss. Use Travel Container For Face Oil. 
Use Eye Dropper Bottles
Glass serum bottles are difficult to handle while traveling, but they are necessary for your skincare regimen. How to Travel with Glass Serum Bottles? You can add a few drops of your serum to your moisturizer. You can also carry your serum while putting it in plastic Eye dropper bottles. These bottles will not leak or spill. 
Another way to travel with glass serum bottles is to pack them in a Ziploc bag and seal them. If there is some leaking, the Ziploc bag will prevent it from messing up all the other things. 
Soak Cotton Pads with Toner
Toner is essential in skincare as it maintains the skin's pH balance. On a short trip, you can soak your cotton pads with toner and seal them into a Ziploc bag. Putting them in the Ziploc bags will keep them fresh and moist and make it super easy to tone up your skin on the fly. Stack them in your travel skincare kit. On the other hand, Travel size kits have bottles appropriate for toners. 
Pick up a Separate Bag for Skincare
Your skincare products are precious to you, and you can't toss them here and there in your luggage. Stacking your skincare products in a manageable way is the real task after listing and arranging all the products you carry while traveling. Keep a different bag for your Travel Skincare Kit, and stack your products in them. In the end, you can take the bag and keep it in your hand carry. 
Can I Bring Skin Care Products on a Plane?
If you take skincare products on a plane, you must abide by the Transportation Security Administration (TSA) rules and regulations. Here's what the exact law states, according to the TSA:-
"You are allowed to bring a quart-sized bag of liquids, aerosols, gels, creams, and pastes in your carry-on bag and through the checkpoint. These are limited to travel-sized containers that are 3.4 ounces (100 milliliters) or less per item."
You can carry skin care products on a plane but be sure they are in containers that are 3.4 ounces (100 milliliters) or less and are placed in a clear, quart-sized bag. Is skincare allowed in hand carry? This is a most common question when traveling by air. You must place skincare products in your carry-on bag, and they should be easily accessible so you can take them out of the bag for inspection if necessary.
Best Skincare For Travel
Skincare is a basic necessity. Skin responds to traveling either in a good or bad way. You can maintain good skin while traveling. Skincare and Traveling can go hand in hand; you can go with the makeup dupes if you don't want to lose originals. Some of the best skincare for travel are:- 
Clinique 3-Step Travel Size Set
e.l.f. Jet Set Hydration Kit
Air Repair Skincare Kit
Make your trip fun-filled by following these most straightforward skincare tips. 
Focus on the Basics 
Traveling without comfort is a big no. Your first goal while planning a trip must be to carry as fewer skincare products. After all, you are going for relaxation and not wasting your time doing skincare all the time. Primary skin care includes cleansers, SPF, and moisturizers.
Don't experiment with new skincare products. 
What if your skin gets irritated while traveling? Skin responds to the outer environment. Trying on new skincare products while traveling is not a good idea because you can't afford to experience a bad reaction on your skin. Don't lade your skin with intensive and new skincare products.
Frequently Asked Questions 
Why Does My Skin Get Worse When I Travel?
Traveling affects your skin no matter how much you stick to skincare. Changes in climate conditions, humidity, warmer temperatures, and cold and dry weather conditions can adversely affect your skin. All this leads to leaving your skin textured, pigmented, dehydrated, or extra oily. 
How Can I Fix My Skin After Vacation?
Traveling has a toll on your skin. You can save your skin after vacationing. Here are a few tips on how you can take good care of your skin to fix it after vacation. 
Use gentle exfoliators to get rid of the dead skin.
Coat your skin with hydrating serums to target dehydration. 
Pamper your skin with face masks.  
Drink lots of water to retain natural skin. 
Final Words 
Skincare is a basic necessity that needs some of your focus, and it can not be left behind for any reason, like traveling. You have to manage skincare and traveling. How To Pack Skincare For Traveling? It seems overwhelming, but it is pretty simple and requires little time and effort. Always carry fewer and the most needed skincare products while traveling so as not to weigh your mind and body. Go through this article and pack your skincare most easily and feasibly for a worry-free and fun-filled vacation.