Is it Okay to Wear Makeup with Acne? Discuss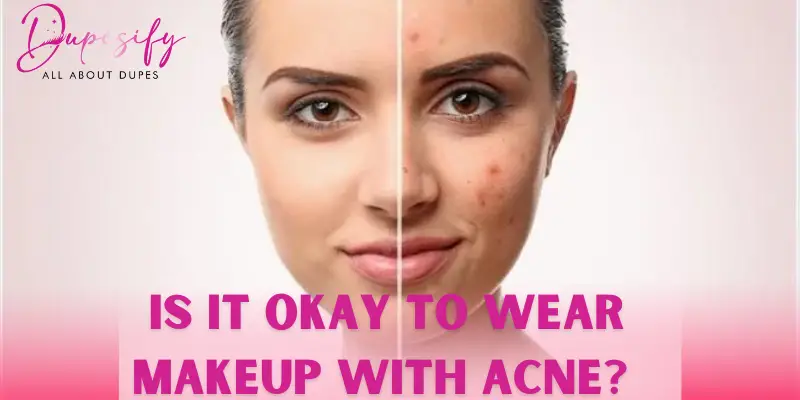 When you suffer from acne, you must be careful about what you apply to your skin. As long as the skin responds positively, wearing makeup on acne-prone skin is not damageable. Right products may be fruitful, but the opposite aggravates the situation. I have come across a question: Is it Okay to Wear Makeup with Acne? 
As a makeup lover, I say yes to applying makeup with breakouts and pimples. In this post, I will discuss how I wear makeup with acne, some tips to prevent acne, and skin care management before wearing makeup.
How do you Wear Makeup Over Acne? Tips 
Acne demands excellent care, even with makeup or without makeup. It is a hindrance for those who fear it and a blessing for others who know how to stand out with skin troubles. Confidence is the prime factor when dealing with acne. Here are some tips that I will describe on how to look confident and, at the same time, beautiful with acne.
Skincare
Before wearing anything on the skin, I carefully clean my face. For me, skincare comes before makeup application. Taking care of skin in difficult times is an obligatory part, as it 
naturally prepares skin from the inside, and what comes from the inside always radiates outside.  
In this regard, I prefer an oil-balancing cleanser containing salicylic acid and tea tree extracts. Gentle cleansing is a straightforward approach to prepping your skin nicely for wearing cosmetic products. I vote for utilizing my fingertips while cleaning my acne-prone face.
After cleansing, I remember to tone my face with tea tree toner that soothes my pimples. A good toner also helps in producing a cooling effect to breakouts, thus helping in settling down the acne. Moreover, I massage some drops of an oil-free moisturizer to my flaky face, eventually making my skin fresh and healthy by retaining its hydration.
Medication 
Losing confidence while dealing with acne? For me, it is not a difficult circumstance.
 Whenever I have to attend a function, I make it possible to use a pimple patch. A pimple patch does the job of a barrier between acne and makeup. It is best to wear makeup on acne-prone skin without irritation and redness.
Here I am not mentioning my acne treatments and medicine prescribed by a doctor. Because I believe every acne is different and requires several other treatments. Without assistance, using tubes of clindamycin phosphate and isotretinoin is not safe.
Makeup
It is of no use to avoid makeup when suffering from acne. I recommend wearing it with acne while following proper instructions. You can use different types of makeup products but always use Oil-free makeup that suits acne-prone skin. The Less Is More Formula is a must when applying makeup with active acne. 
I make sure to apply sunscreen before putting any product on my face. Sunscreen readily absorbs and prevents makeup chemicals from penetrating deep inside the skin.
Concealers, for me, work wonders in vanishing away all the pimples. Layering color-correcting concealers on my acne make me content and pretty.
I remain cautious in applying foundation on acne-prone skin. Applying the foundation to my skin tone makes me confident in hiding the acne. I opt for wearing BB cream as a foundation to satisfy my makeup regime.
Another miraculous cosmetic product that I use to achieve the mattifying finish is setting powder. I dust powder on the parts of my face that look greasy. It absorbs excess oil and prevents my foundation from melting. I go for a lesser amount of powder on my face as layering can clog my pores which causes severe acne.
Additionally, I use other makeup products such as blush, highlighters, and lipsticks to enhance my makeup look with breakouts. These products are applied on top so they can not reach the layers of acne and do not cause any damage to irritated skin.
Look for makeup products that contain anti-acne ingredients like silica, titanium dioxide, and dimethicone. These are designed to fight against breakouts and prevent bacteria from growing, eventually transferring to the skin.
Why is Wearing Makeup with Acne not safe? Debate 
Wearing makeup or not is a question of the globe. I consider not applying makeup with acne a total myth of old times. But looking for insight may arise the point that there are some harmful chemicals in cosmetics that cause blemishes and breakouts.
Makeup triggers inflammation by forming a layer on the skin's surface. It also becomes the source for bacteria to grow by blocking the passage of pores to open and breathe. In this way, excess oil remains inside and causes redness and breakouts.
Applying makeup that is paraben-free and non-comedogenic reduces the risk of acne. Moreover, nowadays, mineral makeup is readily available for troubled skin. Choosing the right makeup products and applying them not only cause harm to active acne but also prevent it from spreading further.
What Makeup Should I Use If I Have Acne?
In this section, I recommend you buy products suitable to apply to the skin with acne. Some makeup and skin care products involve formulations that do not cause harm to bumps, pimples, and redness.
Select cleansers that contain acne-fighting agents like salicylic acid and charcoal. Face cleansing is the first step to applying makeup and helps combat acne. 
Buy moisturizers that have hyaluronic acid and glycerin. Acne-prone skin does need moisturizers for the skin; as the skin gets dried by the application of medicines, it is helpful to apply a skin-friendly moisturizer. It is an integral part of the acne skincare regime.
Use sunscreen of SPF 30 to protect against UV rays. It blocks harmful rays from reaching the skin and effectively reduces acne.
How Do You Get Clear Skin?
Acne may be due to hormonal changes and environmental pollutants. It is necessary to get rid of it as soon as possible. Not only does it affect appearance, but it also destroys confidence.
Here are some preventions that are effective in acne treatment.
Choosing unscented and non-comedogenic makeup products
Washing the face in the morning and evening
Avoid oil-based makeup-removing products
Removing makeup before going to bed
Cleaning the makeup brushes and sponges
Drinking a lot of water
Following proper medication
Does primer help with acne?
Primer is the barricade between skincare and makeup. Applying primer on acne-prone skin has many contradictions. On one side, it covers enlarged pores and even out the skin to give a smooth finish. On the other side, it may trigger acne as it covers the layer of pores with a high quantity of silicone.
I recommend you apply anti-silicone primer from different types of makeup primers available in the market, considering the condition of breakouts on your skin.
Should you use concealer on acne?
Using color-correcting concealer is advised on acne-prone skin. I use a green concealer, gently apply it with my fingertips, and dab it to blend into my skin. It effectively blurs the appearance of red popping pimples.
Final thought
Makeup needs no barriers for its application. You can do it on every skin type. In this article, I have highlighted the answer to the question: is it okay to wear makeup with acne? I have also described what type of makeup should be chosen for acne-prone skin and some tips to follow to get clear skin.