How Much Does it Cost to Start a Makeup Business? Guide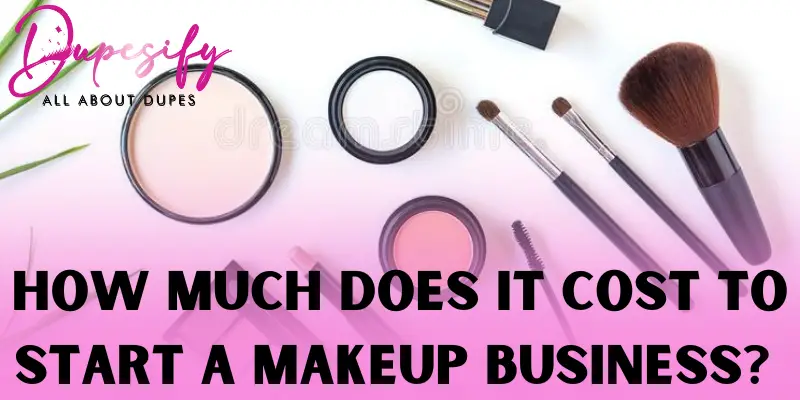 Are you passionate enough about makeup that you are going to start your makeup business? Does my client once ask the question? I am a makeup artist and showcase my makeup skills on social media platforms. Opening up a makeup business comes with many challenges. The first query that hit my mind is How Much Does it Cost to Start a Makeup Business?
The makeup industry is developing day by day. In addition, new trends are emerging, and people are looking for high-quality and improved products. It produces an excellent opportunity to start up a makeup line. This venture will be successful and profitable in this era. 
Do you want to be a permanent makeup instructor also, along with a makeup business? Starting a makeup business is similar to starting any other business. It includes a lot of factors to take care of. The first one is to manage the budget. This article discusses starting a makeup line by considering budget, investment, and start-up costs. 
Makeup Business start-up cost
The makeup business is successful with a proper business plan, research, and consultation with the experts. I knew very little about when I would start my makeup line, but with hard work, research and experimentation, I successfully launched my brand of highlighters.
Makeup business is a profitable profession that you can adopt but how quickly it expands and develops is more complex. It depends on your products' customer engagement and selling potential, but that's a future story. At first, you should begin with a start-up cost. Some of the expenses you need are like:-
Product Development approximately $5000 for a single product
Business expenses vary by at least $2000
Marketing and sales start at $500 and up
Product development
How do you take the initiative? Product development should be your first step to starting any business. Product development is essential whether you launch one product or the entire makeup line, online or in stores. 
It isn't easy to estimate the correct cost because it depends on many other factors. It includes raw material costs, packaging, labeling, and testing makeup products. Product production also has a cost to estimate, which involves mixing materials and filling them in their packaging. It will cost you around $500 and $25000.
Product Manufacturing
Manufacturing the product requires a lot of experimentation, trial and error, research, and consultation with experts. Also, it would help if you stuck to the FDA regulations. At first, you can make a small number of products and start with fewer products.
In product manufacturing, you must invest in raw materials, mixers and filling equipment, and the facility where you manufacture. You can hire a product manufacturing contractor if you want only some of these. You can also manufacture products in your home setting. 
Tip: You should start with manufacturing one product at a time; it will be budget-friendly. 
Packaging and Labeling
Do you want to make your product attractive? Invest in eye-catching packaging and labeling. You can make your product look aesthetic and funky according to your temperament and mood. It will add a plus point to your product sales. It will cost you from $500 to $2000.
Tip: Try to make travel-friendly packaging for your makeup product. It will add a bonus to your product sales.
Product Testing
Skincare or makeup products need testing before their availability to consumers. It is illegal to sell unsafe products. Testing involves several stages and different types of testing regulations. Testing the product is pricey but worth it for your business authenticity. This range from $800 to $1500.
Stability testing
Safety testing
Business expenses
You are your sole partner in initiating a business and have the whole management, supervising, and administrative authority. To make your business run smoothly, you should ensure your business. There is a need to protect your assets.
You should consult an insurance broker to help choose your business's most appropriate insurance policies. In the same way, you have to register your makeup line for legal safety. You have to invest around $5000 for this expense. You can opt for the following:-
Business Insurance
Liability Insurance
Marketing and Sales
It is the end step before you launch your product to the public. It should be robust and impactful so that you can have maximum profit in the future. Marketing involves launching a brand website, advertisements, and promotions, starting with a minimum budget of $500 and going up.
It would help if you started selling your product at the minimum sale price. It will engage more and more consumers towards their product because they want to invest in a high-quality, budget-friendly product. I recommend you give discounts and coupon codes to your customers. 
Tip: Social media is an excellent platform for advertisements and marketing strategies. 
My final Verdict
To start a small to medium-scale makeup business, you should invest $20,000 to $60,000.
How to start a makeup business from home?
For initiating a small-scale business, you don't have to worry about an office setting. You can get it done from your home, which will be cost-effective for your funds. You can start with DIY recipes containing natural ingredients readily available at home and not toxic. 
With the passage of time and the growth of your business, you can opt for professional settings and facilities and further grow your business to more than one product. If you are a makeup artist, then you can enjoy different benefits.
Frequently Asked Questions
How long does it take to make a makeup line?
The makeup line has different developmental stages based on its manufacturing and availability to the public. There are many factors to take care of in this regard. To make it a sustainable and profitable business, you should work hard with determination and passion. 
It will take some of your time, but in the end, it will be worth your time and money. It takes almost 6 months to 1 year of working patiently.
Is makeup a good business to start?
Makeup has become the people's need, and the beauty industry is overgrowing. There are always opportunities for newcomers. You can be a part of this industry if you have the spirit and enthusiasm to cope with this competitive environment. There is a lot of profit margin in the makeup business.
How do I start a makeup company?
Starting a makeup company is similar to starting any other business. It will be successful if you start your makeup company by considering these points. 
Choose a proper category of makeup product. 
Design a business plan.
Get fundings
Take care of legalities
Develop your product
Marketing and promotions
Final Launch
Conclusion 
So, How Much Does it Cost to Start a Makeup Business? The makeup industry has enormous growth potential. It will be a hit if you want to start your own makeup business. In this article, I have explained the start-up cost of initiating a makeup line. This guide covers everything from product development to the final launch of makeup products. You can also follow my tips to make your business successful. This guide will be helpful to you.