How To Become A Permanent Makeup Instructor? Initial Guide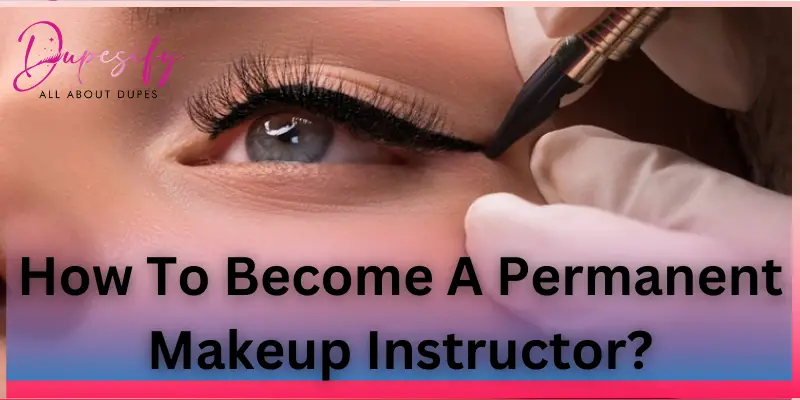 Becoming a permanent makeup instructor is not everyone's cup of tea. This profession is for you if you are obsessed with makeup and its innovative techniques. In this regard, an important question marks its presence: How To Become A Permanent Makeup Instructor?
I am a permanent makeup artist, and it took me 3 long years to maintain considerable recognition in this industry. In this article, I will elaborate on the requirements a makeup artist needs to fulfill to become a permanent makeup instructor.
Read also: How to Lighten Permanent makeup?
How To Become A Permanent Makeup Instructor?
The makeup industry has flourished on a greater level in recent years. Many people are tiptoeing to join it and become makeup artists professionally. Pursuing a career in the makeup industry helps you to make your clients happy and content by enhancing their appearance according to their desires.
Training With An Artist
If you are ready to make your mark in the permanent makeup industry, I advise you to train with an artist in your local area at the initial stages. According to me, it provides you with two advantages. First, you will learn all the basics in a more practical form. Secondly, you will be able to know your worth and stamina to continue in this field.
Look For A Makeup Program
Enrolling in a makeup program enables you to practice what you have learned from your local area trainer. I suggest you migrate to the area with more objectives regarding this profession and register in the program that includes a complete set of skills. I have mastered microblading, which has become the primary concern of many aged women all over the US.
You should train yourself under a reputable trainer, whether microblading, lip tinting, permanent eyeliner, or eyelash extension, according to your respective course. During this program, you learn makeup-related techniques and understand the skin structure concerning permanent makeup.
Apprenticeship
I believe in apprenticeship because it is the best option to start your career as an instructor. In the beginning, it is necessary to work under a trainer for about 1000 hours and gain work experience. 
The trainer teaches interest in dedicated work, and you can go further for your own business. Meanwhile, you can also learn how to maintain the number of clients and in what way you can satisfy the clients.
License 
In the US, you must register to earn a license from the state. It means you grant permission to set up your trainer course for permanent makeup. Once you get it, you can make clients and change their looks. 
Careers For Permanent Makeup Instructors
Salons and Spa
Permanent makeup instructors find their best careers in salons; they train several other artists by instructing them to apply permanent makeup to their clients. There are other facilities that the instructor ensures to teach beginners.
Learning about the skin conditions of clients
Acquaintance with makeup tools and techniques
Mixing pigments and shades properly
Taking care of the breakouts as side effects of permanent makeup
Training Programs
Makeup instructor has a career in conducting makeup sessions. The training aims to teach artists the art of permanent makeup. The instructor maintains the schedule of the classes along with an effective marketing strategy that provides the students with quality instructions. Moreover, a good instructor also delivers certificates at the end of the course.
What A Permanent Makeup Artist Do?
I must say that a permanent artist makes people more attractive. As an artist, you apply permanent makeup on clients by considering their skin conditions and mixing pigments to enhance their complexion and give them their desired look.
Sometimes you do lash enhancement or microblading according to the client's facial features. A permanent makeup artist also camouflages the scars and bruises through micro pigmentation techniques.
You can also learn about: How to remove alcohol-activated makeup?
What Are The Traits Of A Permanent Makeup Instructor?
You can become successful as a permanent makeup instructor when you create an atmosphere of satisfaction among your students. Additionally, you should possess the following traits to get fame among students and clients.
Active Listening
In my opinion, you must have a welcoming personality to get successful as an instructor. Listening well to your clients will help you solve their problems.
Flexibility
I have developed this quality in me with difficulty because you have to deal with the moods of many clients, and flexibility gives you the courage to cope with them and produce their desired look.
Time Management
A good makeup instructor effectively manages time in the best possible way. Your efficiency creates breathtaking outcomes and, in return, gains, gain positive feedback from the clients.
Final thoughts| How To Become A Permanent Makeup Instructor
Being a makeup instructor is a full-time job. It comes with challenges and charms; furthermore, it is an excellent opportunity for those keen on permanent makeup. In this article, I have elaborated on how to become a permanent makeup instructor. I hope my article will help you if you want to become one.