Is Covergirl Makeup Cruelty-Free? Is it Really Ethical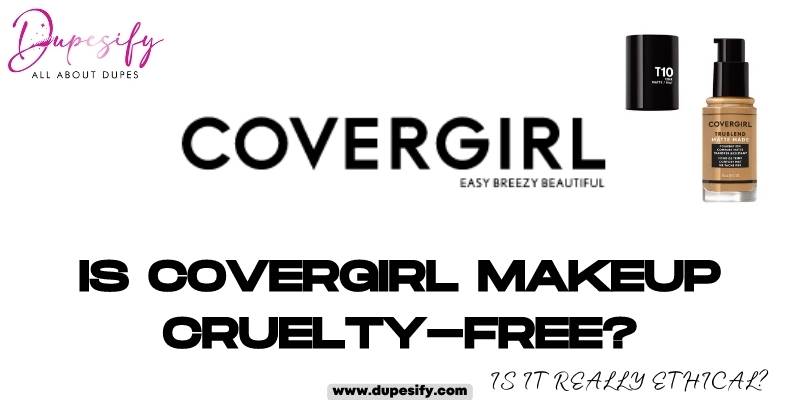 Covergirl is a well-known makeup brand that has been around for over 60 years. They offer a wide range of products, including foundations, mascaras, and lipsticks. As a makeup expert, you might wonder about their animal testing policy. So, Is Covergirl Makeup Cruelty-Free?
As makeup enthusiasts, we want to ensure that the products we use not only make us look good but also align with our values. One such value that has become increasingly important to many makeup lovers is cruelty-free makeup.
In this article, we will discuss whether Covergirl Makeup is cruelty-free or not and provide you with all the information you need to make an informed decision.
Covergirl Makeup: Does the Beauty Brand Pass the Cruelty-Free Test?
Before we dive into whether Covergirl is cruelty-free or not, let's first define what cruelty-free makeup is. Cruelty-free makeup refers to products that have not been tested on animals at any stage of production. This includes the ingredients used in the products as well as the finished product itself.
According to Covergirl's website, they do not test their products on animals. They also state that they do not use ingredients that have been tested on animals by their suppliers. However, it's important to note that they do sell their products in countries where animal testing is required by law. This means that their products may be tested on animals in these countries.
Covergirl's Certification
To ensure that a brand is truly cruelty-free, it's important to look for certification from reputable organizations. Covergirl is certified by PETA (People for the Ethical Treatment of Animals) and Leaping Bunny. Both of these organizations have rigorous standards for certification, and their logos can be found on Covergirl's website.
As a makeup expert, it's important to note that certification from reputable organizations is key to ensuring that a brand is truly cruelty-free. However, it's also important to research the specific certifications and their criteria to fully understand their implications.
Are All Covergirl Products Cruelty-Free?
While Covergirl is now a cruelty-free brand, not all of its products are cruelty-free. Some older products may still be on the market that was tested on animals before the brand made the switch to cruelty-free. However, Covergirl has committed to ensuring that all of its products are cruelty-free by 2023.
Why don't you read our detailed guide on Gluten-free CoverGirl, Is CoverGirl Makeup Gluten-free? Critical Analysis
How Does Covergirl Ensure That Its Products Are Cruelty-Free?
Covergirl ensures that none of its suppliers' test ingredients used in its products on animals through close collaboration. Furthermore, Covergirl refrains from selling its products in countries that require animal testing by law, such as China.
Has Covergirl Ever Been Involved in a Cruelty-Free Scandal?
In the past, Covergirl was not cruelty-free. The brand used to test its products on animals in order to comply with regulations in countries like China. However, in recent years, Covergirl has made a conscious effort to become a cruelty-free brand.
Cruelty-Free Brands – Alternatives of CoverGirl
If you're looking for alternatives to Covergirl makeup, there are many cruelty-free brands to choose from. Some popular options include:
Tarte
Too Faced
Urban Decay
Kat Von D Beauty
e.l.f. Cosmetics
Have a look on these dupes we have reviewed for our readers 7 Best Makeup Forever HD Foundation Dupes – Ultimate Review
Vegan Brands
In addition to cruelty-free brands, there are also many vegan makeup brands available. These brands do not use any animal-derived ingredients in their products. Some popular options include:
Milk Makeup
Pacifica
Lime Crime
Kat Von D Beauty
Cover FX
Here is our take on Is Shein Makeup Safe? Comprehensive Discussion
Frequently Asked Questions (FAQs)
What are some common animal-derived ingredients in makeup products?
Some common animal-derived ingredients in makeup products include carmine (derived from beetles), beeswax, lanolin (derived from sheep's wool), and collagen (derived from animal tissue).
Are vegan and cruelty-free the same thing?
No, vegan and cruelty-free are not the same thing. Vegan products do not contain any animal-derived ingredients, while cruelty-free products are not tested on animals.
Final Thoughts
As consumers become more conscious of animal welfare and environmental issues, it's important for brands to adapt to these changing values. Covergirl's commitment as a cruelty-free brand is a great omen and we hope to see more brands follow suit. By supporting cruelty-free brands and spreading awareness about the issue, we can all make a positive impact on the world.