Is Bobbi Brown Makeup Hypoallergenic? Detailed Discussion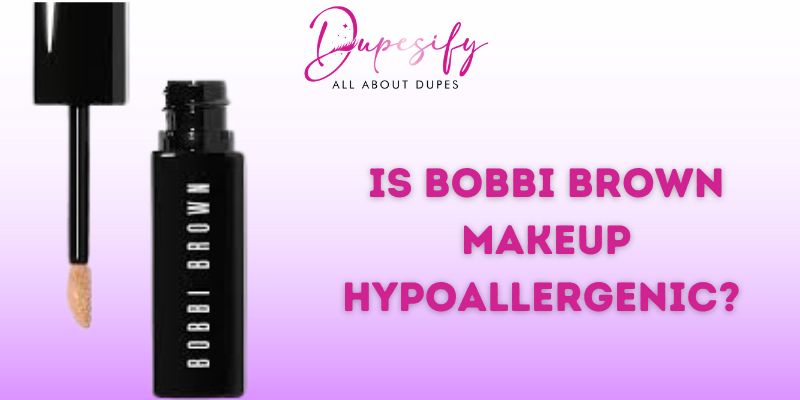 Sensitive skin is not to be sacrificed anymore, as hypoallergenic makeup come to the rescue to be gentle on the skin. I have sensitive skin, and investigating a long list of skin-safe ingredients costs me a whole day. My decision to use Bobbi Brown makeup does not make me regret it. The ingredients suit me and nourish the skin more than before. The question still prevails: Is Bobby Brown Makeup Hypoallergenic?
Knowing certain makeup products are not for the skin as they trigger rashes, allergies, and infinite pain. Hypoallergenic makeup is prevailing in the market with its excellent benefits that neither clogs pores nor irritant the skin. Bobbi Brown offers versatile products that are allergen free and hypoallergenic. 
In this article, I will mention what factors make Bobbi Brown makeup hypoallergenic and the benefits of using gentle beauty products on the skin than conventional ones. In addition, you will know the loyalty of the famous products of Bobbi Brown by glancing at the ingredients.
Are Bobbi Brown Cosmetics Hypoallergenic?
What makes the makeup hypoallergenic? I have used the products for a long time and found three main things that easily differentiate between makeup that prove healthy for the skin and beauty products that break the skin to its core. 
Whether the Bobbi brown makeup is hypoallergenic or not, some of the products stand up to the expectation as they are fragrance-free, contain few allergens, and less harmful substances.
Fragrance-free
Scented products are powerhouses of itching, redness, and bumps for sensitive skin. You often notice that many products are labeled as fragrance-free but contain ingredients like various essential oils. 
Hypoallergenic makeup does not comprise added fragranced products such as perfume that cause allergies. The only fragrance, if you notice, is to mitigate the odors of other ingredients. 
Fewer Allergens
Allergens are the main culprit behind several allergic reactions against natural-looking skin. The result will lead to skin problems like aging, acne, pigmentation, or dry skin. Manufacturers of hypoallergenic makeup try to eliminate common allergens such as parabens, sulfates, Quaternium-15, and formaldehyde when formulating certain products.
Less Harmful Substance
Look for the ingredients that contain fewer and simpler ingredients. The benefit of doing so is ensuring your products are compatible with your skin. Moreover, fewer formulation ingredients lower the risk of unwanted skin reactions. 
Hence, when purchasing a safe product for your skin, a glance at the list of ingredients, such as licorice, chamomile extract, and alpha-bisabolol, will always be worthwhile.
Is Bobbi Brown Good for Sensitive Skin?
Does Bobbi Brown offer makeup that includes hypoallergenic products? Bobbi Brown makeup is not hypoallergenic, as the company has not mentioned it yet on its website. However, the makeup line comprises some products suitable for sensitive skin. You can also eliminate skin issues by using the following products, as they do not contain sensitivity-causing agents such as:
You can also read about: Is CoverGirl Makeup Gluten free? Critical Analysis
Coconut
Nickel
Allergy-Causing Preservatives
Paraben
Topical Antibiotic
Is Bobbi Brown Foundation Hypoallergenic? 
Foundation is the foremost thing you can apply after a long regimen of skin care. How about the product cost you infinite redness and burning sensation? The only solution is to opt for the SKIN LONG-WEAR WEIGHTLESS FOUNDATION SPF 15. 
The light to medium coverage foundation is suitable for all skin types and is specially formulated with glycerin, dimethicone, and vitamin E for smooth and fresh skin. 
Is Bobbi Brown Mascara Hypoallergenic?
Hypoallergenic makeup is one step ahead of mere coverage or formulating different colors. Bobbi Brown offers a stunning eye product; after using this, all my redness and burning sensations have said goodbye. 
Bobbi Brown Smokey Eye Mascara is blissfully enhancing eye makeup as it mainly aims to provide length and dimension to lashes without clamping them. The beauty product is 91 percent top allergen-free. 
Is Bobbi Brown Lipstick Paraben Free?
When you feel your lips are dried, get a favor from Bobbi Brown's CRUSHED OIL-INFUSED GLOSS. The non-sticky formula has olive fruit oil and provides instant hydration and moisturization. The product is 91 percent allergen-free. In addition, it provides a natural tint and efficiently smooths the lip surface. 
Read our detailed discussion on Shein makeup also, Is Shein Makeup Safe? Comprehensive Discussion
Benefits of Hypoallergenic Makeup?
Hypoallergenic makeup aims at making your skin look happy and healthy. You will find all the skin problems emancipated, whether from oily, acne-prone, or aging skin. 
Prevent Inflammation
When your healthy-looking skin contacts an irritant ingredient, it causes minor reactions beneath the surface. The consequence is redness, dry patches, acne, or flaky skin. When your skin contacts hypoallergenic skin-friendly products, they eradicate the culprits that cause inflammation.
Reduce Redness
Skin texture is the common symptom by which you can quickly identify its health. The products are not to blame if you leave the skin unattended and keep trying new makeup products. Redness is the immediate sign that your skin is exposed to some irritant. At this time, switch to gentle products and see the magic.
Prevention of Dark Spots
There are better ideas than utilizing certain makeup products that become the reason for dark spots. Apply light products on the skin to satiate its essential needs and prevent imminent breakouts.
You can utilize one of the 7 Best Benefit Erase Paste Dupes – Review And Buying Guide
Is Bobbi Brown non-comedogenic?
Bobbi Brown efficiently expels the primary causes of acne at early steps of redness, breakouts, and irritation. Beauty products are non-comedogenic and do not convert your skin from normal to acne-prone.
Does Bobbi Brown foundation break you out?
The primary ingredients of Bobbi Browns foundation are Cordyceps complex and Glycerin. The chances of the breakout are significantly reduced as the including formula works to remove dry skin cells and restores natural radiance.
Is Bobbi Brown Makeup Good for Mature Skin?
Bobbi Brown makeup is suitable for every skin type. They are eliminated from common allergens and crafted with vitamins, minerals, oils, and extracts. So, applying them is free of irritation, itching, and rashes.
Final Thoughts 
Bobbi brown makeup is hypoallergenic as it does not cost you to treat skin issues after every application. The natural ingredients make beauty products safe, invite everyone to buy them, and make the most out of sensitive skin. In this article, I mentioned that Bobbi Brown makeup is hypoallergenic, whereas the benefits of using skin-loving products are an additional guide.