How to Contour with Makeup Like a Pro? Expert Guide and Tips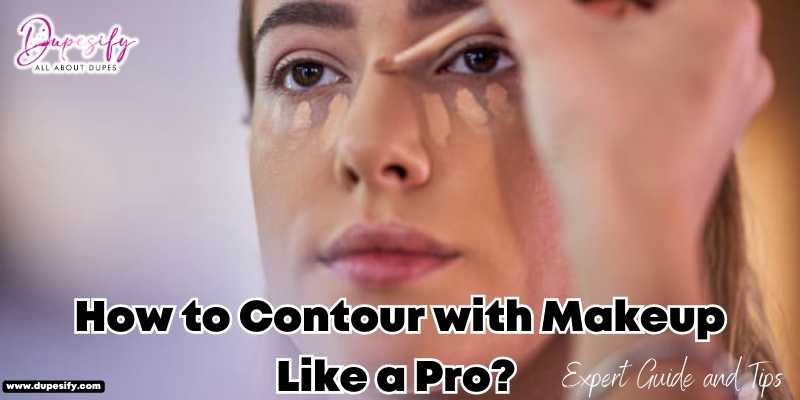 Get ready to slay your makeup game with our ultimate guide to contouring like a pro! We've got you covered with easy-to-follow steps and insider tips that will have you looking flawless in no time. Say goodbye to dull features and hello to a sculpted, chiseled look that will turn heads.
You'll be amazed at how a little contouring can enhance your natural beauty and boost your confidence. So grab your brushes and get ready to slay the contour game like a true pro, no fancy makeup artist skills required!
How to Contour with Makeup Like a Pro? Tips, Tricks, & Techniques
Here we will discuss briefly and provide you with exact information to the question," How to contour with makeup like a pro". We cover everything that you need. In the end, I hope you will get the benefit.
What is Contouring?
Contouring is a makeup technique that involves using a combination of shading and highlighting to enhance or alter the shape of the face. By strategically placing dark, light, and different types of makeup products, you can create the illusion of shadows and depth. The end result is a more sculpted and defined appearance.
Why Contour with Makeup?
Contouring with makeup has become popular over the years because it can help you achieve a variety of looks. Whether you want to create a more defined jawline, slim down your nose, or make your cheekbones pop, contouring is an excellent tool to achieve your desired look.
Essential Tools for Contouring with Makeup
Choosing the Right Products
Before you start contouring with makeup, it's essential to choose the right products. Here are some key things to keep in mind
Contouring products should be matte to create the illusion of shadows. Avoid shimmery products as they reflect light and won't give you the desired effect.
Get to know the 7 Best Makeup Forever HD Foundation Dupes – Ultimate Review
Pick a Shade that's Right For You
When selecting a contouring shade, choose one that's about two shades darker than your natural skin tone. This will ensure that it looks natural and blends seamlessly.
Always swatch the product before you buy it to ensure it matches your skin tone and is the right consistency.
Selecting the Right Brushes
The right brush can make all the difference when contouring with makeup. Here are some types of brushes to consider
An angled brush is perfect for applying contouring products as it allows for precise application.
A fluffy brush is great for blending and diffusing products, especially if you want a more natural look.
Here is our guide on Are Shein Makeup Brushes Safe? Can You Trust Them?
How to Contour with Makeup Like a Pro
Now that you have the right products and tools, it's time to learn how to contour with makeup like a pro! Here's a step-by-step guide
Step 1
Apply foundation and concealer as usual.
Step 2
Using an angled brush, apply the contour product to the hollows of your cheeks. Make sure to blend it in well to avoid harsh lines.
Step 3
Apply the contour product to the sides of your nose, starting at the top and working your way down. This will create the illusion of a slimmer nose.
Step 4
Apply the contour product to your jawline to make it more defined. Blend well to avoid a harsh line.
Step 5
Apply the highlight product to the high points of your face, such as the tops of your cheekbones, the bridge of your nose, and the cupid's bow. This will create a lifted and brightened effect.
Step 6
Blend everything together to create a seamless look.
Tips and Tricks for Perfect Contouring
Start with a small amount of product and build up as needed. It's easier to add more than to take away.
Blending is crucial for achieving a natural and seamless look. Make sure to blend well using circular motions.
Contouring looks different in different lighting, so make sure to check your makeup in natural light to ensure it looks good in any setting.
Why don't you read our guide on Seint Makeup vs Limelife? Most Authentic Comparison
Frequently Asked Questions (FAQs)
What is the Best Contouring Palette for Beginners?
There are many great contouring palettes available, but for beginners, we recommend starting with a small, affordable palette that includes both contour and highlight shades. Some popular options include the NYX Professional Makeup Highlight & Contour Pro Palette and the e.l.f. Cosmetics Contour Palette.
What's the Difference Between Contouring and Bronzing?
While both contouring and bronzing involve applying makeup to specific areas of the face, they serve different purposes. Contouring is meant to create the illusion of shadows and depth, while bronzing is meant to add warmth and a sun-kissed glow to the skin.
How to Contour with Makeup for a Natural Look?
To achieve a natural contour with makeup, use a lighter hand when applying product and focus on blending well. Stick to matte products and choose shades that are close to your natural skin tone. Remember, less is more when it comes to achieving a natural look.
Conclusion
Contouring with makeup is a fun and effective way to enhance your natural features and achieve a flawless look. By following the steps outlined in this article, you'll be able to contour like a pro in no time. choose the right products, tools, and lighting, and blend well for a seamless finish.