How to Hide Cleft Chin With Makeup? Steps And Tips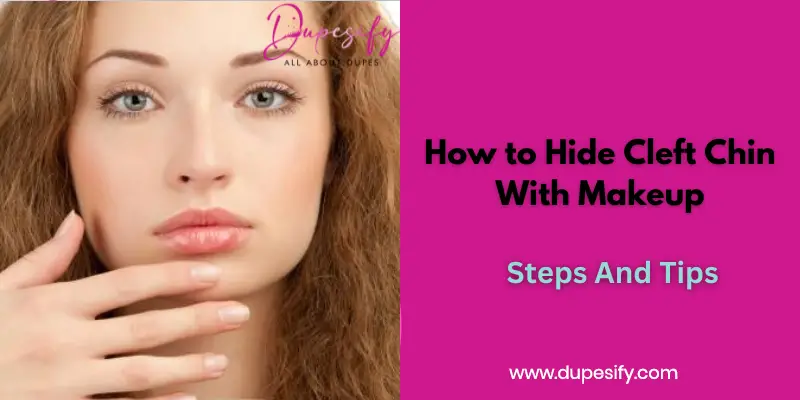 My cleft chin is a sign of beauty for me and is considered a rare genetic trait. But if you want to make it less noticeable, you can easily do it. Makeup is an art that can enhance your features and mask certain features so that you look attractive. How to Hide Cleft Chin with Makeup is the frequently asked question. 
For some people, having a cleft chin becomes insecurity because it doesn't match beauty standards. You can not erase a cleft chin with makeup, but you can camouflage it by following specific makeup techniques. In this article, I will illustrate the steps you can follow to hide your cleft chin, along with my tips and complete information on cleft chin fillers. 
How to Hide Cleft Chin with Makeup in Simple Steps?
Makeup application has changed over time and is constantly changing to meet society's beauty expectations. A cleft chin is also known as a dimpled chin. It is a beautiful feature to enhance, but some people prefer to hide it. You can mask it away by makeup in the following simple steps. 
You can also read: How to Cover Eczema with Makeup?
Prepping the chin
Before applying makeup, I always suggest you prep your skin well to remove impurities from your face so that you have a clean and smooth surface to work on. Start by cleansing your face and applying a good quality moisturizer to keep your skin hydrated. Chin is my focus point here, so that I will prepare my chin well. 
Treat Your Chin with a Wrinkle Filler
Do you want a magical product to hide your dimpled chin? Wrinkle filler is a must-have for you.
Wrinkle filler expands when applied, filling in your cleft chin and almost masking it. Wrinkle fillers are non-surgical methods to cover the cleft chin. 
The most popular wrinkle fillers contain hyaluronic acid. They are cream, ointment, or gel-based, and wrinkle fillers are used as "volumizers" to plump cleft chins. I prefer to use RoC Retinol Correxion Deep Wrinkle Filler. You can apply wrinkle filler in these steps. 
Squeeze a dot of wrinkle filler at the back of your hand.
Apply it gently to the chin area with your fingertip or using an applicator brush. 
Dab the filler into the line of your chin dimple.
Don't rub or smear it.
Keep patting it on the chin by dabbing it with the pad of your fingertip. 
Allow the product to sit and let it dry for a few minutes.
By this time, It will expand and diminish the appearance of a cleft chin.
Warning: Wrinkle Fillers can make your chin area dry if over-applied.
Makeup application
It can be a bit tricky for you to apply makeup to hide your cleft chin. The makeup routine remains the same except for specific techniques. You can use different types of makeup products, and also, using these few makeup application techniques can make your cleft chin less prominent.
Concealer
Use a concealer that exactly matches or a half-shade lighter to your skin tone to hide the chin. You can use Estee Lauder's Double Wear Stay-In-Place Flawless Concealer. Start by dabbing the concealer lightly not to disturb the wrinkle filler. Always use a damped sponge to apply the product to your skin smoothly. Try to blend the concealer out toward the chin to reduce the shadow of the dimple. 
Note: Keep in mind that you use highly pigmented and full coverage concealer. 
Setting powder
To make your concealer smudge-proof and to ensure it lasts longer, you should always set it using a setting powder. You can either use a pressed powder or loose powder. You can pick up the powder onto a fluffy brush, then dust it lightly on the chin area. Laura Mercier's Translucent Loose Setting Powder is my favorite.
Contour
Contour sharpen your facial features. It gives them a much-needed dimension and definition. To hide your cleft chin, you must contour your jawline with a gray-toned contour and bronze it well to get that warmth to your face. Contouring balances out your cleft chin. You can use the Anastasia Beverly Hills Powder Contour Kit to get that sculpted look. 
My tip:- You can use eye-popping shadows and bold statement lips to draw attention from your cleft chin.
Cleft chin fillers
There are mixed opinions among people about the appearance of a cleft chin. Some consider it a beauty symbol, and some relate it to the flaw of facial features. It is up to you whether you want to flaunt your dimpled chin or hide it. You can opt for cleft chin fillers in two ways:-
Non-surgical cleft chin fillers ( Derma fillers)
Surgical cleft chin fillers
Derma fillers
The derma filler is the most common injective method to fill the cleft chin. Doctors inject gel-based substances known as dermal filler into your chin. These last long for 6-12 months. 
Depending on the depth of the cleft chin, you can decide with the doctor what proportions of derma fillers to inject. It is the best alternative to surgical chin fillers. 
Warning: It involves the risk of allergic reactions.
Fat grafting
Your body fat is grafted to fill in your chin. It is done in liposuction surgery, in which the excess fat is removed from your belly area, refined, and transferred to the chin.  
Botox
It involves injections that paralyze the chin muscles to reduce the appearance of the cleft chin. It doesn't last long. You can repeat it. 
Genioplasty
A surgical method changes the shape of your jawline and chin muscles by modifying and adjusting your facial muscles. The results are permanent. 
How to Remove Cleft Chin Naturally?
All that matters is your liking of the cleft chin. You can remove it naturally by doing facial exercises. These slow exercises have proven to be an effective way to eliminate the cleft chin. All you have to do is:-
Relax your chin
Keep a good posture 
Face shiatsu massage
Frequently asked questions
How rare is a cleft chin?
A cleft chin is a rare genetic trait, with only 6% of people possessing it. It adds to the beauty of the person's facial features, making them unique and attractive. 
What does a cleft chin say about a person?
Facial features tell a lot about a person's personality. People with cleft chin are hard workers. They possess solid minds and also love to travel.
Is Cleft Chin a Deformity?
A cleft chin is genetic and a rare trait. The jaw tissue's separation causes an indentation in the middle of the chin. It is a dominant facial feature that readily catches attention. In my opinion, a cleft chin is not a deformity. 
Conclusion
Hiding or flaunting a cleft chin is your liking. I possess a cleft chin and like my trait because it makes me attractive. In this article, I have mentioned all the steps to hide a cleft chin with makeup and complete information about cleft chin fillers. I recommend you try these steps to mask away your dimpled chin.